Wednesday night last week I was at the Backbencher pub on Molesworth Street, across the road from Parliament Buildings, for the filming of the first episode of the 2014 season of Back Benches.
Back Benches is a political panel discussion show. Hosted by Wallace Chapman and Damien Grant, it airs on Prime TV 10:30 pm Wednesday evenings, having been filmed earlier in the evening. It's a great show. (You can watch it here.)

Last week's political panel featured Labour MP Trevor Mallard, National MP Mark Mitchell, Green MP Jan Logie … and Peter Dunne. Topics included cannabis law reform … and animal testing.
Animal testing has been a hot topic in New Zealand in the last couple of years because of the Psychoactive Substances Act. The Psychoactive Substances Act, which became law in July last year, made provision for the testing of new psychoactive substances on animals. Peter Dunne, the National government's Associate Health Minister, was the bill's main architect and front man.
Earlier this month, in a surprise (to some) move, Parliament enacted the Psychoactive Substances Amendment Bill. The amendment, drafted by Peter Dunne himself, rules out the prospect of any testing of psychoactive substances on animals being incentivised by the government. This is very good news.
Section 12 replaced (Duty of advisory committee relating to use of animals when evaluating psychoactive products)
Replace section 12 with:
"12 Advisory committee not to have regard to results of trials involving animals
"(1) In performing the function set out in section 11(2)(a), the advisory committee must not have regard to the results of a trial that involves the use of an animal.
"(2) However, the advisory committee may have regard to the results of a trial undertaken overseas that involves the use of an animal if the advisory committee considers that the trial shows that the psychoactive product would pose more than a low risk of harm to individuals using the product."
Wednesday night last week, Peter Dunne made the following remarks.
Can I just say two things.

I'm in favour of testing for medicinal purposes on low down the stratum [sic] sets of animals.

With regard to psychoactive substances I ruled dogs and that level out as long ago as November 2012. They were never, ever in the frame. The debate subsequently was about rodents and more latterly rabbits …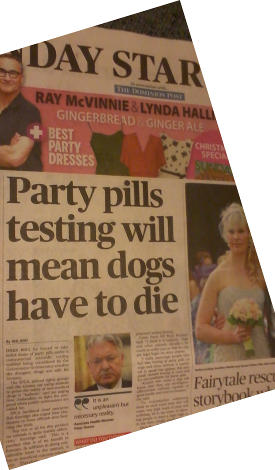 Well, that's not how I remember it. I remember a headline from December 2012 which told a very different story.
Last year hundreds marched against animal testing. With their beagles. It's not how they remember it, either.
Is still my opinion.
But how do we best square what Peter Dunne said last week with what he apparently said and thought back in December 2012?
Let's canvas the possibilities.
1. The Sunday Star Times misreported.
2. Peter Dunne misspoke.
3. Peter Dunne is in denial about what he said.
4. Peter Dunne is trying to rewrite history.
Politicians lie. We know this because their lips move. Peter Dunne is a consummate politician. So I'm rooting for option (4). Otherwise, it's hard to explain why Dunne is so specific about the date. "I ruled dogs out as long ago as November 2012." Except that he didn't.
Here's what I think really happened. I think Peter Dunne lacks empathy. Otherwise, how to explain this? And he simply forgot to remember that normal people consider the gratuitous poisoning and killing of household pets to be morally unacceptable.