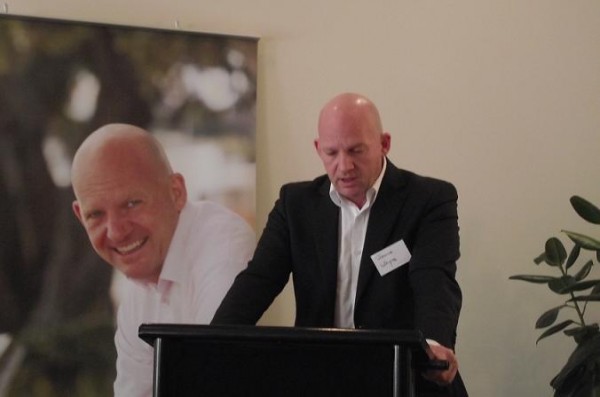 Is it possible to trust a man who turns down a free beer… a Waikato Draught… and exclaims "I don't drink beer… I drink wine…" !!!????
Hmmmm.
A Libertarian friend, and I attended the Act party BOP/ Wakato Regional conference yesterday, held in an Hamilton Airport Hotel conference room.
I was interested to meet Act's new Leader, Jamie Whyte, and to hear him speak.
I took advantage of the fine weather to take my Triumph for a scoot.
I did not hang around for Dinner, or the evening discussions.
I'm not a member of Act, yet I would like to just tough on a few highlights of the day from my Libertarian perspective.
The meeting was also a party fundraiser, organized by Vince Ashworth and his wife, and Hamilton City Councilor and one time party president Garry Mallett was MC.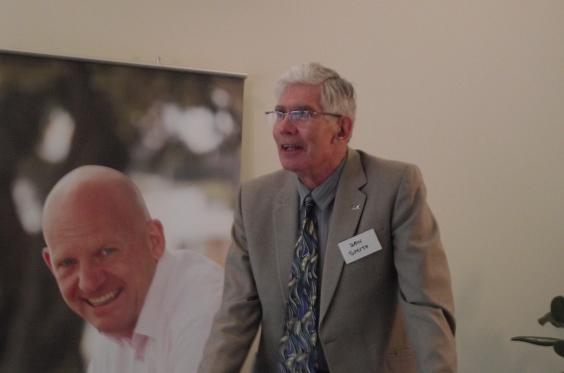 The Meeting kicked off a little after 3pm with Act's Hamilton East Candidate, Ron Smith.
I was very pleasantly surprised with the content of his speech!
It was in my view the best speech of the day.
Mixed with humour, it was very Libertarian… not what I was expecting from an ex Waikato Uni Professor.
He said he was stepping up to the plate because he thought New Zealand was at a crisis point, and needed people in parliament to protect what he saw as positive gains… esp 'Fiscal responsibility'.
Ron discussed how over a period of may decades his political outlook had shifted
considerably from the commonly held view that politics was simply a matter of various opinions on how best to organize community projects, and interests etc, to a far more sophisticated and enlightened view…. having figured out via decades of trial and error that the 'Big Government' model simply *doesn't work.*
(Applause from me! :-))
None the less Ron warns …"There is a 'Gaggle' of politicians and their supporters, and esp the media which continues to live in denial"
Ron was very critical of the Waikato Times saying that in the past they had interviewed six candidates of various other (socialist) parties, and given them each a substantial space in the paper, yet had not bothered to interview anyone from Act.
(I myself have experienced this sort of prejudice from the Waikato Times myself, and it is appalling that such an important paper fails so miserably… and so often, in it's journalistic integrity!)
Ron also decried the calibre of the journalism… their silly and irrelevant questions about 'Cats', etc.
He expressed his high regard for Jamie Whyte's prowess as a political analyst.
Some of the last things Ron said which had me nodding was that many of the problems being faced by New Zealanders are rightly 'Individual problems'… thus best lest to the individuals themselves to solve, and rightly singled out Security… internal Law and order as being a legitimate concern of government, and External security.
I asked him later of by this did he mean that the government should stop wasting money on things like America's cup, and spend more on our Military… speaking personally he said "Yes… but a have not discussed any of this yet with Jamie Whyte".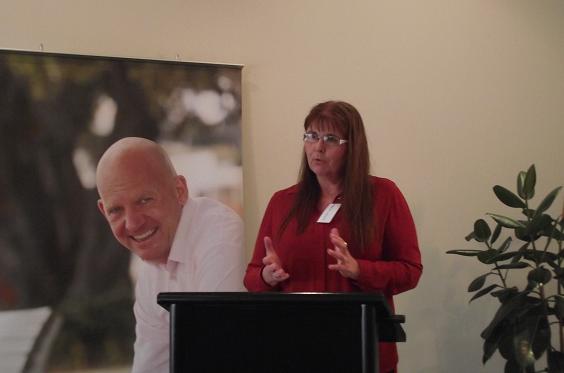 Next up was Dianne Mulhern "Why I support Act"… she decried those New Zealanders whom harbour 'a sense of entitlement' considering welfare to be 'A right rather than a privilege'.
She said she likes Act because they had a tuff stance on crime.
On Taxes she said… "I would like to hold on to more of my own money…
My Husband and I run a business, and we pay taxes and taxes on taxes, and we have had enough!"
She explained that they tried protesting paying GST on top of a particular government Levy yet were forced to submit and pay up when they were threatened with court action.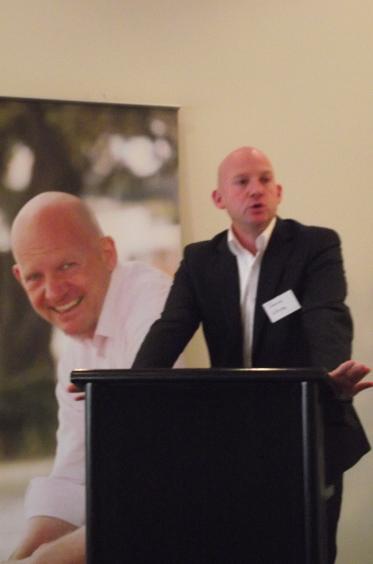 Before a coffee break Jamie Whyte stood up to speak.
His speech was primarily a summary of what he has been releasing as his 'Sunday Series', which are available to view on the net.
He started with saying that he is proud of the High calibre of personnel within Act's ranks and is grateful there as plenty of wisdom there to tap into, and gain good advice.
He used David Cunnliffe's " I am Sorry I am a man" , to contrast his vision of Act as a Party championing Individualism, and self responsibility in comparison to Labour's collectivist mindset with it's 'Guilt by association' type mentality … their fixation with having a 'gender equal' spread in their party list as being more desirable than making *impartial selections* based upon personal virtues and merits rather than sex.
He said Equality before the Law was the most important principle of justice, and that Lady Justice is symbolically blindfolded so that she does not see the identity of the persons with whom she is judging.
Without mentioning the National parties culpability, he talked about the institutionalized Racism which New Zealand suffers which grants privileges to Maori.
Clearly New Zealand does not have a just system… we have race based seats in parliament, Raced based state 'advisory boards', etc .
The RMA says Maori are more important, and have more say in matters of Development, and land management.
He said that because Maori have poor statistics in areas of Health, wealth, and crime that it appeared to many that Maori are disadvantaged, and that these things meant that it was difficult for some people to appreciate the fact that legally speaking Maori are privileged, and non-Maori are discriminated against.
To further make his point he said he knew of a woman with two sons, one born to a Maori Father, the other had a non-Maori father.
He said currently the way the Law is written that the Non-Maori son would have to score an 'A' to be accepted into Law School, whereas the Maori son would be accepted even if he only scored a 'C'.
This not only unfairly discriminates against Non-Maori, but that ironically it means that because Maori don't need to exert themselves to the same degree to get by… many don't… and thus this 'easy road' does not tend towards an ethic of striving for success.
This is the sort of reason why Legal privilege is not working out to be in the best interest of the Maori people… socialism is failing them!
He said that even their racial legal privilege if it was working for them he would still oppose it on principle.
He said that in post election negotiations with National, Act would push for some sort of inquiry/ board it investigate ending the current race based laws and institutions of government.
When the opportunity came for questions from the floor, I said I agreed with what he had said, yet asked if it was prudent to wait until post election negotiations to formulate Acts policy for ending racial privilege.
I said that he ought to draw a line in the sand before the election and lay out not negotiable conditions for entering a coalition, because this would strengthen his position post election, yet he was not prepared to do that.
I asked if at a very minimum he would be prepared to say that Act will not enter into a Coalition with National, if it also included coalition with the Maori party?
Again he refused.
He then attempted to suggest that the Maori Party were reasonable people!
For me this was very disappointing!
Had he not just spoken about Law and order, and that equality before the Law was the most important principle of Justice?… and yet he was not prepared to make a minimum condition of coalition with National … in any way shape or form, to end the travesty of Waitangi separatism and our apartheid laws and institutions!
What more I gather Jamie does not have a very good grasp as to just how great a swindle is being perpetrated upon the people of New Zealand.
I think to the degree that he has investigated these matters, that he has by and large swallowed the modern 'Revisionist history' which portrays the Maori as victims of Land alienation via Greedy and underhanded means.
One thing is clear to me, Jamie has obviously been deceived by the Maori party- Mana split, and considers The Maori party to be reasonable… in comparison to Hone Harawera!
He does not realize that they are both *exactly the same*, only the Maori party are more cunning… more politically savy… more sly… whereas Hone Harawera is far more open and honest!
It is truly a wonder to me that Act would even consider entering a coalition with the Maori party…the party which represents the vested interests which are capitalizing from the injustices of our current apartheid system?
But then again how could anyone even contemplate getting into bed with the National party anyway?
Sigh.
I asked him what's the point of getting into parliament without your principles?
He insisted he was taking them with him.
For me it is difficult to witness.
I believe he is sincere in his convictions.
He certainly is honest enough to say that he wont be drawn to make pre-election non-negotiable coalition conditions.
I have no doubt that he believes this course of action is the best policy to get Act back into parliament as part of the ruling coalition… that is his focus.
Yet I cant help but think that he is making a massive mistake.
Not only is he failing on the moral level, but is making a grievous miscalculation, and not learning from the Ghosts of Acts past.
I will have to talk about these spooks in another post… I will simply say that by taking this course of action Jamie is not giving the enlightened voter any solid reason to believe a vote for Act is anything more than a vote for National… and a perpetuation of the Status quo.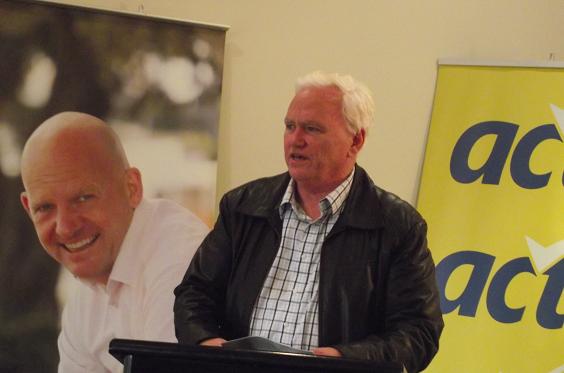 Several other people spoke, including Richard Prebble, whom is a bit of a character and in the words of Gary Mallett… is the Act party's hardest working, and most dedicated battler.
His speech was a reinforcement of Jamie as the best possible candidate to lead the party, and went on to discuss Acts chances at election time.
He sighted many 'advantages' Act had which are reason for optimism.
"…A vote for Act is not a wasted vote.."
He is full of assurance that their Epsom candidate David Seymour will be victorious, and with the party vote hoping for as many as 9 Mp's.
During a short open forum, questions on Immigration were raised… most flavoured with the usual petty xenophobia and mean-spiritedness … "Foreigners steeling Kiwi jobs", to which I was very pleased to hear Jamie's (and others) enlightened and benevolent responses.
He clearly has sensible, and humane ideas about immigration, and tabled several arguments which thwart many of the phobias that fuel anti-immigration.
He mention that migrants were a much needed source of labour to do jobs that Kiwis didn't want to do.
Beth Houlbrooke also pointed out that migrants contribute greatly to our economy, with many of the higher skilled individuals actually creating *More jobs* for Kiwis…not less.
The one negative comment I have to say about Ron Smith is that he seemed to harbour fears about Indonesian Boat people reaching our shores, and that in his opinion New Zealand should adopt/ partner up with Australia's 'Final solution' (my words).
My heart breaks when I think about the horrific treatment of desperate refugees by the Australian government.
I just cant fathom how people can be so heartless against such people whom are simply looking to escape a hell hole, and find a safe place to raise their kids.
I am sickened by the inhumanity of those Americans whom equate innocent Mexican children crossing the US Border to escape the hell of the Drug war… as being Mexican Gangster killers!
I think about the Jews whom were trying to escape the Nazis being turned away and sent back to the German ovens.
I think about the Children drowning at sea.
Can we not have a more humane border policy which allows some sort of Private voluntary association to take in these people and work to assimilate them into our society?
This is a subject for another blogpost… back to the Act Conference.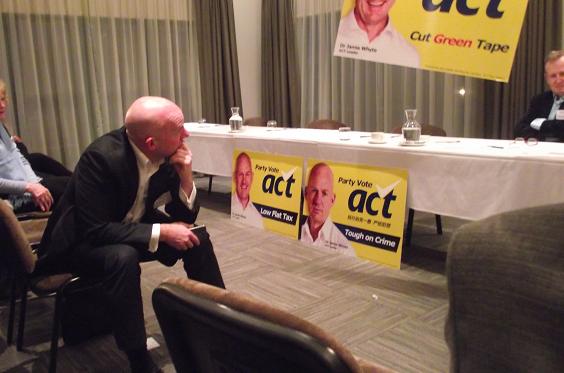 The Act party as Jamie presents it is the most conservative flavour… the least radical.
Though apparently Act is the party of Law and order, personal freedom and self responsibility, we don't hear anything as Brash as decriminalization of cannabis… at least not at this conference.
One of the biggest problems I see for Jamie is that if he thinks that he can start off this 'luke warm' way, thinking that as the party grows stronger that at a later date he will be able to steer the party in more Libertarian direction, that he will then realize that he has not created a 'Liberal' party at all!
He will have filled his ranks with conservative center right socialists (Quazi-Fascists) whom will resist any move towards *Real Reforms*… and if he thinks it is necessary to appease conservative center right socialists *to get into* parliament, I say he will have to continue to do so *to remain* in parliament
This has always been the curse of Act… The conservatives have always thwarted the Idealist ambitions… and this is why Act has achieved virtually nothing in all its time in parliament.
So I worry that because Jamie is taking the road of least resistance, that not only will this make it difficult to differentiate Act from National in the eyes of the most enlightened voting New Zealanders whom are looking for a *Real alternative* …costing him votes, instead of filling Act with principled Idealists, whom love justice, he runs the risk of simply swallowing up disgruntled National party voters and pragmatists whom would sell their own grannys to remain in parliament… ahead of struggling for progress.
His way may be quicker… but it will end miserably.
My way may be a bit slower… yet I believe the end results would be far more spectacular!
Anyway….
There were several other speakers and many other interesting questions debated yet sadly I have run out of time and space to report them.
It's 1am and I start work at 6!
I will have to edit' spell check this tomorrow nite.
They had a very good turn out…a full house… I estimate 50+.
To return to my original question, I think Jamie Whyte is an honest politician, whom is in stark contrast to the General Demagogue herd, in that he is careful not to make promises that he is not sure he can keep.
Despite my criticism…. Despite my disappointment… I like Jamie, and many of his Supporters.
I certainly believe he would be a good man for New Zealand to have in parliament.
I think Ron Smith is an excellent candidate for Hamilton east and I would encourage Easters to give him their vote but alas I don't think he wants them… He's fishing for party votes.
Though I am not a member of the Act party, I am certainly willing to help them expound the principles of Equality before the Law, of reducing the size and expense of government, of increasing Liberty, self reliance and self responsibility, etc and hope that I have opportunity to talk with Jamie again soon.
He's a smart guy, and I look forward to watching him in action, and the rest of Act's new line up which includes at least one Ex Libertarianz Party member, and another Libz Supporter.
No doubt in Jamie's mind *any* movement he manages to pull our government in the right direction… no matter how small… is a real moral victory.
It's hard to argue against that.
I would certainly love it if Act was to grow into a Powerhouse of Libertarian Idealism!
Dreams are Free!
Talk is cheep.
My criticisms have little weight.
Personally, as a Politician I am a complete failure…. I may make NZ history as being the most unsuccessful person who stood for election.. yet to me Politics is not about the art of compromise, but about Resolute and unwavering integrity to principle.
To me it's *not a wasted vote* to vote for a candidate whom best represents your personal values and Ideals…. Even if … According to the mainstream media…they have no hope of governing.
I'm rambling again…
Now I'd better get my arse down to the Electoral office and get my paperwork to stand again as a Libertarian Independent candidate for Ham West.
Tim Wikiriwhi.
Libertarian Independent.
Update:29-7-14 Winston Peters is a politician for whom I harbour much contempt, yet having just received word that John Key is now willing to conciser a post election deal with him, having ruled out the Conservative party, none the less Peters has boldly announced that he will not join any coalition with The Separatists of the Maori or Mana Parties…. which is exactly the sort of courageous and principled stand I was hoping that Jamie Whyte would make a minimum condition in any deal with National.
Read about This line in the sand >>>Here<<<
Update 3-8-14.