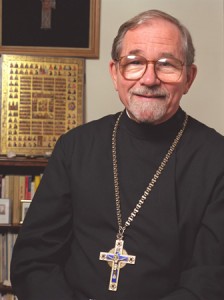 One of my favourite things to do these days while going about my day job is to listen to Ancient Faith Radio podcasts on my phone as I work.  Probably my favourite podcasts are by Father Thomas Hopko, a former Dean of St Vladimir's Academy – an Orthodox Seminary.  He has an amazing knowledge of Church history and Orthodox theology which has been a great help to my journey of faith.
One of the podcasts I listened to recently was one in a series on the names of Jesus, where he makes the astonishing claim that "[Christian] faith is not about salvation…"  I have to say this blew my mind, and caused me to look at my faith in a completely new way.  In fact, I think what he had to say is so important, I am just going to quote a large chunk of the transcript for you verbatim:
What does it mean that Jesus is named the Savior? What does it mean that he saves us?

We know that he does. We confess that he does. Our whole faith is that he does, and he's the only one who does. What is this salvation? What is the content of it? What makes salvation, salvation?

When I was a seminary student, I was sitting in a class of dogmatic theology with my beloved professor, Professor Serge S. Verhovskoy. I discussed this issue countless hours with Professor Verhovskoy about salvation. What is it, how do you understand it? How does it work? Once in class, he said "my dears." (He always called us my dears). "…we must, we must, he used to say, avoid, this abominable preoccupation with salvation."

Well, that blew me away, and after I fell off my chair and got up again, I raised my hand, and I said "Professor, why can you say such a thing? Isn't it all about salvation? Isn't Jesus our Savior? Doesn't he save the world? Isn't salvation what it's all about?"

And he looked and smiled and said, "Of course." But what I would like to say is this. There are many Christians who are hardly interested in God at all. They're really not interested in Christ. They're not interested in life. They're not interested in the beauty of creation. They're not interested in their fellow man and their neighbor. They're not really interested in just about anything except salvation. Translated, meaning: How to get to go to heaven when you die.

Because a lot of Christians think of salvation meaning: Do you get to go to heaven? And so, Christians will go around saying "Are you saved?" And then they'll even claim that to say "I'm saved" means I know for sure that I have my place cut out in the age to come, and I'm certainly going to heaven and anyone who believes and is baptized will be saved, and I believe, and I'm baptized, so I'll be saved, and I'm saved by grace and not by works, and all this kind of stuff. But then they'll start arguing about what do you need to do to be saved? Do you need to believe? Do you need only to believe? Do you need to do works too? And then what about pietistic actions? You may not need to be circumcised, I mean that might be agreed upon, but Christians might argue and say well, you got to go to church to be saved. You got to be a member of the church to be saved. Some people might even say, you've got to be baptized, but that's a spiritual reality. You don't need to be baptized in water to be saved. And even some people who are baptized into water, they're pretty ugly, miserable, horrible creatures, so you know, baptism doesn't save you. And just going to church and standing there and singing hymns doesn't save you. Baking a cake for the cake sale doesn't save you. Knowing the Nicene Creed doesn't save you. Or maybe it does save you? Maybe you've got to never eat any meat, milk products, or anything on any Wednesday or Friday or you're going to go to hell? And other people say no, that's nonsense.

So there becomes a huge debate that split Christians up into literally thousands of churches, and many of those churches are the churches that claim salvation through faith and belief in the Bible and belief in Jesus, but then they argue about how does it work? There are some who will say, I must accept Jesus as my Savior or I'm not saved. There are others of a more Calvinistic, Augustinian line who would say, oh no no, God chooses you. You don't choose God. There's predestination. God decides who is saved. God is sovereign. If he wants to save you, he'll save you, and if he doesn't, you're going to hell. And you have no case to make whatsoever, because God does whatever he wants. He'll save whom he wants to save, and he'll damn whom he wants to damn, and you're nothing but clay, and he's the maker, and you're the earth, and he's the potter: so forget about it. So there's a big debate about that. Then there's a big debate about all the sacraments and do you need to have Holy Communion? It's written in the Scripture, if you don't eat body and drink his blood, you have no life in you, no eternal life in you. So some people say well, unless you've gone to communion, you can't be saved. Anyone who is not baptized in water can't be saved.

So there's so many different kinds of arguments. And what my professor that day wanted to tell us and has stuck with me forever just to this very day is that the faith is not about salvation in that sense. It's not like figuring out "what do you got to do to be saved minimally" like do you have to go to church or don't you? Do you have to believe in Jesus or don't you? Do you have to participate in sacraments, or don't you? Do you have to be in some particular church and not another or don't you? Do you have to be in communion with the Bishop of Rome who is the Pope or don't you? And there are times when people said if you're not in one or another particular church, you are simply not saved. You are just simply going to hell. And there's plenty of folks around that think that we Orthodox Christians are going to hell because our understanding of Christianity is so weird.

Now, Professor Verhovskoy taught us: you can't look at it that way. You can't begin with what you need to do to be saved. No. In fact, in that sense, it is an abomination, almost a blasphemy, even to be interested, if not obsessed, with the issue of salvation and start trying to figure out who's saved and who's not and telling who's saved and who isn't saved, and why it's so. Real authentic Christians should never, ever get involved in that kind of thing. Never. That is my deepest conviction. It's not according to Jesus. It's not according to Christ. It's not according to Scripture.

But what is? What is? What is, is that there is God. Beautiful, marvelous, magnificent, splendid, glorious God Almighty. And his only begotten Son Jesus Christ, born of a virgin on earth, the all-holy, life-creating Spirit that proceeds from God, dwells in the Son, is breathed upon us. There's life, there's world, there's reality; there is truth. There is peace. There is joy. There is the fruit of the Holy Spirit. There is God himself. And what we have to realize is that we've got to be interested in the God who saves us, not in salvation as such. We've got to be interested in loving God, not salvation. God. Life is about God. The Bible is about God. Church is about God. Sacraments are about God and being about God they're about Christ, and if they're about Christ they're about crucifixion and resurrection and glorification and humility and love and mercy and meekness. Jesus says learn from me, I am meek and lowly of heart. You will find rest for your soul.

It's about the grace of God coming in us and being manifested for our salvation. The grace of God has appeared for the salvation of all people. God desires all to be saved and come to a knowledge of the Church. God is the Savior of all human beings, especially those who believe. So, our confession has to be that God, in Christ, has already, on the Cross, saved everyone and everything. That's the gospel. That's the glad tidings: that he has come for Jews and Gentiles, men and women, slave and free, whoever we are upon the earth, and even the whole earth, and even all the galaxies and the stars and the sun and the moon. God, who created all of that, is saving all of that, and he's saving it all in Jesus Christ. And that's what we have to be thrilled about. That's what we have to confess. That's what we have to live by.

Now, if we do, then we will glorify God, and we will try to keep his commandments because we will love him. And we will try to love him with all our mind, all our soul, all our heart, all our strength. We'll try to love our neighbor, even our worst enemy as ourselves. We will not judge anyone for anything. Our holy fathers teach us that we judge no one for nothing. Who are we to judge? God who is the Savior is the judge, and guess what? He judges us by saving us. He came to save the world, not to condemn it. So the judgment of the world as we just heard from St. John's gospel is his salvific act in Jesus. It's that salvation that judges the world. But what is that salvation? That salvation is God. You can put it this way, quickly. It's God acting to destroy everything that is ungodly, everything that is not according to God's good creation, everything that he does not want.

So we are saved first of all, from. The salvation is a salvation "from". We are saved from ignorance, from darkness, because he gives us the truth, and he is the truth, and gives us the spirit of truth. We are saved from our sins. We are saved from our madness our insanity, from our diseases, from our transgressions. We are saved from our own self, from the vain imaginations of our own heart and mind. We are saved from everything that destroys and ultimately the last enemy to be destroyed is the destroyer itself which is death. So we are saved from death. So you can speak about being saved from. And so we're saved from everything that is no good. Everything that is not true. Everything that is not beautiful, everything that is ugly, everything that is diseased, everything that is corrupted, everything that is just plain rotten and no good. Everything that is morbid and dead and demonic. We're saved from the power of the devils. It says that in I John, the reason for the epiphania, the appearance of the son of God is to deliver us from the works of the devil. So we're saved from the works of the devil. Whatever they are, that's what we are saved from by God.

And then we are saved for. Not only from, but "for". We are saved for life. What makes life, life? According to the Holy Scripture, what makes life life is the glorification of God. Not trying to figure out who gets saved and who is not saved, and what you got to do to get to go to heaven and then do the minimal amount of things that you need. Professor Verhovskoy would say it would be like saying how often do I have to be with my wife? Do I have to see her every day? Can I see her every other day? Can I see her just on Sunday mornings for two hours? What do I have to do with her? What do I have to give to her so that I can be quote, unquote "in good standing" with her? That's an abomination. That's a blasphemy. Human beings who are created in the image and likeness of God do not act that way. In fact, we do everything to be in communion all the time, to love all the time, give everything, to share everything, to enjoy everything. That's what it's all about. It's not about some kind of minimal standards or rules that if we fulfill them externally, we get to go to heaven.

And it's very interesting that many Christians who claim to be saved by faith alone and not by works, they're still very interested in what works you need to do to be saved. And I would even suggest let's strike once and for all from our life this question: what do I need to do to be saved? The answer is: everything and nothing because there's nothing I can do to be saved if God doesn't save me. But once God saves me, then I have to do the works that he does, and that means I can never rest assured of my salvation. Oh yes, I can say and I must say the gospel of God in Jesus Christ is that we are all saved. I'm saved, you're saved. Joseph Stalin is saved. Osama bin Laden is saved. Whoever you want to think of is saved, as far as God is concerned. And then the question is, do we accept that salvation? Do we live by that salvation?

And here the teaching of Scripture and the saints would be that nobody could claim to do it. Nobody is righteous, no, not one, even after baptism. And we're always sinners saying God be merciful to me, a sinner. We're always saying, I am not worthy, I am not worthy. I am not deserving. Certainly I am not deserving of the grace of the Holy Spirit, and the fire of God, and the broken body and the spilled blood of Jesus. I am not worthy of salvation. It's a gift. But once I realize that there is that gift, then I have to take that gift, and I have to repent every time I don't take it. I have to repent every time I neglect it, forget it, and worse, that I would just refuse it and live by my own standards and my own life. That's hell. That is hell. Hell is being and doing what you want to be, not according to what God wants, which is salvation.

So once I know that I am saved by Jesus, then what I do is that I pray without ceasing. I give thanks in all circumstances. I rejoice in all things. I try to share everything I have. I try to do everything as well as I can, and I know that even if I do that, I am not deserving of salvation. And I know there's nothing I can externally do. I could go 100 Divine Liturgies and give all my body to be burned and everything, even as St. Paul says, but if I have not the love of God in me, if I'm doing out of arrogance and pride or trying to get to go to heaven when I die, and earn my salvation, then I'm still in the hands of the devil. My life is still an abomination. I have not yet understood salvation. Why? Because I have not yet understood God. So to understand salvation and to receive salvation, you have to understand and receive and love God. We love God, not salvation. God. We love God. And therefore, we are saved for loving God, glorifying God, praising God with every breath, more than we breathe the holy fathers say. We are saved for work. We are saved for activity. We are saved for rejoicing in one another. We are saved for serving each other. We are saved for repenting, in fact. We can only repent because we're saved, because that salvation is always available to us.

For as often as we sin, when we get up again, that very salvation once and for all accomplished on the cross by God with his son Jesus, God our Savior, and Christ our Savior, that allows me to repent. That's one of the elements of salvation, the ability to repent daily. And the holy fathers would even say, we are saved for tears. We are saved for weeping over our sins and the sins of the world. We are saved for weeping over how we have ruined our world and corrupted our planet, and destroyed our universe and killed our economy, and how our greed and how our competition, and how our, I don't know what, racisms and all kinds of have stuff have created a hell on the planet Earth. Well, God has saved us in Christ from that hell, but it's not only from the hell, it's for the paradise. And that's why St. Simeon the New Theologian said, we are saved so that each day we can become a fresh paradise to everyone around us, including our most horrible hated enemy. We are saved to be by grace everything that God in Christ is by nature. That's what we're saved for.

And so a person who knows that, that person is no longer interested or obsessed in salvation as such. They are totally devoted to God as the Savior, to Christ who is the Savior, to the eternal life to the gifts of the Holy Spirit and the fire into which they are baptized into which they are saved by the Savior Jesus, by his broken body and spilled blood. They're not looking around, figuring out salvation. In fact, a saved person who is not interested paradoxically in salvation anymore at all, a saved person is not trying to figure anything out. A saved person is just praying to be illumined by God to testify to the fact that we are saved, that salvation is here, eternal life is here. Joy is here. Peace is here. God is with us. Emmanuel is Christ's name also. God with us, that everything has been redeemed, saved, delivered, protected, purified. All the enemies have been destroyed. All of God's enemies have withered up and are like smoke vanishing in the fire, and nothing over stands against God anymore. And to be saved is to be in that reality, and even more modestly, to want to be in that reality. To struggle to be in that reality, to confess with tears that we are not in that reality, and to confess that we have no claim on salvation. We cannot name anything, we can't claim anything.

And we certainly cannot dare to claim, there's my place in heaven, made for me because I accept Jesus as my Savior. Because the question would be, do you really accept Jesus as your Savior? Then your works will show it. That's the teaching of Holy Scripture. Your deeds will show it. What do you do? Oh, no. We come before the face of God always as penitents and sinners until he comes again in glory, and we say, "Save me, O Lord." We pray all the time in church, help us, save us, have mercy on us, keep us, oh God, by your grace. And what we will see is that the content of salvation is the outpouring of the divine chesed, the divine mercy, the divine love upon us, and we bask in that as our salvation. And to the measure that we are in that, to that measure we are saved. But it isn't over until it's over.

There's a wonderful story of St. Macarius of Egypt, who when his life was over was entering into paradise. According to the story, he had one foot into paradise, he heard a voice saying, Macarius you have conquered. Actually, the voice should have said, Macarius, Christ has conquered in you, Christ is the victor. He's the Savior. But when the voice said, Macarius, you have conquered, Macarius turned around and looked, and it was the devil. And Macarius looked at the devil, and he said to him, not yet. Until both feet are safely in, not yet. We presume nothing, while at the same time we confess that everyone and everything in all of creation has been saved by God in the blood of Jesus. It's our task to receive that salvation and to re-receive it, take it again, and again, and again, every moment of every day with every breath to be again loving God and loving our neighbor and trying to keep the commandments.

And if we do that, then God will save us if he wishes, and he will know how. But we won't be interested in salvation anymore. We will be interested solely in pleasing, glorifying, worshipping, and loving God, who is love, who has loved us so much that he sent his beloved Son into the world to save us and to pour his saving power and love of the Holy Spirit into us, even now while we live in this fallen and corrupted world. So every day we say to the Lord, Lord have mercy, Lord save me, Lord be with me. And then we say Lord let me be worthy of your great salvation. Lord, let me be an instrument of your salvation, your love, your truth, your reconciliation, your victory over death and the devil to every single person around me. And when I fail in that, oh Lord, have mercy on me, and I know that you will. Why? Because you have saved me, and you have saved everyone and everything.
So this should serve as a sufficient rebuttal to Ayn Rand's view that "The first duty of a Christian is the salvation of his own soul".  To be a Christian and merely seek salvation is a bit like buying a girl flowers and dinner just so you can have sex with her.  When what we should really be interested in is getting to know the girl and loving her with a view to spending the rest of our lives with her.  The sex, like our salvation, will happen naturally if we put love and the relationship first.