I thought I might introduce a new feature here at Eternal Vigilance – the Saint (or Saints) of the week.  There are several reasons – the first is that many modern Christians have no clue of their famous forbears in the faith, or the history of the Church from the resurrection of Christ until the present day.  The second is the amazing example that these people set, and the things they teach us even today.  The third is that the Church celebrates these people on feast days every single day throughout the year, and I thought it might be good to mark the more prominent of them as we go.
All these Saints will be great men and women canonised by the Orthodox Church, of course, but I hope you will forgive my bias in that regard.  It needs to be clarified that the Church does not make people Saints – it is the grace of God alone that does it, and the Church merely confirms whomever has been revealed.  There may well be millions of Saints in heaven abiding with Christ.  However, lest we become complacent about diligently working out our own salvation, God reveals to us a comparative handful of people only, to give us hope and something to aspire to, as well as people through whom we can seek intercession for our ongoing theosis.
This last week was kind of a bumper week, and I have three Saints I want to recognize:
POLYCARP (80-167AD)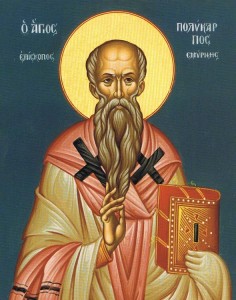 Polycarp, whose feast day was celebrated last Monday 23rd February, was a disciple of the Apostle John, and was appointed Episcopos (Bishop) of Smyrna by him.  He is one of the most prominent of the next generation of Christians after the passing of the Apostles.  We have one surviving text from him – his Letter to the Phillipians, but in him we see a continuation of the Church the Apostles founded, and their faith.  It has even been suggested by scholars that he was the first to compile the New Testament as we know it today.
The account of his martyrdom is one of the most famous of the Early Church, and has relevance today, especially with the violence of radical Islamists against Christians.  Brought into a Roman arena, he was challenged:
"…the proconsul asked him whether he was Polycarp. On his confessing that he was, [the proconsul] sought to persuade him to deny Christ, saying,  Swear by the fortune of Cæsar; repent, and say, Away with the Atheists. …Then, the proconsul urging him, and saying, Swear, and I will set you at liberty, reproach Christ; Polycarp declared, Eighty and six years have I served Him, and He never did me any injury: how then can I blaspheme my King and my Saviour?
The man had balls.  They proceeded to burn him alive, though the flames did not actually kill him, and they had to finish the job with a dagger.  We also see in the account of his martyrdom that 2nd Century Christians would venerate and honour the remains of reposed Saints, such that the Romans actually decided to rekindle the fire to burn his body after his death so that his relics would be dishonoured.  He remains one of the most famous of the Early Church martyrs.
PHOTINI (?-66AD)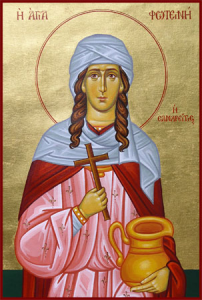 Better known as the Samaritan woman of John 4, her feast day was last Thursday 26th February, and her encounter with Christ at the Well of Jacob was truly transformational.  She converted her five sisters to the faith, as well as her two sons.  She later moved to Carthage in North Africa, before the persecution of her son Victor brought her to Rome to face Nero.  After her sisters and sons were brutally and savagely murdered, Nero offered her one last chance to sacrifice to other gods, to which she replied:
"O most impious of the blind, you profligate and stupid man! Do you think me so deluded that I would consent to renounce my Lord Christ and instead offer sacrifice to idols as blind as you?"
Photini was, fittingly, martyred by being thrown down a well.  She is my family's patron saint, and well loved for her ability to turn her life around into one of service and devotion.
RAPHAEL of Brooklyn (1860-1915)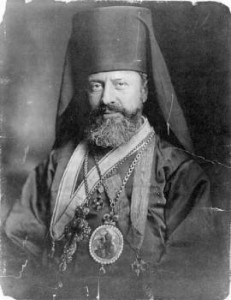 Friday 27th February saw the 100th Anniversary of the repose of St Raphael, the first locally consecrated American Bishop, and the first Arab Bishop to serve in the United States.  He personally founded 30 parishes in the United States and was adored for his personal piety, asceticism and love for his people.
Holy Polycarp, Holy Photini, Holy Raphael, pray unto God for us!