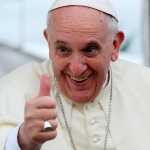 It's come to my attention that a certain heretical church leader has been blaspheming God by saying his church can forgive your abortion "next year".
If you found yourself underwhelmed by that "generous offer", I have great news!  God through His Son Jesus Christ can actually forgive your abortion, AND other sins, ALL THE TIME!
All you have to do is pop along to your local Orthodox Church parish and confess your abortion (and anything else) to the Priest, and not only will Christ forgive your sins, but the Priest will bear witness to His forgiveness by offering you the Holy Mysteries according to your relationship with the Church!
And you don't have to wait until December for it to happen.
Christ forgives sins by our confession, not by clerical declaration at specific points on a calendar.  And thank God for that!