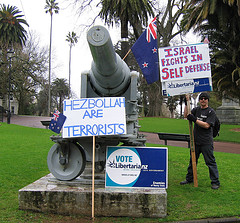 Libz 10th birthday speech.
Monday, 31 July, 2006 11:23 PM
By Tim Wikiriwhi Christian Libertarian.
Good morning brothers and sisters!
This is the day that the Lord has made, let us rejoice and be glad in it!
Today's sermon is about integrity to truth and justice!
I want talk from my own philosophy and show how it keeps me committed to our party in the face of much hardship and I also want to question the validity of other philosophies that I see as detrimental to our cause.
In the spirit of friendship I have endeavoured to keep any criticism as impersonal as possible and yet as individualistic as possible so not to unfairly lump goodies with baddies simply because they all hang out under the same banner.
Most people here know I'm a Christian and though I will be unashamedly using Christian concepts, I hope non-Christians listening will be objective enough to see the points I am making as valid in spite of their religious origins.
If the shoe fits I hope you have the integrity to wear it!
Having set the tenor of my speech I shall now get into it!
I could have called this speech "Who Dares Wins" but I prefer to call it "Keeping the faith" Don't become a Luke warm Libertarian!
We must Attack! Attack! Attack! With our dying breath! Attack!
This aint no game people! This is war!
Peoples lives are being destroyed!
Children are dying!
The most frustrating thing for me as an activist is convincing those poor souls out there who are being ram-rodded by the socialist tyrants to throw their lot in with the Libertarian party and putting up the necessary cash to win the fight, even when they can see we are 100% right!
This is so frustrating! I am busting my ass trying to help them but they wont even help themselves!
Did I just say that the sheeple are the most frustrating thing?
Sorry!
Let me now tell you that they aren't the most frustrating! There is something much worse!
What is much more frustrating is that so many people who are members of our party, and claim to be passionate about freedom, never put themselves out in the slightest little inconvenience for the values they profess to hold dear!
What more a high percentage drop off after a period of good work as if they have done their bit!
I want to talk about this…about what bullshit is used to justify dropping the ball and why this is a travesty!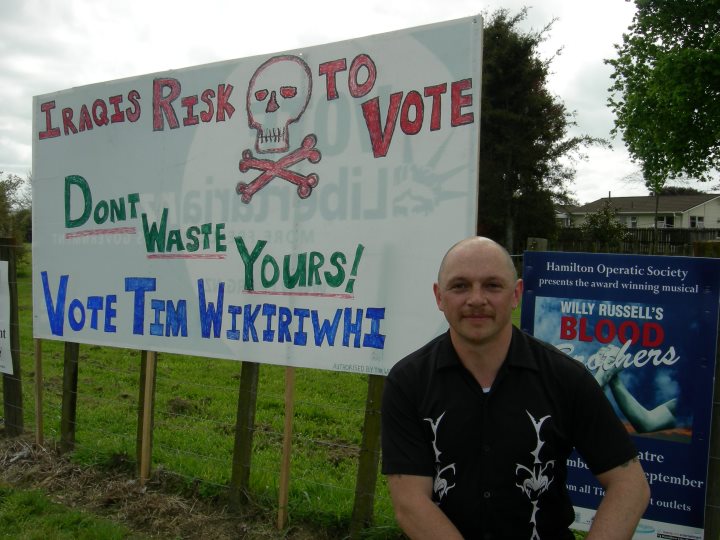 Why is it so hard to get Libertarians to go to meetings?
It has often been said that trying to organise any libertarian activity is like herding cats!
This is a disgrace! And I consider this a fundamental problem!
Recently I was asked a very important question…it was "Do you really believed it is possible to get a Libertarian government here in New Zealand?"
And I found that I could honestly answer, "Yes!"
I think this point is of vital importance!
So many great freedom fighters seam to loose faith in the dream and drift into inactivity.
We have many talented new faces, yet we are not gaining numerical strength on the front!
'Loss of faith' seams to keep us from making real gains.
Why is this?
The bible talks about different kinds of people and what they do with the seed of truth.
Some people are called "The wayside" where the truth cannot take root.
Others are the stony/shallow ground where the seed may sprout and shoot up, but when the heat of the day comes, the seed quickly withers and dies for lack of root and depth.
Some are called "the good soil" in which the seed shoots forth and is able to weather the heat and in due season bares much fruit!
I ask what sort of ground are you? How good is your value system?
Are you a Possibility thinker or an Impossibility thinker?, A pessimist, or an optimist?
People quit the party over petty little disputes or because someone like myself was too crass and not P.C enough to be worthy of their company!
We get the " I must quit for personal reasons"…I always wonder what bullshit reasons are good enough?
Few quit for reasons of life and death!
Most are quitting for shameful reasons, and that disappoints me.
This lack of conviction makes me feel not pity but contempt!
The Bible says that "no man putting his hands to the plough yet looking back is fit for the kingdom!"
Some quitters retreat with the cowardly excuse that "only deluded dreamers believe the Libertarianz party will ever get its act together!
(thump table!)
I say this sort of pessimistic self-defeatism is self-defeating!
It is political suicide!
I see this lack of faith and resolve as the greatest enemy we face!
Our own irresolute determination to remain committed to the cause to our dying breath!
There is no reason/passion dichotomy!
If you don't have the passion…There must be something wrong with your reasoning!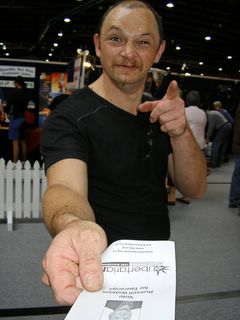 The Devil wants us to quit And would love to see our party fold! And guess what…The socialists aren't beating us! We're quitting due to our own fickleness!
Sloth and apathy are great sins!
Don't give in to such temptations!
Never choose the low road!
Why do I reject defeatism and believe it is possible for Libertarian victory in our lifetime?
Well, first of all the competition is morally bankrupt to their core and utterly absurd!
I say to be quitters or fence sitters in the light of this indisputable fact is in itself an unforgivable lack of character and integrity!
"Lord give me the serenity to accept the things I cannot change, the courage to change the things that I can, and the wisdom to know the difference!"
Where's your head at?
Where is your self respect founded?
Don't go fooling yourself by thinking you are facing facts or being realistic when you deny the possibility of the Libertarianz party making global history and a giant leap forward in human civilisation!
You are being a quitter pure and simple a U.I.N!
You have no claim to a greater truth or higher reason
You are shirking the burden of carrying the torch of freedom and the scales of justice, pure and simple!
They are heavy but glorious!
And I can find no tolerable excuse for faltering in the face of the enemy!
The socialists aren't beating us…were quitting due to our own fickleness!
The bible says that the lukewarm are to be spewed from God's mouth!
As Individualist's, when no one is prepared to stand beside us, we ought to be prepared to fight on alone, tooth and nail!
Loneliness ought to make you even more determined not to falter!
"Evil prevails when good men do nothing!"
The bible tells us never to forget our first love!
Never forget the principles and reasons you joined our party.
They become even more valid as time goes by.
Not less relevant, not less believable and essential, but more so every day!
Values are to be weighed against each other and the value of always choosing to sit on your ass smelling the roses instead of exhausting your time and resources in the Libertarian cause means you value pleasure more than justice.
What sort of human is that? A debauchee!
Certainly not a man of virtue!
While hundreds of so-called Libertarians sit on their arses, the Legions of Hell are marshalling!
Rust never sleeps!
We must daily review our highest values and renew our commitment to what is right and good!
In my view it is a very noble and great honour to work for the success of the party.
It is the measure of our integrity and fortitude!
I say "All play and no work makes Jack a very dull boy!"
What sort of person are you?
What moves you to action and to despise your own fears?
Why be active?
Why heavily invest yourself personally in this party?
I say for freedom lovers it is irrational not to commit yourself fully to the Libertarian cause!
If this cause is not important enough to get you out of your comfort zone what is?
In my ethical code full commitment to the party is not only the purest form of self-defence it is something even more praise worthy.
It is the defence of the poor, the week and the needy!
I.e. it is also the highest expression of charity and love of our fellow man!
A philosophy that does not include such love is shallow indeed!
Therefore to abandon this cause is to poison your soul with uncharitable inconsideration of your fellow human beings.
True love makes you go out of your way for others!
My Grandfather wisely reminds me that "No man is an island"
Free society, rights, etc are community values and meaningless to the lone castaway on a deserted island! My Grandfather is 100% right!
Being an individualist is no excuse for being uncharitable and I question the validity of a rational selfishness that excludes concern for others!
I say that's a perverse individualism and the philosophy of cold self-conceit and a failure to value human life!
Think about Bill Gates. Is he a fool giving all his money to charity or is he a saint? How you answer that question will be a yardstick for your humanity.
I say Bill Gates is one of the greatest human beings ever to grace this earth!
He's someone to aspire to, not merely for his genius but especially because of his heart!
Bill is my kind of guy!
Bill has won my heart and respect!
I'm not interest in hearing about his sins!
I ask, what sort of Libertarian society is possible without voluntary consideration of your fellow man and the desire for the common good?
The scripture says "though I have all wisdom yet not charity I am nothing!"
I ask how successful can any party be that is inconsiderate of the common good and does not make this a chief factor in seeking support.
That is just plain stupid and the public can see your fickleness!
That you don't really give a damn about them!
I say the common good ought to be worthy of our inconvenience and is a vital yet grossly undervalued component in our fight!
Do you have a compassionate heart?
If you say you do, then I say "prove it!" by resolving never to waiver from the Libertarian cause!
Don't tell me you care when you are backsliding from activism and party business!
Everything I am saying is aimed at our "ought ness" in the light of our own individual values. Nothing I have said is in anyway contrary to Individual voluntary action, Indeed it is the voluntary choice to commit ourselves to such a worth cause that gives us the right to have self esteem and to claim the high ground as the defenders of truth , justice and the common good! If any of you are mumbling under your breath that I'm trying to ensnare you in bondage to the collective I feel very sorry for you!
I'll go further and say Altruism is a great good, and that you have been sold a giant Mickey if you think self sacrifice for the good of others can have no place in virtue for the individualist!
Right to claim a value always entails a cost or else its just lip service. Action defines personal values!
Long suffering is the keynote of high value.
A cost free value system is irrational and a cheap fake!
Even true friendship means we must be prepared to risk offending and loosing that friendship if we see the need to rebuke them for their own good!
The higher the value the more we must be prepared to sacrifice for it's sake to claim it as our own. This being true it logically follows that Altruism is heroic when practised voluntarily and Jesus Christ was a great man of virtue!
He said it was out of love that he would give his life for his friends, and was faithful to his beliefs unto death even the death of the cross!
This is heroism!
The volunteer fireman, who risks the inferno for the sake of others.
The heroic rescue workers that entered the Twin towers on 9/11 and never came out!
The Christian heroes that died fighting evil in the flight that was supposed to hit the Whitehouse!
The army soldier who falls upon a grenade as a human shield for his Brothers in Arms!
These are indisputably mans greatest kind of deeds and acts of love and as such are worthy of the greatest honour!
Contrary to what Rand says, Altruism, in it's true sense, is voluntary and is the highest expression of individualist values and character!
It is Love!
It opposite is a deluded egotistical 'covetousness of self' as the centre of reality! Self-worshipping Megalomania!
Sadam Insane is an 'Egoist' so was Adolf Hitler!
Yes we Individualists ought to be prepared to die for our faith and those we love.
Not to have contempt for death and hardship and relentlessly attack the enemy is to give the enemy the advantage!
They are often prepared to die for their beliefs!
Look at the suicide bombers!
Do they have values superior to yours?
They must if they will sacrifice their lives for them but many Libz wont even inconvenience themselves in the slightest to support your local Libz candidates!
I have made this point because my goal of this speech has been to inquire into the philosophical origins of inertia, and I see a collection of shallow excuses for denying what is indisputably the most heroic and noble of values… Altruist self sacrifice!
And this is a most common excuse for sloth in party activism and lack of willingness to carry the party's burdens voluntarily and with honour.
I ask the question that if we were in ancient Greece facing the Persian horde who among you would stand at Thermopile?
They who will not inconvenience themselves in the fight against our pathetic socialist enemy, I guarantee would flee and die as cowards!
Christ said a philosophy may be known by its fruit.
Do you have love in your heart or contempt?
Many egoists, hiding behind 'Individualism', go out of their way to find fault with good Samaritans like Mother Teresa, and then fall over themselves praising someone who leaves a man to die in favour of getting to the top of a hill!
They do this so their peers will give them glory for being rugged egoists and to make themselves and their egoist buddies feel good about not giving a damn about anything but themselves!
And that's a real ugly philosophy!
And it shows despite claims of integrity and honour!
That's contempt for your fellow man!
That is not a passionate or compassionate philosophy but a dispassionate cold, and loveless one!
By that fruit I know its full of shit!
And the relevant point regarding party activism is that individuals with that philosophy have no problems ignoring a call to arms whenever it suits them and especially when there is little chance of personal glory!
That philosophy is costing our party dearly!
Both in lost manpower at the front and making our party ugly even when support such support is forthcoming!
I say Mark Inglis is a legless hypocrite and an asshole, not a hero!
He's an Egoist!
"Stepping over corpses is the price of greatness" according to Hedrich Himmler! (And I say this total disregard for others is also the logical conclusion of atheism!)
Experts say David Sharp might have been saved and Sir Edmond Hillary would have forsaken his attempt at the summit and given it a shot!
He's a real man of virtue not a vain poser!
And despite some silly ideas, Mother Teresa was a real Hero!
To paraphrase Barbara Brandon… "I have long since graduated from the school that perfection is the price of admiration, and I wonder from what lofty moral height some dare to gaze down onto a woman like Mother Teresa! Since she did not act according to their terms, her life of love and caring for the weak is seen as having no value! I do inquire into their psychology and I say their contempt does not become them. It stresses their distance from reality!
Enough said about bad philosophy, and why many Libertarians are as useless as tits on a bull to our party!
Self-serving, self-glorifying, small-minded intellectual masturbators!
The Bible says that "though we have all wisdom yet not charity we are nothing!"
Socialism is a giant tragedy and so if your heart is not breaking there is something wrong with you!
Christianity changed the world because it is a philosophy of Love and a call to action!
It has brought civilisation to the darkest regions of mankind!
It has turned cannibals into lovers of humanity!
How does your philosophy measure up to that?
Do you understand that hate can only be overcome by love?
Despite our many troubles and conflicting views, I'm still proud to be a member of this group and I'm prepared to continue to bare troubles and toils for its sake.
The Libertarianz Party does count because we force the public to choose between slavery and freedom!
You cant tell me that this isn't an absolutely worthy truth that demands the man of virtue always to step up for the party, and hold it dear!
This party ought to be the embodiment of what makes you tick and of who you are!
And to live without making the greatest effort to achieve its goals is to fail to appreciate its greatness, and to grossly undervalue what has been built up to attack the enemy and liberate us from great evils.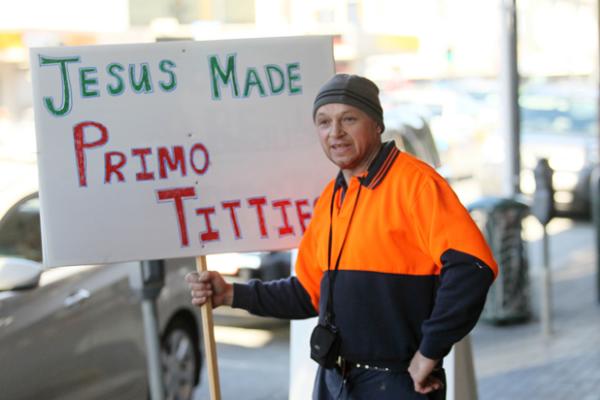 What have I achieve with this speech?
Maybe nothing!
Hopefully I have started a revolution within a revolution!
I have done my utmost to encourage you all never to be quitters no matter what!
I have tried to expose the grievous weakness of egoism in revolutionary action and promote love as a chief overcoming motive energy.
By doing this you can swap a fake egoism for real self esteem and change Objectivism from the ultimate pragmatism into true Idealism!
Perigo had no qualm disputing Rand in regards to homosexuality, and I'm hopping you will do it again and acknowledge that Individualism need not be anti-altruism and indeed that when it is voluntary it empowers us to stand for our highest values and instils a heroic contempt for death and hardship!
Cowardly defeatism is for losers!
I call you all to live a heroic life for victory and start turning up to Libz meetings on a regular basis!
I pray for the strength to live up this high calling myself!
Of wearing the emblem of the Freedom Fighter!
I expect to see you all next year up at Waitangi!
God bless the Libertarianz!