Editing is in progress….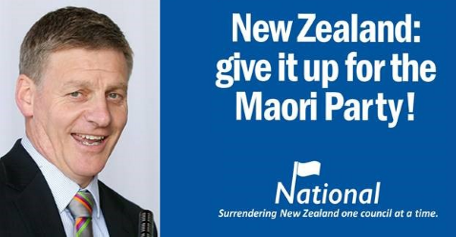 The up coming election is looking like a complete disaster for Justice and race relations with both National and Labour Poised to outdo each other in selling out our Country to Racist interests for the sake of their own short term political gains.
This is nothing new but has long been a feature of our shameful apartheid system… yet things have become acute in recent decades with the rise of The Socialist Racist radial Maori separatists and their grip on the the Maori seats in Parliament and esp since the establishment of MMP.
It has its own coined phrase… 'Brown-mail'.
Despite a veneer of revisionist lies that try to legitimize these abominations… and the Actors involved performing with such believe-ability that they deserve Oscars… the facts remain and are so infamous… and blatant… that they barely need enunciating … I only add these details here to my blog for the sake of the monologue!
Only fools and Vested interests Swallow the BS!
The Politics surrounding our race-based electoral rolls and Seats have morphed from a misguided benevolent anomaly of Ages long dead into a grotesque cancerous monstrosity… inflicting pain and extreme injustice upon our Nation… a source of Power and extortion for Liars and bigots.
Everybody with an ounce of wisdom knows the race-based seats should have been abolished over 100 years ago… yet come election time and the struggle for power… the two major parties have neither the scruple… nor the Nads to abolish them.
National and Labour dont care about what is in our Nations best interests… yet there is a cunning fox circling the Chicken coup …. the shrewd New Zealand First Party Leader Winston Peters… and he smells an opportunity to deliver something most New Zealanders want … and as such… I am about to ask something weird! and make an appeal to National and Labour supporters… I'm asking you to put principles ahead of Party… for your own sakes, and that of our Nation…. lets put New Zealand first!
I ask those of you who traditionally vote Blue or Red whether or not Bill English or Kelvin Davis truly represent your sentiments and interest with respect to their refusal to put the question of the ongoing existence of these Race-based seats in parliament to a special vote of the people.
The very seats that are always occupied by Racists who want Pakeha to 'go home'… while expecting Pakeha to pay for everything and give them special rights and privileges… those seats.
You see… Neither Bill or Kelvin want to give you an opportunity to express how sick and tired you are of Treaty separatism, and the way it renders most of you… and your children second class citizens… because they are more concerned about out maneuvering each other at election time than having just policies.
Labour rules out Māori seat referendum
Bill English lends Winston a helping hand by rejecting Maori seats referendum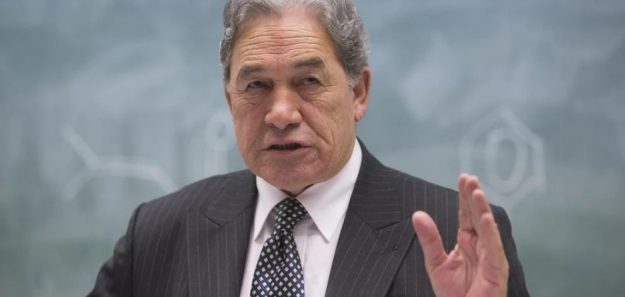 National and Labour are both desperate to kiss up to the Maori radicals again and count on your ongoing apathy to allow them to continue to trade away our country via coalition deals to a bunch of bigots who think the colour of their skin entitles them to greater right to live here and enjoy our country than everyone else… no matter how many generations your Family has existed here.
They expect to simply live off the pigs back!
Only Winston Peters wants to give you… the voter an opportunity to have your own voice on such an essential principle of Unity and equality before the Law!
I will be honest with you… I am no fan of National… no Fan of Labour… not a dedicated fan of Winston… I'm not even a fan of Binding referenda… yet on this essential issue there is extreme urgency that the Apartheid system must be abolished and Winston's referenda is about the only conceivable means by which this could happen in the shortest time frame… before the rest of our country has been bargained away!
And remember he's a Maori too!
I also know you guys ought to be peeved about this…
I know from such previous Polls and other things like the Constitutional review held in 2013 that the desire to End the separatism is by far in the majority… and so their attitude against Winston's call for a referendum is patently against what everyone knows is the will of a significant majority of Kiwi.
National/Maori halted the review process in its tracks and quietly shelved the submissions they received when it was clear That an overwhelming majority of Kiwi wanted no part in their desire to entrench the treaty… currently all the racist Bunk of Treaty separatism can be abolished by a simple majority in parliament.
And that is what the Maori radicals fear most… That kiwi will wake up from their stupor and abolish their Scam… that is netting them BILLIONS… yet not helping the average Maori one iota… in fact The Radicals in power enjoy the ongoing grievance and misery of the Maori people they pretend to care about… Its all money, Mana, and power in the bank for them… that its all filthy lucre and founded upon lies and misery matters not to them.
It's time for you to wake up… to step up for your own sake and show your displeasure by getting in behind Winston Peters.
I cant even believe it is me who is writing this!
I know you wont vote for Libertarians, and that though I have spent a good deal of my adult life as a Libertarian castigating the populism of Winston Peters, yet so dire is our situation… and such a contrast between Winston and the Blue/Reds that I appeal to your sense of justice to prevail over your usual Party political election decisions.
End the Official Racism!
Stop The Racial extortion!
Vote for your own Rights and liberties and Equality before the Law!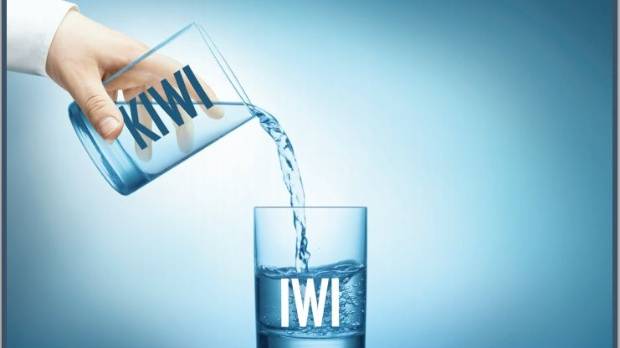 There are massive grabs by the Racists afoot…. It is staggering to witness just how far National has sold out our Nation to the Racist radicals!
Nothing less than our Beaches and Water rights!
It matters not to the scoundrels in National or Labour that the Treaty established British sovereignty, British law and order, and British rights and liberties under which the beaches and waterways are held in ownership by the Queen… in trust for the common use of all.
All they care about is getting into power… and they expect you to continue to believe the revisionist lies that the treaty retained Maori Sovereignty… and gave ownership rights of these absolutely essential assets to Maori.
They want you to continue believe the lies that it was only by greed and dishonesty that Maori wallow in poverty today… and that somehow *You owe Maori the shirt off your back*… you know… all the BS they teach about British Colonization in State Uni.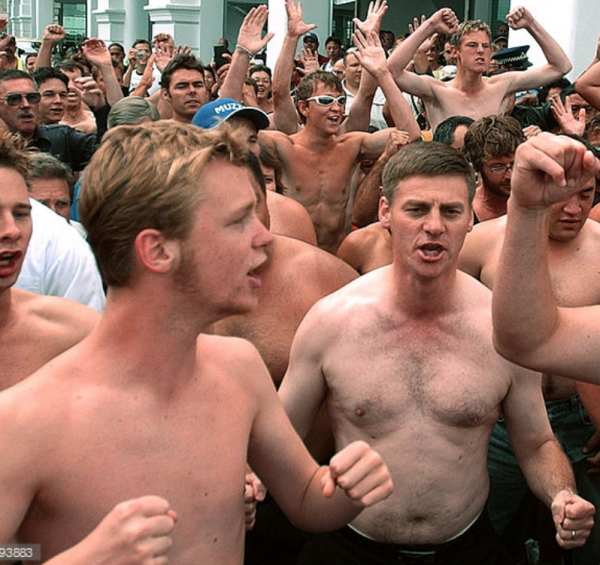 Puke.
And these lies have been official policy for nearly half a century now and yet all the loot and injustice has not raised up the average tribesman… has not 'closed the gap'… but entrenched the poverty and exacerbated the racial divisions and enmity.
All the Racial divisions and injustices reached crisis point decades ago and yet tragically Kiwis have become acclimatized to it all.
I know most of you are sick and tired of it yet again its now the Norm…and National and Labour are counting on you to remain un-moved in your Party Political support.
I ask you to seriously look at Winston Peters as not only a viable alternative, whose policies on most everything else are indistinguishable from National and Labour, but also as you best hope to ending the travesty of a tiny minority of Maori Radicals holding our whole country to ransom… every election.
Your Party Leaders dont give a damn about it… but Winston does…because he knows you do too.
Because Winston's other policies are not very far away from either Nationals or Labour… a vote for New Zealand First instead of either will not represent a massive departure politically speaking for most of the people I am appealing to here and now.
Please grow a pair…. and think these things through!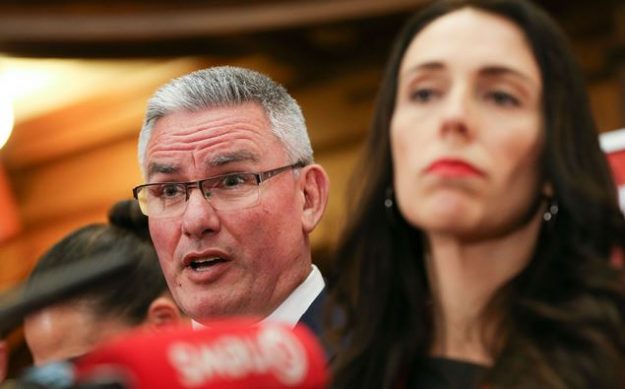 Jacinda Ardern won't do power sharing deal with Winston Peters
I am Maori… and I long for the day that Treaty separatism ends!
I can look my own race in the face and say that this will be as great a day for them as for the whole country… an end of shameful Apartheid electoral system… the essential beginning of the end of Apartheid Law… and the first step for Maori to stand as equals with the rest of New Zealand!
That is the beginning of their recovery out of the mire!
I also know that when all the racist Laws and institutions have been abolished that this will not impinge upon the legitimate rights and liberties of Maori to enjoy their culture any more than equality before the Law prevents any other Nationality from peacefully enjoying their own freedom.
It will not detract … but in fact will restore the truth with respect to Maori history.
The Truth that New Zealand was the home of what is know as Maori Culture and heritage… cannot be erased… yet nor should it be allowed to perpetually enslave our Nation!
So Its time stand up and tell your parties you want the opportunity to have your say via Winston's referendum, and unless they reverse the decision to allow it… you will jump Waka and give Winston your votes!
Let them know that you have had a guts fully of their treacherous selling out and bribery of the Maori radicals… and that they better appreciate just how outraged you are about their shameful politicking… and make it clear they better allow Winston's referendum to take place… Demand you get your say on this matter!
Or will you blindly vote for these mongrels who think you are chumps… proving them right?
Satan Laughing spreads his wings.
I am contemplating standing as a Libertarian independent in Hamilton West, yet because of the urgency and essential principles of justice at stake I implore you Labour and National voters to do what I myself am committed to doing… and that is putting aside all my personal apprehension and giving my party vote to New Zealand First.
If I dont stand I will also give my electorate vote to the New Zealand First candidate as well.
Tim Wikiriwhi
Christian Libertarian.
More from Tim…
Tim Wikiriwhi's Submission to the New Zealand Government's Constitutional Review. 2013
Alcohol, Drugs, Nanny State, and the Plight of the Maori People.
New Zealand's Hopeless Election Choices… The Selling out of New Zealand to BrownMail. RMA 2017
The Verdict is in… as predicted… 'Closing the Gaps' Socialism has been a disaster for Maori and New Zealand as a whole.
The Wanganui River and the incredulous incantations of the Neo-Tohungas…
My speech for the 1Law4all party 2014 AGM. Tim Wikiriwhi. 17 June. Hamilton
The New Zealand War of the 1860s was not a 'Land war'… It was a Sovereignty War.
Mt Everest is for Wimps! Lets Conquer Apartheid Government in New Zealand! A strategy.
Looking Forward, not Backwards: Dynamic Culture vs Stagnation. Why British Colonisation was good for Maori.
The Shame of Maori Radicalism. Hate and Violence.
Maori Renaissance… *EPIC FAIL!*
Low Lives in High Places. Water and John Key's Racist Alliance
Trojan Horse: The UN Separatist Declaration of Indigenous Rights.
Universal Pride in Washington, Separatist Shame in Wellington.
Lost Plot. World Press Freedom Day.
Spiel on brain washing, and socialist engines of confomity. State education.
The Great Waitangi Debate. 2010