I chose the title of this post carefully in order to comply with Betteridge's law of headlines.
Should Christians kill all the homosexuals? (Let's be clear. The answer is NO.)
Not even Pastor Logan Robertson thinks that Christians should kill all the homosexuals. He thinks that's a job for the government.
I believe every single one of them should be put to death. Obviously Christians shouldn't be doing it. I'm not going to do it. It's the government's job to be doing it.
Which is worse? Pastor Logan Robertson's appalling homophobia or his abject statism? (Let's be absolutely clear. It's NOT the government's job to kill homosexuals. It's no one's job. No one should kill anyone. Glory to God in the highest, and on earth peace, good will toward men.)
Presumably Robertson is somewhat cynical about the government's ability to do whatever it is they're supposed to do, and that's why he says he'll pray that Marjoram tops himself, rather than patiently wait for the state to embark on genocide.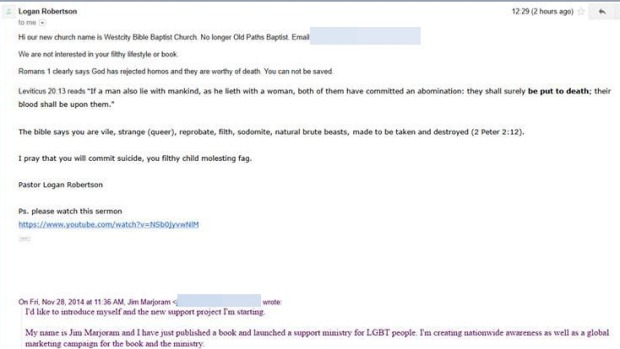 I'm downgrading my assessment of Pastor Logan Robertson from stooge to sitting duck.
I was by no means the only one to suspect that Marjoram and Robertson were colluding and that it was all a set-up to gain publicity for and sell Marjoram's book. Or, worse, that it was a cunning plan by new atheists to discredit Christianity. Investigative journalist Ian Wishart says
Maybe it's the investigative journalist in me, and the sceptic in someone else who shall remain nameless, but something seems fishy about this story of the pastor abusing the gay author.

Logan Robertson does not seem to have much of a digital footprint pre-dating this. In fact, his "church" is so obscure it runs from a house and its website was only established a matter of weeks ago. Frankly, I'm surprised Jim Marjoram was able to find so obscure a church to send an email to…because I couldn't find it in the usual church email directories he would ordinarily have used..

Maybe I missed something…
What Wishart missed, and what I missed, is that Robertson has a history of serious mental illness.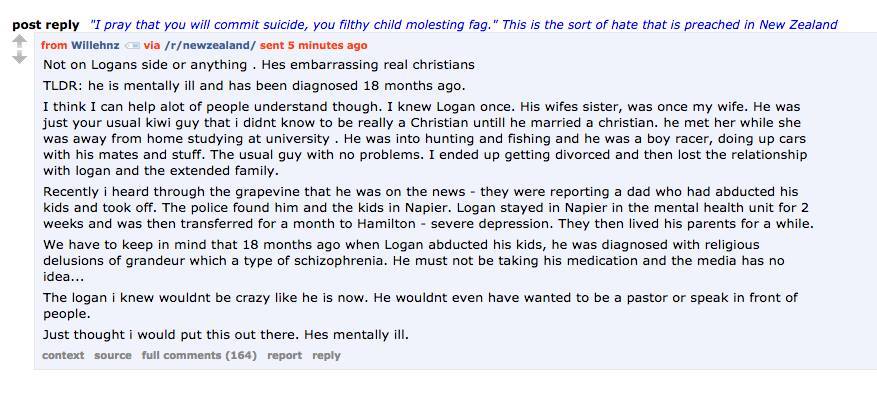 Here ends the short sad sorry saga of Pastor Logan Robertson and his Westcity Bible Baptist Church with its congregation of three.
Or does it?
What about the elephant in the room?
Let's grab it by the tail and look the facts in the face. The Bible quite clearly tells us, as Pastor Logan Robertson reminds us in his email, to kill all the homosexuals.
If a man also lie with mankind, as he lieth with a woman, both of them have committed an abomination: they shall surely be put to death; their blood shall be upon them. (KJV)
So shouldn't Bible-believing Christians be coming out and putting homosexuals up against the wall?
There's a standard form of reply to this last question, which has to do with covenants and/or dispensations. A typical reply goes something like this.
The prohibition on homosexuality in Leviticus is part of what Bible scholars often call the 'Holiness Code'. Its purpose was to maintain the distinctiveness of the Israelites from the Canaanites.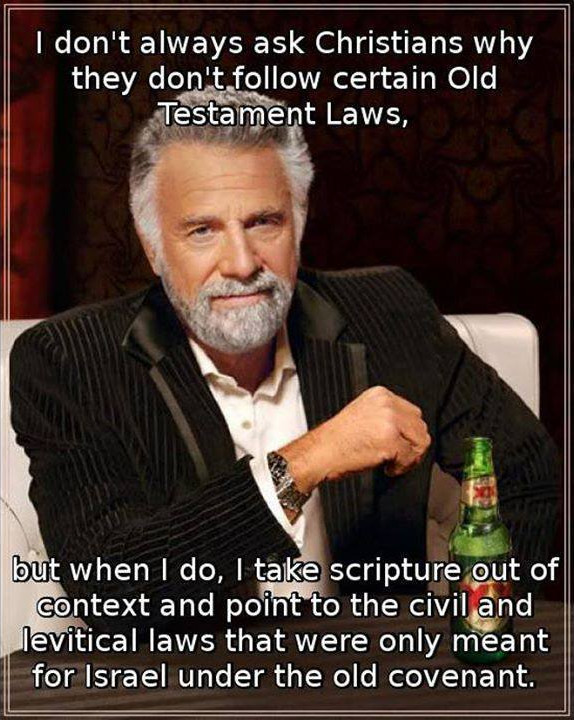 So we're no longer required to kill homosexuals? Well, that's nice and all, but I just don't swallow the dispensationalist defence. Do I worship a God who, at one time, commanded the Israelites to stone their gay brethren to buggery? Or not? That's the question I ask myself and my answer is NO.
I suggest that the repository of bigotry and bans that is the Book of Leviticus isn't God's word and doesn't belong in the Bible. It's canon fodder, i.e., expendable. (I leave everyone free to hold his own opinions. I would not have anyone bound to my opinion or judgment. I say what I feel. Let everyone think of it as his own spirit leads him. My spirit cannot accommodate itself to this book.)