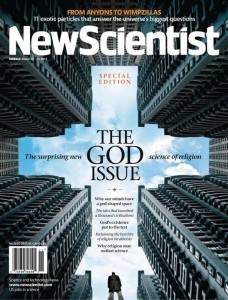 For since the creation of the world God's invisible qualities—his eternal power and divine nature—have been clearly seen, being understood from what has been made, so that men are without excuse. (NIV)
A while ago I borrowed a friend's copy of the New Scientist's special edition, the God Issue. (Note to self: Return it!) Contrary to the tiresome claim of online atheist trolls, that everyone's born an atheist, it turns out that
The vast majority of humans are "born believers", naturally inclined to find religious claims and explanations attractive and easily acquired, and to attain fluency in using them.
Justin L. Barrett, the author of the article, then goes on to say
This attraction to religion is an evolutionary by-product of our ordinary cognitive equipment, and while it tells us nothing about the truth or otherwise of religious claims it does help us see religion in an interesting new light.
Of course, Barrett would say that. And, of course, that's not the only explanation of human beings' natural tendency to theism. Reformation theologian John Calvin wrote that
God himself, to prevent any man from pretending ignorance, has endued all men with some idea of his Godhead, the memory of which he constantly renews and occasionally enlarges
Calvin explains, Barrett explains away. The distinction between explaining and explaining away is an important one. I think the consistent atheist/Naturalist incurs an unfeasibly costly explanatory overhead.
But that discussion's for another day. Really, this somewhat shallow blog post of my own is just a protracted excuse to post some awesome Christian deathcore from awesome Christian deathcore band I Built The Cross.
For somewhat greater depth on the current topic, I recommend Glenn Peoples's awesome blog post Born Atheists? Science and Natural belief in God.
See also Psalm 19:1 (for something a little more soothing).