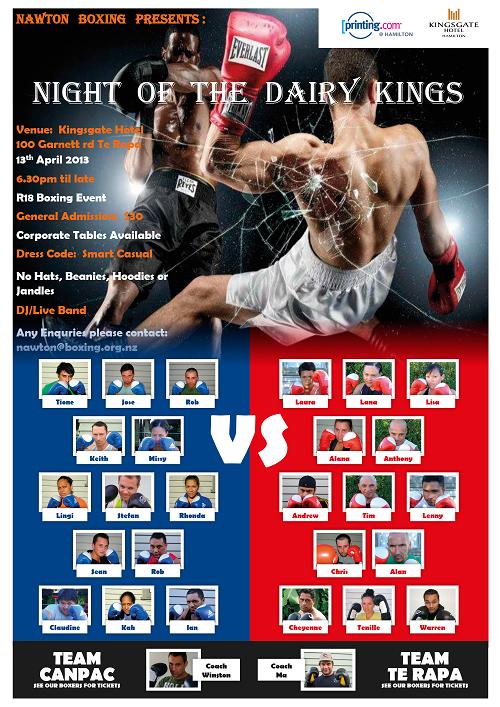 I have never been into watching Rugby, or Cricket, yet have always enjoyed watching Boxing, esp Heavy weight title fights.
Loved watching Holyfield vs Tyson, Lewis vs Tua, etc.
It was a pleasure to witness The Tuaminator Dispatch the Mountain Warrior @ Mystery Creek Waikato.
While it does not bear comparison, it's now my turn to step away from the Sofa…put on the gloves, and Mouth guard, and hopefully entertain Boxing fans like me.
Anyone interested, may come along and enjoy an evening of Boxing.
I dedicate this fight to my Children (and their partners), and to my grand children.
Also to the staff at Fonterra TeRapa Site.
I abhor violence against the innocent and defenceless, yet sadly we live in a world where it is a fact of reality.
It behooves the Good to Master Martial Arts so that they are able to defend themselves, their Family, friends, and neighbors when threatened with violence by Evil men.
We have the right to act in our own defense, and to aid others.
Thus there are such things as 'fighting ethics' and Fighting virtues.
"If it be possible, as much as lieth in you, live peaceably with all men."
St Paul Romans 12:18.
It is impossible to live peacfully with the Lawless or the Savage.
Martial Arts are not about mindless violence, but Fitness and skill and function strictly within rules.
True Martial arts as sport are founded upon ethics and teach etiquette thus enhancing civilization.
It was only a couple of generations ago when it was normal for most Boys to learn how to box.
Society was much less violent than it is today in our Emasculating Politically correct world because of the etiquette which accompanied this training.
I am stepping into the ring to lead my Family by example.
It is good for Men to be Manly.
To be brave enough to Stoically face difficult challenges.
They ought to be prepared for the worst.
Mothers must allow their Children to learn skills via the school of Hard knocks so that they will be safer and more confident in their daily lives.
I respect my opponent because He is doing the same thing.
This is not about hate.
It's about Martial art and pushing yourself to the Max.
May God be with us both, and let the most skilled and determined fighter Win!
Tim 'The Atomiser' Wikiriwhi.
Read more about Martial ethics/ and other things Here: Pugilist Sage