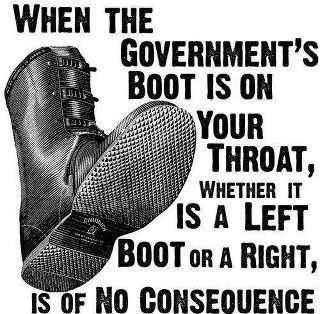 Its General election time, which is so bloody depressing its enough to drive me to drink. Elections in New Zealand are a demonstration of mass stupidity. The Sheeple actually believe that in choosing between John Keys National and Phil Goffs Labour parties that they are actually involved in making real and important moral and economic choices! The depressing reality is both these parties pedal the same Nanny state socialism, so much so that no matter which of these Parties are elected… Our country is buggered and will continue paddling down Poo creek!
There are of course other choices available, Consistent principles are the exception, Contradictions the norm, nonetheless some of the other options are much better than the status quo (those few parties who wish to implement Libertarian reforms), and then there are others which are much much worse (Parties which seek to impose even more obscene socialist inequalities and injustices, heavy handed regulations and prohibitions). It is a situation to be lamented that the former are not more popular, but to be celebrated in the latter. The sheeple are locked into the two party tunnel vision. Though MMP has been around for 15 years they still vote traditionally…as if still under FPP. I would not at all be surprised if the referendum on MMP comes back in favour of restoring some form of FPP. This referendum itself is a travesty considering the Real referendum ought to be on ending the apartheid electoral rolls and Race based seats which is a much more dire situation!
Thus I have resigned to the inevitability that nothing will change after the election
our nation we will remain an oppressive little xenophobic tyranny, and continue to slide into economic oblivion at a rate of $400+ million per week.
Satan Laughing spreads his wings… and John Key smuggly grins.
Evil prevails when good men do nothing.
It is into this cesspool of insanity that Richard and I are about to dive Head first. Richard standing as a list candidate for the Aotearoa Legalise Cannabis Party and in the Mana electorate , and I myself as an independent Libertarian candidate for Hamilton West. I have no delusions of success, yet am driven to represent my Libertarian Ideals out of personal conviction that it is the Christian thing to do, and to give that small minority of Libertarians (of all faiths) a haven for their conscience. Some reading this will think Richard and I are fools, and that voting for us is to waste your vote. To that I say…. BAAA! *Your wooly thinking is the very reason why our country is enslaved to the National/ Labour parties… and on the road to hell!
As Jesse Ventura, Governor of Minnesota once said "The only wasted vote is one not following your own conscience.." . Richard and I are giving voters *Real choices* And by standing we hold the voters to account for their Sheepish stupidity… because we give them the option to choose Justice, to vote for reform, and for prosperity. "He who governs best, governs least" Thomas Jefferson.
Tim Wikiriwhi