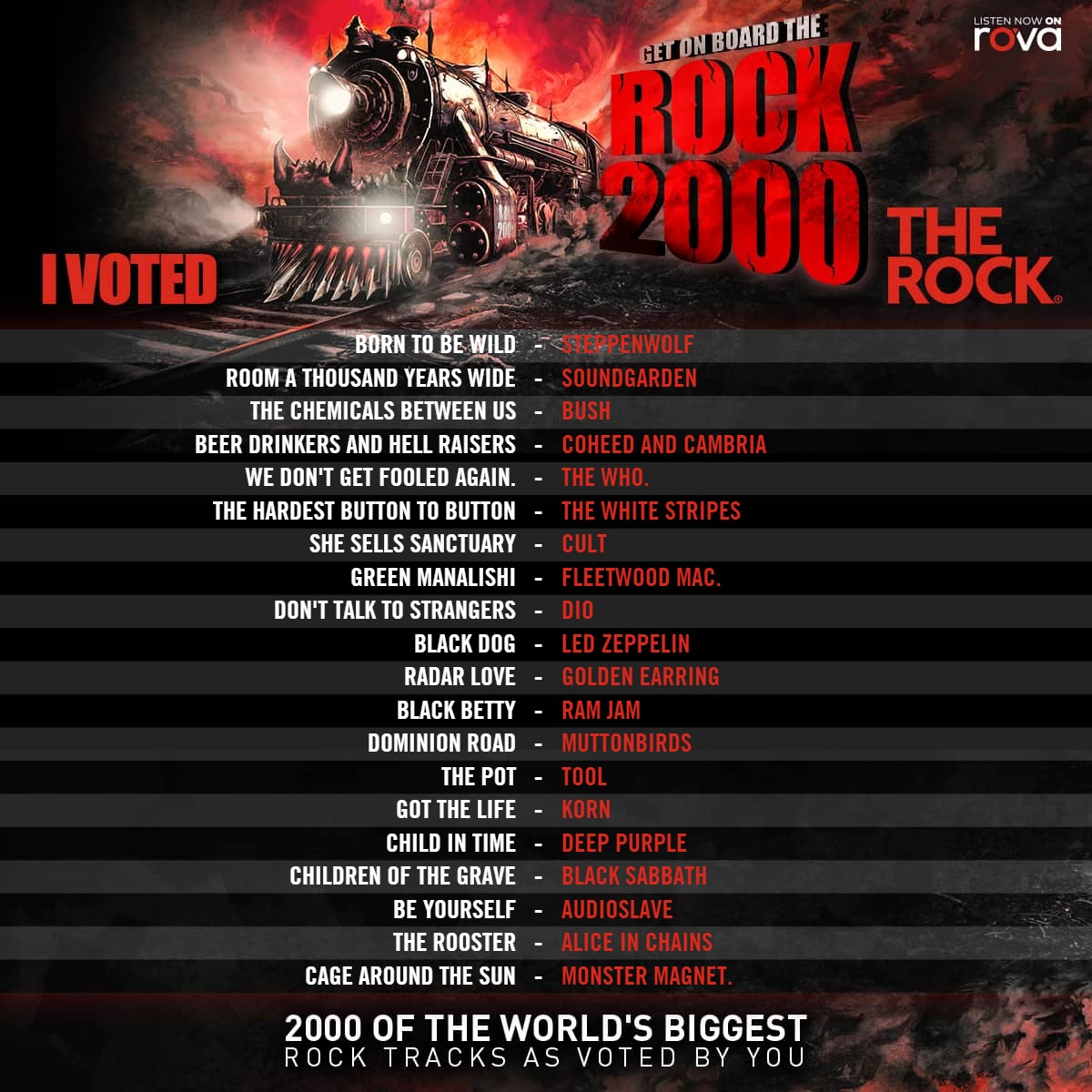 I finally submitted my 20 songs for this years Rock 2000.
It is never an easy choice.
I decided against just listing 20 Tool songs… or any double ups for that matter.
I also thought that the songs chosen had to have a bit of a 'party beat' rather than simply being Epic 'musically'.
I also did not want to be restricted by the fact that some of my pics may not even make the 2000 list.
These were self imposed 'rules', everyone being free to make their picks howsoever they please.
I only write them here to explain how I arrived at my particular 20 from a longer pick list of 60… and why even this longer list excluded some of my favorite sounds… such as Pink Floyd… whose music tends to the darker side rather than upbeat party sounds…
It certainly is starkly different from last years list… and knowing my own disposition to modify my own standing… next years list no doubt will be different again…. and I will be willing to justify myself with a completely different set of concerns…. not that any of this matters to anyone other than myself.
It simply amuses me to record such thoughts to be able to review them later so that in retrospect I can smile at my own musical mystery tour….
Last year I won tickets to the main event down town Auckland… which was a blast.
I wrote about that here…. THE ROCK FM 2000, 2020. BANDS AND BEST SONG LISTS. CHEERS TO CARLSBERG BEER!
That post also includes a band/song list of over 800 which I put together as a prompt for future Rock 2000 voting.
It could help people write their list.
Cheers!
Rock On!
Tim Wikiriwhi
Update: The show has started… and it's EPIC!
I cant believe the quality of the songs that only made it into the 2000-1500 range of the first week, but then again some blow your mind that people still love them after 30,40,50 years!
The first song that got played off my list was…
Steppin Wolf…. Born to be wild. *1804.
The Who…. We don't get fooled again…. *1731
The White Stripes…. The hardest Button to Button. *1711.
Golden Earing Radar Love *1158
Black Sabbath Children of the Grave. *748
Deep Purple Child in Time *476
Alice in Chains. The Rooster. *51
Tool. The Pot ****8****
One special mention is Monster Magnet Space Lord made it to 1761!
Mind blown!
Apparently 7000 songs got voted for this year yet any songs that got less than 5 votes automatically get axed even before the list gets tabulated, and 5000 songs got 5 or more votes.
Other Stats….
Alice in Chains got 18 songs in.
Black Sabbath had 15.
Ozzy sang in 27 songs in total.
Shihad had 26 songs.
Metalica's 'One' made it to number 10 and is the Rock's best performing song over the years.
It has been number 1 four times, number 2 four times, and 18 times in the top 10.
It was their 52 song in this years countdown!
1.5 million votes cast.
Update 14-9-21.
NOTHING makes me feel more happy at being a Bougan Westy and reminds me of why I love music more than listening to the Rock 2000!
It really is a celebration of My Culture.
Tim Wikiriwhi.
Update 24-9-21.
Top 10 Tracks for 2021.
10….. Metalica. One.
9…… The Dudes. Bliss
8……. Tool. The Pot.
7……. Queen. Bohemian Rhapsody.
6……. Slipknot. Duality.
5……. Pearl Jam. Black. Same as last years countdown!
4…… Blindspot. Nil by mouth.
3…… Lynyrd Skynard. Simple Man.
2…… Metalica. Enter Sandman.
1…… Rage Against the Machine. Killing in the name of.