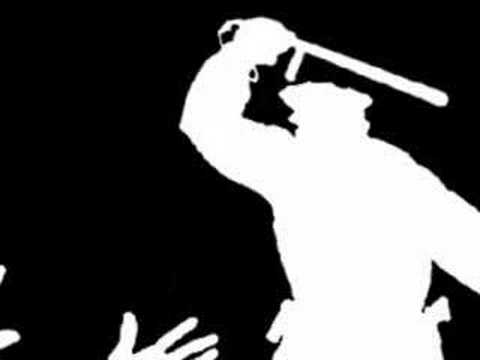 Cop Killing Niggers…. Pictures flash through your mind…. Conjured up from your prejudices…. a Fat White Racist Cop Shooting Innocent Black Males?…. Or a Crack Head Saggy Pants Gang Banger with a piece… doin a drive by on a Police Cruiser?
Black lives Matter.
Fuck the Police.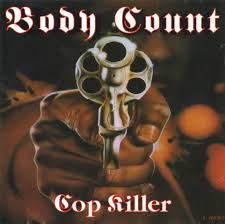 What-the-fuck!???
The wheels are falling of Civil society!
No Shit Sherlock!
Polarisation.
Division.
Us vs Them.
Who wins?…. Emergency measures… Martial Law.
Satan Laughing spreads his wings.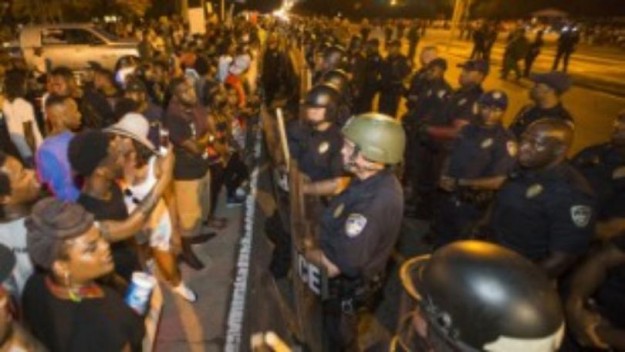 You have to be living under a rock… at the bottom of the ocean… in the Challenger Deep not to be aware of the Chaos and disorder happening in American society with regards to Police Thuggery and Black Outrage.
Each side of this Mayhem expects us to take their side, and if you dont… you must be a Racist, or a Cop Hater.
I sit on the fence… not because I dont have an opinion…. but because I say *Both sides* have malignant Ideas mixed with some Righteous outrage… Both have Blame…. both are responsible for the troubles… Both need to get their shit together.
I will start with my criticism of the Police… because they are supposed to walk the high road and set an example of Character and Justice, and when the Police become Brutal, Unjust, and corrupt… this is an absolute catastrophe for the society.
This being so I believe *When a Policeman is accused of committing a crime*… this must be openly and thoroughly investigated so that the people can see the process is not slopped in favor of allowing Bad police to escape justice… and when found guilty… because of the professional Responsibility they have in our society… they should face *Heavier penalties* than Civilians who commit the same offences.
They are supposed to be well Trained legal professionals… brave… and of high character… which implies that they care about the people in the communities they serve… and when they commit a Crime… they are betraying the trust that our society places on their uniform.
What is also means is that *The Legal machinery that investigates and prosecutes Bad Police* must be scrupulously independent of the police themselves… and this includes *the attitudes of the Judiciary*, must be above reproach… ie Not be seen to convict defendants simply upon the statements of Police, or excuse criminality perpetrated by the Police.
Thus Like the Police… the Legal system must be transparently Just …. anything less and the people loose faith in justice… and Chaos and dis-order ensues.
Policeman must fear the Judiciary, knowing that they themselves are not above the Law, and will held to account with the full weight of the Law should they cross the line.
*None of this is happening* So it is not surprising that with the advent of The Cellphone Video camera, countless videos are steaming on line of absolutely abominable crimes being committed by police against ordinary people… grand mothers, Young men, etc.
This behavior is nothing new, but today the police are being caught on video.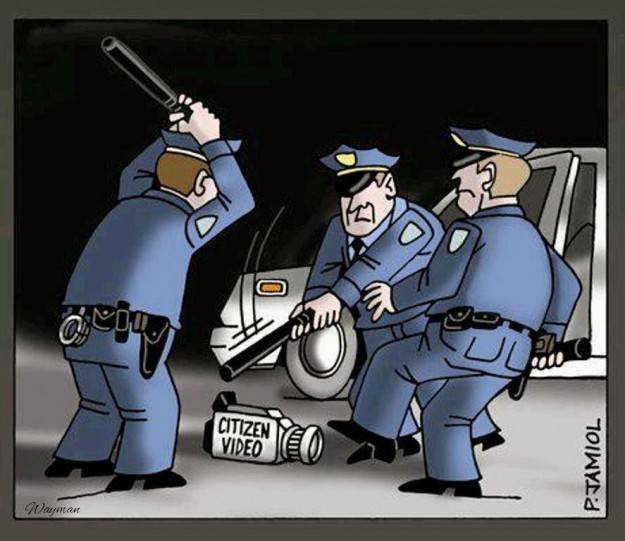 Yet still… even with video evidence and multiple witnesses most of these corrupt police escape justice…
Some places insist their officers wear body Cams… and these precincts witness a drop in complaints against police for obvious reasons… the police behave better when they are carrying a video that will be examined by their superiors.
I agree with Ex Cop David Champion that one of cost effective things that could be done to help stop Police criminality is to issue all Police on the Beat with Body Cams, and *Any violence, police shootings, etc* that officers say 'their cameras fell off'… etc should automatically call their version of events int question, and cause high suspicion of Criminality on their part.
Police, etc, cannot be lawfully allowed to withhold footage from independent investigators, or the press, without some sort of judicial process for special cases.
When Faith in the Justness of the Law, The Police, and the Courts has been corroded… Chaos ensues… police will start getting shot more often.
When Faith in the Justness of the Law, The trustworthiness of the Police, and the Fairness and integrity of the Courts is high… the People will be happy… the people will think of the Police as they ought…their friends…. and they will trust that Bad Police will not be tolerated, but will face the consequences of their evil deeds.
*This is what is conducive to civil order*
*This is what will attract the best people of the highest character* into the Police force… as a High vocation of service to their communities…. which is what the Police force is Ideally meant to represent… instead of what it has become… A gang of Lawless thugs whom perpetrate extreme violence and thuggery with impunity.
My Blog post… > Legalised Force attracts Thugs and Bullies like flies to…
*This is the breeding ground for a violent disrespect for society, the Law, and the police*
I must add this one particular comment on the Law itself…. *End the War on Drugs*…. This is a Law and order Disaster that fosters extreme violence by the Police … sanctioned by society… that can be reciprocated by those involved in the Drug trade.
Just as Alcohol Prohibition gave rise to Al Capone, Police Corruption, and Machine Gun Massacres… The War on drugs has repeated the grievous injustices and chaos.
Ending Prohibition ended so much unnecessary violence and chaos from both sides of the Law.
Read my Blogs… Righteous Law Enforcers want to end the War on Drugs.
Police know the War on Drugs is making New Zealand a more dangerous place, yet try to pull the wool over the Public's eyes.
Richards… A life cut short by Police
It is that only the willfully ignorant say that the police are the good guys… Countless videos on line testify to how lawless and thuggish they have become… and of course a Natural social backlash is in progress.
It is right that there is Public outrage about the un-justifiable killing and brutality of police, and The Police do need serious Cultural reforms… yet still… Outrage cannot justify the sorts of shocking behavior that is being perpetrated …Rioting, Looting, and Cop Killing.
Political Organisations like 'Black lives Matter' have sprung up with their own agendas… and to the degree that they seek to highlight a systemic problem within the police, they are to be commended and supported, yet sadly such organisations appear to be filled with *Racists themselves*… Blacks whom call whites 'Crackers'… and who are taking opportunity to vent their personal prejudices and to Excuse the most lawless and despicable behavior under the guise of 'Protesting Police brutality… Police Racism…. Etc'
They are conspicuous in their silence when Police brutalize or murder white people… obviously this does not fit well with *their Narrative that Police brutality is focused on Blacks*
These people claim to be a Civil rights movement, yet by their actions they Betray the ideals and values of the Great Black Civil rights activists of History…. Martin Luther King, Booker T Washington, Frederick Douglas… whom refused to dish up Racism for Racism… Hate for Hate…. but instead preached Unity, and Brotherhood *with White America*.
Furthermore 'Black lives matter', and many in the Media *Fail to identify the massive Cultural deviancy* that is behind the dire social statistics of the Black demographic…. and Falsely attribute the Lions share of the causes underpinning the squallar, unemployment,and crime which are characteristic of Black neighborhoods *on Racism*…rather than an absolute lacking of Personal ethics and good values on their own part.
It is all very well to expect the Police to walk the highest path… and set the standard for virtue…. yet when you have Black communities that are so violent and crime ridden… filled with all the absolute Mind rotting Gangsta Rapp… It is not surprising that having walked the beat for years… that many Police carry suspicion 24/7 against Swagger Cap wearing Jeromes, and have one finger on the trigger at all times.
The Police are *human*…. and they get sick and tired of the Getto Bullshit that so many Gang Bangas dish out that it is all too easy to treat *Them all* as scum…. when only perhaps 75% of the are…
These hypocrites running 'Black lives matter', are to a large degree *Rasists themselves*… they are willing to destroy their cities when a Policeman shoots an unarmed boy in a case of mistaken identity … yet never hit the streets to protest against the thousands of Little Homies who get shot by other little homies.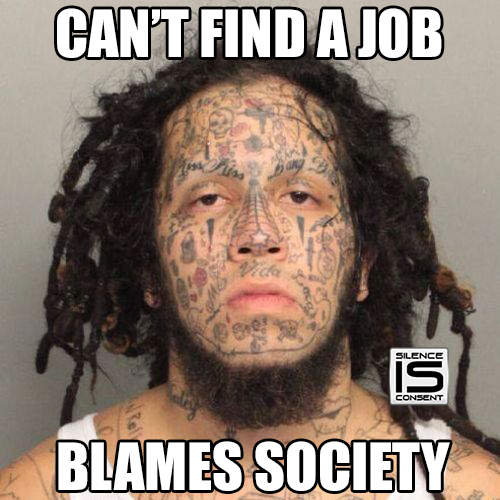 The following statement is as applicable to my own Maori Demographic here in New Zealand as it does to Black America.
*This Type of Blaming the Whites for all your Problems* instead of looking the mirror and seeing the Violent, criminal, little racists that you are* and fixing the problem *at home*… is a typical Blindness that is promoted by the Political class whom prosper from exacerbating the divisions, and falsely attributing blame to such *as race*, instead of doing what Great leaders would do…. *Calling their own people out!* *Get your shit together people!* Throw all that Gang Banger Rap Rubbish in the Bins! *Dont tolerate that shit your homes… Parents.
*Dont encourage Racism against 'Crackers' in your house* Start setting and example… Return to the teachings and lessons of your great Civil Rights leaders…. Condemn those Political shysters whom are promotion Race hatred and fostering endless victim-ism!
Teach your Kids to respect, and be polite to the Police…. walk the high road… and be part the movement for social change within your own communities… Raise Christian Children….
Thus it is that Both The Police and The Communities in which they serve each need to reform themselves… weed out the Devils from their midst's and come together.
Without blaming the victims for the injustices they suffer…or condoning the vile behavior of the Police, it is not right to deny the Ideological void…the greater Societal degeneracy that is the hall mark of our 'Post-Christian era' and so Prevalent… so inter-generational in certain demographics.
The Issues discussed in this blog are but a few of the symptoms of the Disease and decay Western civilization is Reeling under.
Many Nations face Bankruptcy and civil unrest… and so the Status Quo/ Powers that be are also purposefully militarizing their police forces, and attempting to grant themselves greater powers, and to erode the Rights and liberties of the people… and they want a Police force that has no compunction about putting down Public protests… They want a Population that is scared to speak up or to defend their rights… These are Dangerous times…. All this social disorder works as a pretext for the Powers that be to increase their means of population control.
The Breakdown of the Family unit…. welfare-ism,…. *The systematic rise and implementation of Socialist pseudo morality and their repudiation of Christian ethics and values* that used to underpin the principles of Freedom, self reliance, Hard work and the American Dream….
Yet this is enough for One Blog post….
What a Shameful Mess Western societies have become!
Socialism and Atheism have led our nations down the Low Road… the Broad way that leadeth to destruction.
They have lost all their enlightenment values… and as Self Responsibility wains….so too does Liberty…. and tyranny is on the rise.
Narrow is the road to life….Liberty.. and prosperity… Christian Libertarian Values and ideals.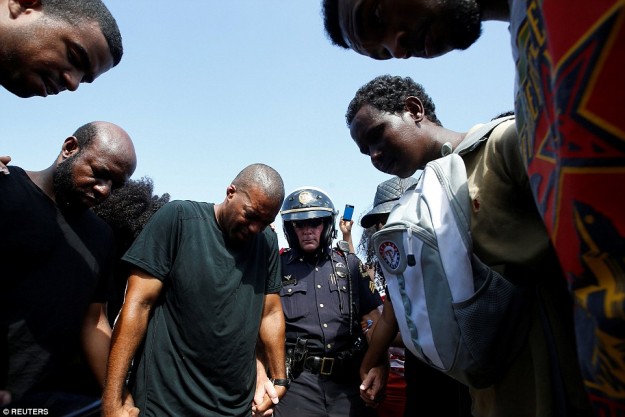 Peace Out.
Tim Wikiriwhi.
More from Tim Protect and Serve.
Do the Math…Obama is waging a covert war on the American People.
Transgender syndrome: Feminism's Satanic Plot and the slide towards Armageddon.
Transgender syndrome: Feminism's Satanic Plot and the slide towards Armageddon.
David Bowie… stepping through the door… Fags, Fanatics,Freedom and Fate.
Real voluntary private Charity vs the evils of welfare and Political force Ruff draft.