[Being as how today is the 20th anniversary of the Bain murders … here's an unfinished post I started writing last year. Now published as Part 1. Part 2 will be on the evolutionary psychology of blood feuds.]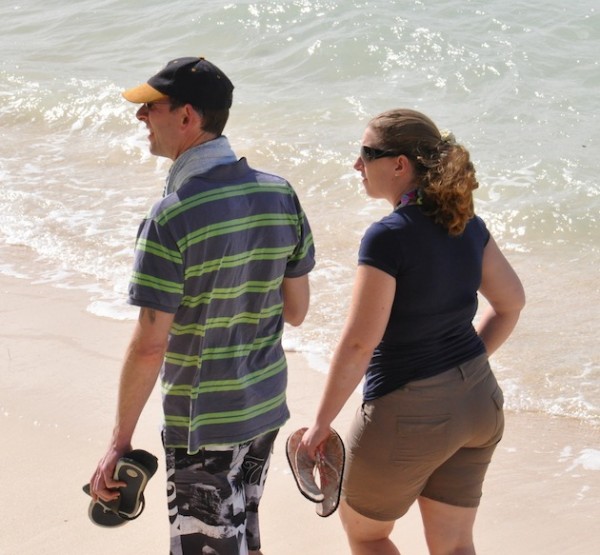 I'm irked. In particular, I'm irked by people on Facebook screaming for vengeance. Screaming for vengeance against David Bain, Ariel Castro, Kim Dotcom … to name a few. I don't get irked easily. But my irk threshold is exceeded when the screams for vengeance drown out the calls for justice. This post is about vengeance and justice.
David Bain mostly got what he deserved. But then there was a travesty and no more justice was served. I figure Bain's got a clear run between now and Judgement Day. (I also figure that now is a good time to post a pic of Bain cavorting with some silly bint on a beach in Rarotonga. What is it with women and murderous psychopaths?) Folks over at the Facebook group I belong to had better get used to this. Folks mostly have. And Justice For Robin Bain is something still worth fighting for.
Ariel Castro got sentenced to … plus 1000 years. Well, that was never going to happen, was it? Castro's body rots as we speak. I figure it's playing catch-up with his soul. (In the U.S., wishful thinking is thinking that a 1000 year sentence is a 1000 year sentence. In NZ, it's thinking that life means life. Let's not forget that one of the most important reasons for putting people in prison, if not the most important, is to keep the rest of us safe from psychos.)
Check out this Facebook comment.
Dotcom is a thieving liar who will soon be deported to USA for his piracy, and hopefully thrown in jail for 100 years. The only people that support him are people that think that stealing an artists life's work is OK
100 years in jail for running a file sharing service? Takes screaming for vengeance to a new level. And then the rest of it. Personally, I don't believe in IP. But my co-blogger Tim and Mark over at Life Behind the IRon Drape do. They're staunch Dotcom supporters and I'm quite sure that they don't "think that stealing an artists life's work is OK." Facebook. Where pap is always on tap.
I've never been the vengeful type. I came to libertarianism from the left, so I have liberal sentiments. For example, I'm more Howard League for Penal Reform than I am Sensible Sentencing Trust. Jesus made it abundantly clear that Christians are supposed to visit and look after those in prison. As opposed to simply locking them up and throwing away the key. (I have a Christian friend whose choice of penpals is inmates on death row. How awesome is that?!) And the author of the Epistle to the Hebrews reminds us
Continue to remember those in prison as if you were together with them in prison, and those who are mistreated as if you yourselves were suffering. (NIV)
God has always been the vengeful type. And he's really big on justice. God is a just God. But, whereas God delegates the task of doing justice to us (well, to Reed mainly)
He has told you, O man, what is good; and what does the Lord require of you but to do justice, and to love kindness, and to walk humbly with your God? (ESV)
he reserves for Himself the right to avenge. The key verse is found in the Old Testament and quoted twice in the New Testament. God says,
It is mine to avenge; I will repay. In due time their foot will slip; their day of disaster is near and their doom rushes upon them (NIV)
So that's the Biblical perspective on vengeance and justice. Justice is a Christian virtue. (And one of four cardinal virtues in Roman Catholicism.) Whereas revenge is an unchristian vice. Vengeance is justice without mercy. And you really don't want to be on the receiving end of that, do you? So
Be not deceived; God is not mocked: for whatsoever a man soweth, that shall he also reap. (KJV)
Revenge has temporal as well as eternal consequences. This is noted in the Book of Proverbs.
The merciful man doeth good to his own soul: but he that is cruel [unmerciful or vengeful] troubleth his own flesh. (KJV)
But the Bible doesn't really do, er, justice to the full, horrible extent of revenge's temporal toll on those consumed by its lusts. Ladies and gentlemen, please give a big round of applause to … (drum roll …) evolutionary psychology!
[Hat tip: Whale Oil]