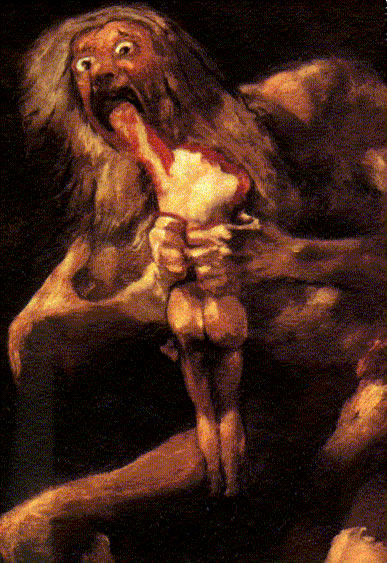 Saturn devours his children.
This post started out as a comment On Dr Goode's blog post 'Is Ron Paul a Libertarian', yet as it focused on just one aspect of his post, and grew longer and longer by the minute, I decided to make it a post in its own right.
Richard was responding to a Not PC blog post criticising Ron Paul in which he lists a set of 'Ron Paul positions' which in Peter's view are incompatible with Libertarianism. One of these was the fact that Ron Paul is opposed to abortion.
PC is expressing a commonly held view, and because many Christians oppose Abortion and want it recognized as murder, they tend to agree with PC that 'to be a Libertarian means you must condone abortion' and therefore conclude from this that 'No Godly Christian can be a Libertarian'
Today I seek to destroy this false assumption. I have herd Abortion is the most common medical operation performed in New Zealand. A huge number of Woman have had abortions, and so this is a very difficult subject to discuss. It is a Subject many prefer to keep hidden in the shadows.
I am a Christian, and a Libertarian, and I am 100% anti-abortion.
Politically speaking Abortion is one of the most difficult of subjects to deal with.
I think its murder… yet still don't see how it can be banned, without compromising/destroying some of the most vital principles that underpin a Libertarian government, esp the principle that woman own their own bodies, and that Government is formed by consent…a compact between people of different race, culture, and religion.
As a Christian, I don't believe a utopian Human government is even possible.
Sinful men in power must be given as little power as possible…thus I certainly do not believe moral salvation is possible via human Legislation. Thus I don't expect the government to be the solution to all mankind's woes. Thus I don't expect the Law to solve the abortion problem. Furthermore if abortion remains legal, there is nothing stopping Christians from publicly expressing their Moral outrage at the practice, and via converting souls to Christ, They convert them to the belief that an unborn child has the God ordained right to life…thus I am saying Christianity (and other anti-abortionists) can still work to convince the population to voluntarily abandon this wicked practice. Christianity operates properly via Liberty…via preaching Godly values…not by lobbying for the political oppression of unbelievers.
In such a society that allows Abortion, Homosexuality, drugs, etc a Christian can still function fully as a Christian. Just because society practices these things, does not violate his rights or liberty, doe not mean he must sanction them, etc. He can deal with these sorts of things as he encounters them… by practicing his faith and following his convictions.
In a society that allows abortion (Like the Status quo) Men can avoid having their children aborted by guarding their seed. Taking care not to impregnate girls whom don't share the belief that a child's life is sacred, and first asking for a life long commitment from a girl before impregnating them. This would not Guarantee the marriage, but such a process is at least the honorable course to take, because it shows honest diligence in such a weighty thing as deciding to bring Children into the world.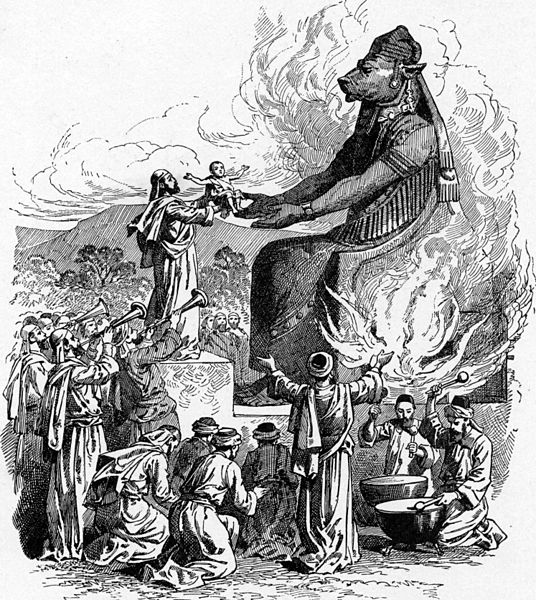 Sacrificing children to the God Molech.
And Even if Abortion is tolerated in a free society, getting rid of Socialism… and their anti-Christian/ Pro-abortion Nanny State would still be a great improvement on the status quo because the Tax payer would no longer be forced to fund this mass murder against their will. Thus this would then mean those who oppose abortion can exercise their right to completely separate themselves from this practice.
That the government extorts taxes from us by force, and then uses the money to pay for mass extermination of unwanted children is absolutely an intolerable situation.
I would love to put an end to the practice of Abortion. By daily propagating Christian Libertarian values I am working towards that Ideal. I really struggle to believe a social compact between Atheists and theists is possible which includes making abortion illegal. I think The Christian argument against abortion is true, yet inadmissible because it crosses the line between church and state. The social compact being framed in secular terms which are acceptable to all reasonable individuals. (Secular truth is not 'atheist truth', but truth that stands by its own merit… (eg Both theists and atheists accept Euclidian geometry…for self evident reasons). I think Christians who go to the Law to solve society's ills are acting in a very unchristian way. I think Christians who actually think the government can be so constructed as to deliver perfect justice… are deluded…and expect far too much from such an all too human institution.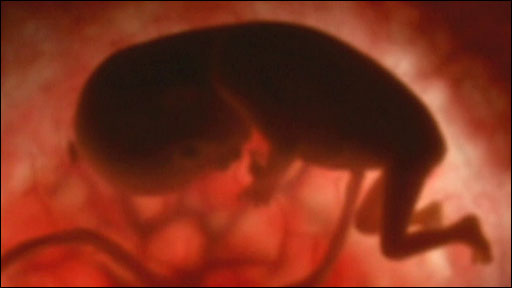 Finally let me note the fact that Moral virtue springs voluntarily from the Heart… not the Law. Woman are not displaying any virtue by carrying children full term simply because the Law prohibits abortion. Conversely Woman display great virtue when they choose to carry their children full term, when the easy and legal option would be to have an abortion. They are practicing their Humane values as to the sanctity of human life.
In a society that allows abortion, Woman with strong Christian values ought to be revered and courted for marriage far above Godless/ unscrupulous woman… because of their values. Thus in a free society which allows abortion… Godly woman ought to have every advantage over the infidels…and prosper.
A libertarian society is not Utopian. It cannot halt all evils. It cannot foster an angelic society. It is a Compact… a peace treaty between disparate groups and individuals. The compact lays down a minimum of terms by which these disparate groups can coexist in peace… if not harmony. Thus the government is not the font of all justice. It is strictly limited to the agreed terms of the peace treaty, and so many practices will be legal which some members of the society will find abhorrent. Eg Cigarette smoking. To many people Cigarette companies and shops which sell cigarettes are Death dealing murderers… Yet Smoking cigarettes cannot be justly banned according to Libertarian principles. So too with abortion… yet this does not mean that all Libertarians must indorse Abortion, or must submit to it as helpless victims. They can work to reduce it and even completely eradicated it without recourse to political force…via preaching. This is exactly how the Christian Missionaries effectively halted Cannibalism here in the early 1800s. They proved Christian values can overthrow ungodly wickedness. That's Christianity in action.
The many great evils that would manifest themselves should Abortion be banned is also a heinous prospect. The rise of horrific illegal alleyway abortionism. The tortured existence of unwanted children living with desperate and malicious parents… etc etc. All Children go to Heaven when they die… All aborted children are saved… and even if Abortion is Legal, the Murderers shall not escape justice! All People whom murder their children shall stand before the judgment seat of the Almighty.
For those whom have had abortions there is but one way to escape the wrath of God… That is to call upon the name of Christ. He died to pay the penalty of sin for all whom reach out for Gods grace and mercy.
Many woman whom have had abortions carry a heavy burden of guilt. It is to you that I share this message… You can have the forgiveness of God… if you will but call upon Christ… and you will meet your child again when you go to Heaven!… Because that is where they are… right now.
End Note: I am still working on this issue in my mind…
The Jurisdiction of a libertarian Government is limited. It does not extend over all time, places and people. A NZ Libertarian Government could not protect the rights of people, or convict Criminals for crimes which occur outside the country… and in a sense this is a similar circumstance to the situation of the rights of the unborn child. If a criminal injures a pregnant woman and the child dies, this is a very serious offence, yet they are usually prosecuted for the injury and loss to the woman… not for murder. I don't like this, yet struggle to find a solution. ?
Tim Wikiriwhi
Update: 15-3-16.
The following video puts a very important question to Pro-abortionist, many of them choosing to avoid answering it because somewhere in their consciences they realise the argument that 'A fetus is not a person' absolutely falls apart… and that killing a Baby a day before they are to be born is no different to killing them the day after they are born.
It is a great argument Anti-abortionists have and it makes a very good case that if not at the beginning of pregnancy… that *at some point*… the Law should protect *the rights of the unborn child* from being murdered by their mother… and that an overwhelming majority of people could be convinced that such Laws would be just. (Just to Recap my position… I do believe abortion is murder… yet this post has been all about whether or not it can be banned in a free society without violating the essential principles upon which it hangs).
This argument (below) will still work to end abortion… even when there are no laws to ban it…. by convicting individual consciousness that it is wrong.
And so Anti-abortion folk are not absolutely defeated even when abortion is legal.
They still have the power of reason to convert others to their way of thinking.
Update: 10-2-18
My Blog on this subject I wrote several years ago… Abortion poses a serious dilemma for Libertarianism, and I tended to lean towards preserving a womans sovereignty over her Body… yet this position has been almost too heavy to bear in the light of how legal abortion has turned this into virtual genocidal levels of murder… its an industry… and woman have become so callous about it.
In the dilemma between the Right of the baby to Life, and the womans sovereignty over her body… I believe the Legal weight should be in favour of the innocent children… esp given Woman can prevent themselves from having un-wanted pregnancies by other moral means.