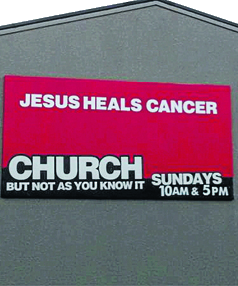 RIP Lady Liberty.
Blair Mulholland has the background to this story. Yesterday, New Zealand's "freedom of expression", a right supposedly protected by our Bill of Rights Act, was involuntarily euthanased after a long battle with the big C.
Ruling: Jesus doesn't heal cancer

A church billboard proclaiming that "Jesus Heals Cancer" has breached advertising standards by suggesting the church can offer something other churches cannot, the Advertising Standards Authority has ruled.
Tributes pour in from around the blogosphere. Here is New Zealand's #1 libertarian, Lindsay Perigo, true to form.
Jeezy doesn't cure cancer … I suppose it would be an affront if he were to. Cancer is presumably Gobby's work? To heal it would be an act of rebellion against one's father.
"In all seriousness," said Perigo on an earlier occasion, "who doesn't value freedom of speech will lose it." Are we to suppose, then, that denying a church's right to express the view that Jesus heals cancer is no great loss?
It's hardly news that New Zealand's #1 Objectivist thinks that Christians are scoundrels. Has he forgotten that it was such that H. L. Mencken had in mind?
The trouble with fighting for human freedom is that one spends most of one's time defending scoundrels. For it is against scoundrels that oppressive laws are first aimed, and oppression must be stopped at the beginning if it is to be stopped at all.
Freedom of speech is foremost among the "rights and privileges of British subjects" bestowed on all New Zealanders by the Treaty of Waitangi. In the nineteenth century, the British prided themselves on valuing eccentricity over conformity, on untrameled freedom of speech. Thousands of New Zealanders went on to give their lives for this freedom. We should rage, rage and rage again against anything which threatens its demise.
I know. I'm being premature and uncharitable. In fact, I'm confident that Perigo's imminent press release will blow the Advertising Standards Authority to kingdom come. And, really, I suppose, I should practise what I preach.