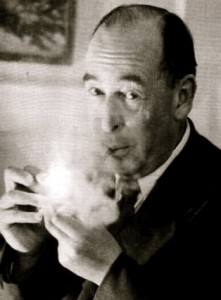 I'm currently reading C. S. Lewis's mas­ter­piece Mere Chris­tian­ity. As literature, it's scintillating. As philosophy, it's invigorating. As a guide to Christian living, it's chastening.
Here's Lewis on what a fully Chris­t­ian soci­ety would be like.
… the New Tes­ta­ment, with­out going into details, gives us a pretty clear hint of what a fully Chris­t­ian soci­ety would be like. Per­haps it gives us more than we can take. It tells us that there are to be no pas­sen­gers or par­a­sites: if man does not work, he ought not to eat. Every one is to work with his own hands, and what is more, every one's work is to pro­duce some­thing good: there will be no man­u­fac­ture of silly lux­u­ries and then of sil­lier adver­tise­ments to per­suade us to buy them. And there is to be no 'swank' or 'side', no putting on airs. To that extent a Chris­t­ian soci­ety would be what we now call Left­ist. On the other hand, it is always insist­ing on obe­di­ence — obe­di­ence (and out­ward marks of respect) from all of us to prop­erly appointed mag­is­trates, from chil­dren to par­ents, and (I am afraid this is going to be very unpop­u­lar) from wives to hus­bands. Thirdly, it is to be a cheer­ful soci­ety: full of singing and rejoic­ing, and regard­ing worry or anx­i­ety as wrong. Cour­tesy is one of the Chris­t­ian virtues; and the New Tes­ta­ment hates what it calls 'busybodies'.
I challenge anyone reading this post to tell me that the society Lewis envisages is not vastly superior to the one we live in today.
(In the course of searching for the C. S. Lewis quote—so I didn't have to type it all out—I came across a non-retarded atheist blog, viz. Rick Beckman. How do my co-bloggers feel about a new blogroll category, "We the Damned"? :-P)