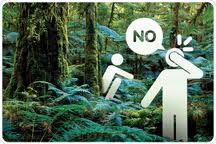 The relationship between public property, government and the public is the same as the relationships of a trust.
The public are the beneficiaries and the government officials should act as trustees by managing the public assets according to the interests of the public.
The rights and wrongs of government property management are similar to the rights and wrongs of personal property management. In the case of property management the mandate of the majority is as legitimate as the will of an individual property owner.
This means that it is not wrong for government officials to manage fishing quotas, forests, Boobs on Bikes, littering and much more.
Freedom is not an overriding principle.