"For after that in the wisdom of God the world by wisdom knew not God, it pleased God by the foolishness of preaching to save them that believe.
For the Jews require a sign, and the Greeks seek after wisdom:
But we preach Christ crucified, unto the Jews a stumblingblock, and unto the Greeks foolishness;
But unto them which are called, both Jews and Greeks, Christ the power of God, and the wisdom of God.
Because the foolishness of God is wiser than men; and the weakness of God is stronger than men.
For ye see your calling, brethren, how that not many wise men after the flesh, not many mighty, not many noble, are called:
But God hath chosen the foolish things of the world to confound the wise; and God hath chosen the weak things of the world to confound the things which are mighty;"
St Paul 1cor1vs21-27.
This is why Believing the Divine Revelation is a Higher Reason than mere human Rekoning… which has been darkened… and cannot know God.
While it is true that Reason does reveal the invisible truths of The Deity…The scripture admits that By The creation of the World God is clearly seen…so that Atheists are without Excuse (Rom1vs20)…and also Man's sin nature…our fallen condition… and the cursed nature of our world are also self evident…via common experience, yet there is no way Man can descover via reason…without faith in the scriptures… that God would send his son Jesus Christ …to die a criminals death…as substitutional attonement for our salvation! This fact cannot be descovered independently via human logic/ etc from experience or from studying Nature.
And this is Why Interlectual vanity Blinds many people whom refuse to simply humbly believe the scriptures… like common fools… Thats right! Salvation is availible to the simple minded! It is not the preserve of the highly educated or superior interlects!
"…it pleased God by the foolishness of preaching to save them that believe." (1Cor1vs21)
Satan loves Interlectual vanity because it tends to hinder faith in the trustworthyness of the scriptures. The Highly Educated prefer Clever arguements and rationalism… sophistry, etc… putting schooling ahead of simple minded faith.
Tim Wikiriwhi. King James Bible believer.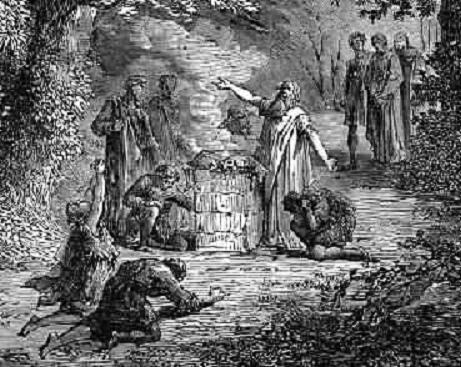 St Paul Preached to the Greek Philosophers at Mars Hill regarding their Alter to the Unknown God.