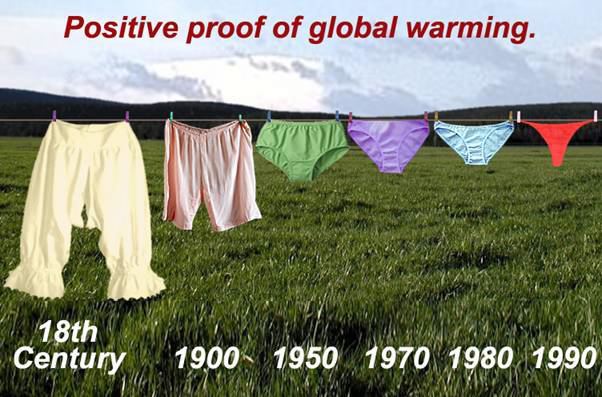 Did you know that all panties are descended from a single common ancestor? Strange but true!
However, scientists are at a loss to explain the existence of the first loinwear. Louse-based estimates date the hypothesised primordial undergarment to 105,000 B.C., but fossils of the postulated intermediate A-, B-, C-, D-, E- and F-strings have never been uncovered.
As usual, one only has to consult the sacred text(ile)s to see immediately that the Bible has the answer. The Book of Genesis explains that all panties are descended from the foliage of a living plant fossil called Ficus carica. The Bible also makes it clear that panties, like viruses, do not have the ability to reproduce on their own. They rely on their host, and their host's reproductive organs (which they symbiotically "clothe"), to make further panties.
But, seriously … what do evolutionism (the godless theories of abiogenesis and evolution by natural selection) and warmism (the theory of anthropogenic global warming) have in common? Discuss. 🙂