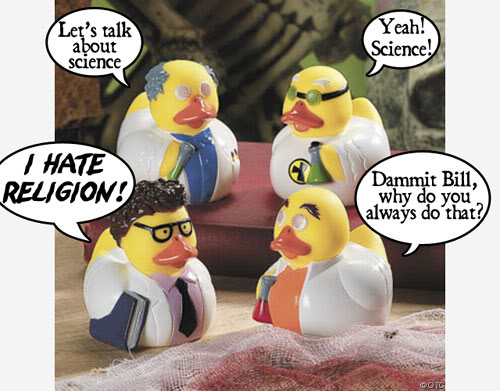 Watch this Vid below.
If you actually have your Brains switched on and think about what these knobs are saying you will appreciate just how Ridiculous Evolutionist arguments are!
Note that first they say that the Human eye is 'poorly designed'.
*Talk about Blind stupidity!* These dickheads actually stand there with a straight face and say that the eye is not spectacular super-tek… but 'junky' and haphazard!
"It's got a blind spot!"… they say
… but then they go on to explain that the way the eye works… the so-called blind spot 'disappears'… which they say is the Genius of Blind evolution!
*So there is no 'imperfection'… no Bad design after all!*
>>>>>>>>> The whole argument is fallacious <<<<<<<<<< , and was simply invented to attempt to explain away the stark reality that the Eye points to a designer.
Those of you whom are familiar with the history of the Creationist/evolutionist debate will also spot that Dawkins has *stolen an argument Creationists used to thwart this 'Bad design' argument* …. the argument of 'Trade off's'.
Creationists argued against the 'Bad design argument' by proposing God made 'trade off's' in his design and the so called 'blind spot' was one.
Now he claims it was *evolution* which made the 'trade off'…. "Evolution is a series of trade offs"… (Sic)
And yet also in this video They say the squid has 'Better designed eyes' (No 'trade off' blind spot) and yet this 'Better design' is said to be by 'Pure luck'!!!
Oh and it just so happens that in reality the 'poorly designed' Human Eye works better than the 'more rational' squids eye!???
Dawkins says Blind luck created eyes!
Though he has not one ounce of proof, His explaination is supposed to be a 'more scientific' than the belief Eyes are designed for a purpose!

I Need Drugs!
This sort of utter Rubbish pushes one to the edge!
For the life of me, I don't know how people can stomach such childish and pathetic reasoning!
Evolution is Ridiculous!
Dawkins himself said… "Biology is the study of complicated things that give the appearance of having been designed for a purpose."
Despite this Natural rationale derived from consideration of Living things Dawkins also says…
"It is absolutely safe to say that if you meet somebody who claims not to believe in evolution, that person is ignorant, stupid or insane (or wicked, but I'd rather not consider that). "Put Your Money on Evolution" The New York Times (April 9, 1989) section VII p.35"
Evolution is not a science. It is an attempt by Man to deny the existence of God.
*Pathetic!*
The reality is the sophistication of the Human eye is staggering.
"For the invisible things of him from the creation of the world are clearly seen, being understood by the things that are made, even his eternal power and Godhead; so that they are without excuse:"
St Paul Romans 1vs20