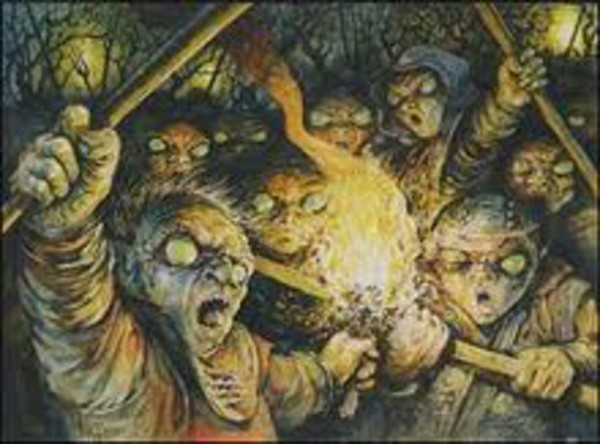 Never underestimate the power of Idiots in large numbers!
The NZ Herald ran a story today about Union activism, lobbying for the raising of the minimum wage… under the emotive term 'Living Wage'.
It was with great relief that I read further that John Key rejected the notion.
It currently sits at $13.50.
Read about it here:
Unions seek to compel employers to raise their minimum wage to between $18.00 to $20.00 an hour, under the pretext that this rate will mean "families can realistically live".
As I was reading about this in the Smoko room at work, I could not help but mutter how insane I thought this Idea is and that it would only serve to hurt New Zealand, esp those this wage was supposed to help.
I was promptly challenged, and so I began to explain why this was both a stupid Idea and why it would make things worse for everyone.
I explained that $18.00 dollars an hour may indeed be enough to get by on…today… under the present cost of living, yet the very introduction of this 'artificial' wage increase would immediately cause a jump in living expenses… and thus the raise would only serve to inflate costs, and $18.00 would then not buy the same amount of goods and services as it does today… before the compulsory rise.
Ie it is a self defeating gesture.
It would cause the cost of living to rise for everyone, esp in regards to things like Bread, Bakery food, Petrol, etc… things which Kiwis buy from other Kiwis, rather than from overseas. Conversely it will hand a greater competitive advantage to imported Goods comparative to New Zealand produce. Imports will still be effected, yet not to the same degree as Kiwi made… and this disadvantage puts New Zealand business under greater strain.
Some businesses simply will not remain viable because the wage rise makes their products too expensive, and some will simply shut down their operations, others will move offshore to countries where they can get less expensive labour, and others will bring in Automation, because they can justify the expense in light of the New Wage laws.
In all these scenarios It will be bad news for the lower wage earners.
All these Evils will have resulted because of ridiculous Social engineering
The Unions and complicit Social democrats will have successfully cost workers their jobs proving that this type of Economic stupidity will surely hurt the very people this socialist compulsion was supposed to help!
It keeps getting worse because Unemployment will jump and so will numbers on the unemployment benefit (ramping up the costs to taxpayers)… and what is even worse is that because the costs of living have been artificially forced upwards… the buying power of welfare benefits will have shrunk too!
Then we will nodoubt hear Union cries to raise welfare benefits to 'living proportions', throwing even greater burdens on the workers… ie the taxpayers!
Some may say that $18-20/hour might encourage some people off welfare, yet where would these jobs come from?
You have in reality made it much harder to employ them!
And all this misery is a typical result of Government Regulation and interference in the market place and economy of the country!
The Socialist Unionists will not blink from blaming all this extra pain and chaos upon the greed of the capitalists!
That's how this Malevolent virus of the mind maintains itself in it's hosts.
Socialism maintains a Class warfare, always blaming the greed of the other side.
The truth is we don't have a capitalist system, which is 'Laissez Faire'… 'Hands off' Free market economics.
We have a Socialist regulated/ hands on economy!
So quit with the Rubbish that 'Capitalism doesn't work'.
It's Socialism which is failing, and driving our country into debt and destitution!
I have much better solution than compulsory wage rises.
It would indeed help the lower wage earners.
Interested?
I suggest we get rid of income Tax upon the first $10- 15 000 dollars (per annum) earned by everyone!
This would give the poor a real increase in wages without adding costs to employers!
This would mean the costs of production would not increase, and the cost of living would not be artificially increased, nor would thousands be forced onto the Dole!
We don't have to imagine why the socialist Unionists and Politicians have not put this suggestion on the table!
They want more taxes, not less! ( Think about how heavily unionized all the State employees are in Health , education, etc, etc)
I don't have space here to talk about the fact that in reality reducing Tax rates can result in greater tax revenues for the government due to growth in the economy.
Nor will I go into the fact that if politicians agreed to lower taxes to win votes, they would probably borrow money at a faster rate rather than cut government spending. which is another shyster evil which ought to be illegal.
Nor will I go into the explanation that in the real world it is the Law of supply and demand which sets wage rates, not Dictators.
(I have written about this Here:)Nor will I present arguments for abolishing minimum wage laws altogether… though there is a very strong case for doing just that.
I must leave these subjects for a later date.
I t is enough for me to say that only the most ridiculously naive morons think economics can be 'doctored' so as to improve living standards by passing such farcical laws.
Tim Wikiriwhi
P.S
For Some time I have also been meaning to write a blog post upon what is going on in respect to the Highest wage/ salary earners… the CEOs etc… the Largess, and how this too is an aberration…an evil which is having very serious detrimental effects upon our society, yet it will have to wait.
It is enough to say that this largess actually encourages socialists to pass absurd yet draconian laws… just like this one…the living wage… believing they can wrestle money away from the Top wage earners and hand it to the lowest ones… and that no ill effects will result.
They are complete Morons.
Tim Wikiriwhi
Christian Libertarian.
Update: 7-10-13
Another delusion is the calculated cost of implementing this 'Living wage policy' as it fails to take into account the disgruntled workers who have taken the trouble to up-skill themselves yet find themselves earning little more than the those people with virtually no skills at all!
Human nature dictates that these workers will strike and demand higher wages too.
and thus there will be multiple unforeseen and un-calculated costs which will have ruinous consequences…. esp for taxpayers, rents,and ratepayers… and the Costs of essentials