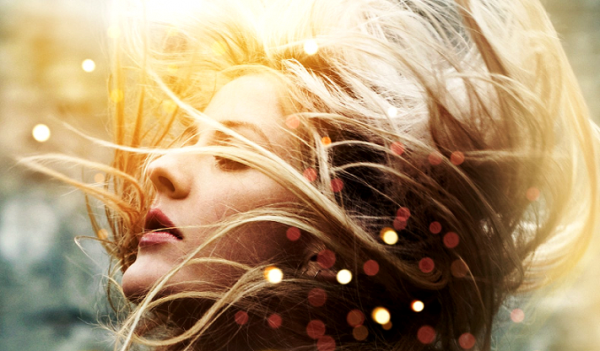 In my opinion Ellie Goulding typifies the BZP experience.
Sight, sound, and stamina are enhanced.
Everything is shiney.
Alcohol consumption is minimised.
Many friends have raved on about how great an experience they had going to concerts, etc when I brought along my plastic jar of 'The Good stuff'.
Back in those happy times this was completely legal.
Of course the Wowzers could not tollerate that!
**************
The following is a pamphlet I wrote back in 2007-2008 hoping to rally public support to keep BZP legal in New Zealand, It is preceeded by a letter I also wrote at the time.
Libertarians were unsuccessful in halting the Ban…no surprise, considering the question was being 'investigated'by the Draconian Nanny Statist and Cold war socialist Jim Anderton.
This was at the height of Nanny State Power… under the Labour Clark/ Wilson/ Yates Regime.
I put this up on our blog today because I have just recently made contact with a person whom was a major player in the new industry of legal highs in New Zealand. He was a very impressive personality in that he was able to argue the merrits of his business, and counter many of the prohibitionists claims that his products were unsafe.
I am keen to discuss this subject with such a knowledgable insider.
I also post it for posterity's sake, as a testimony to some more of my exploits as a libertarian activist.
It represents an ongoing battle against the Drug war which is not only tyrannical, but serves Criminal interests, and works against healthier legal alternatives to alcohol and many illicit substances.
Many of the claims I make in this pamphlet have proven to be true.
It's rationale is applicable to exposing the evils of the War on drugs in general, thus it is still very relevant, and the Re-legalisation of BZP and Cannabis are still matters of unsettled and ongoing injustice.
I think my piece suited the Pamphlet format better than this Blogpost… Oh well.
*************************************************************************************************
Letter to the Waikato Times (Published at a later date.)
Party Pills
Monday, 30 January, 2006 5:15 PM
How happy it is to be able to purchase party pills over the counter, knowing the profit is not going to criminal organisations but helping honest businessmen and there families to prosper.
No need to call the police!
No problem!
This is what it would be like if cannabis was legalised as well!
Since adding party pills to my shopping list I have noticed a reduction in my consumption of alcohol.
It is easy to regulate the level of enjoyment, one for a nice cruise, two for a stag night, etc
The buzz can be as good as any joint, which makes a mockery of the prohibition of Cannabis!
The Anti-Fun brigade fears that New Zealanders will see the benefits of having a legal recreational drug trade and so urgently seek to raise a big enough stink to make criminals of those peacefully engaged in such activities.
Little wonder why young people show no regard for accepted social norms or the Political Correct rules and regulations of Nanny State!
They are phoney! They are oppressive! They suck!
They are the obsessive delusions of twisted little busy bodies!
Get Off My Cloud and stop perverting the law!
Tim Wikiriwhi
Hamilton
******************************************************************************************************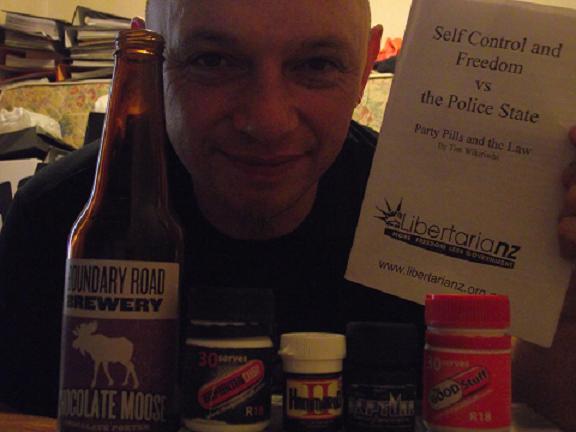 My Pamphlet…and some momentos (sadly empty) from the Libertarian struggle aganst prohibiton
Self Control and Freedom vs the Police State.
Party Pills and the Law
By Tim Wikiriwhi
(LIBZ LOGO HERE)
www.libertarianz.org.nz
"We've got to fight for the right to party!" …Party pills and the Law.
by Tim Wikiriwhi, Libertarianz party spokesman..
The Spin-doctors already have their speeches ready …of wheels flying off their axels and drug crazed terror at our door, ZERO TOLERANCE, Send in Red Squad!
Waiting for an enquiry report on the issue was merely a formality.
Why waste time with the truth when pushing one's own barrow is much more fun and politically acceptable to the sheeple?
The availability of legal Party pills (BZP) has made a very interesting challenge against drug prohibition in general, and it is for this reason alone not because of any great evil caused by BZP that the Prohibitionists are hell bent on banning them irrespective of right reason and justice.
They are relying on their old tactics of playing on the fears and ignorance of conservative New Zealanders.
To call New Zealand a liberal nation in the light of such thing's as the Smoking ban is to deny the fact we Kiwi's are but hen pecked children tied fast to the apron strings of Nanny State. It's time we all grew up and said good bye to that old hag!
Enough is enough!
Al Capone and Mr Asia will love to see Party pills banned.
That will mean more profits coming their way in sales of their illicit products like P, E, or H. Likewise many Breweries and Distilleries (A dealers) would be expecting a boon as young people are forced to drink alcohol as their only legal recreational drug. Our state is directly responsible for this monopoly!
The ban will increase the potential for huffing solvents, LPG etc.
BZP will become another potentially exploitable product for criminal organisations and another motive for armed robbery, and murder as prices soar.
Because BZP is pleasurable, demand will always be there.
Banning it will not change this, just as drug tests don't stop drug problems in prisons or worksites.
(Only a personal work ethic can stop drug use at work, and only a growing personal preference to be drug free will reduce demand for alcohol and drugs in general)
Use of BZP will continue via the black market, yet product safety and quality will be reduced as a consequence of not being able to manufacture it in a legitimate fashion.
Children will become exposed to both the Underworld and to a Draconian police force.
Victims of State oppression have their sense of justice seriously undermined creating a mindset for a life of anti-social behaviour.
These are the very real adverse affects to be expected to result from the ban… an increase in injustice, a perversion of police duties, and a reduction of social order and further entrenchment of our nations alcoholism.
The cotton wool of Nanny state becomes more suffocating and the ethics of self responsibility takes another hit!
It is time NZ society had a rethink about how recreational drugs are controlled and managed. It is time they stopped bigots like Jim Anderton's use of perverse law to persecute and criminalize our young adults and put them on the wrong side of the law. This is to strip our children of their rights and expose them to tyranny.
Jim's draconian 'cures' only worsens the diseases!
Police must be retrained to distinguish and police real crimes whilst protecting the liberty of individuals peacefully pursuing their own happiness, what ever, however they choose to spend their time.
Jim Anderton's Ban will further stretch police resources.
Education needs to be severed from political interference that currently promotes dictatorship instead of self reliance.
It is not the job of the Government or the Police force to make up for the deficiencies in Self-moral responsibility that flow from generations of ignorance and lack of parental responsibility.
Such lesions not imbibed at home means a painful learning curve out in the big wide world…yet these lessons must be learned. They cannot be faked. The level of freedom and civilisation in any society is proportional to the collective sum of the moral codes of it's individual members including their level of political enlightenment.
This is fundamental of Human Co-existence. As individuals we are sovereign over our own bodies and must function via our own inner compass as individuals, not as a herd via pontifications from a bully with a big stick.
Jim Anderton's proposals to ban BZP destroys these vital ethics by making the state into a tyranny and a mockery of law and order.
In Jim Anderton's political philosophy we are merely sheep to be herded at his command…and of course we are expected to adore him as 'the good shepherd"(sic)
Personally I hold nothing but contempt for such a simpleton tyrant!
No apparent gain resultant from unjust powers can ever justify their wickedness even if it is only a small fringe minority who suffer!
Forget Jim's Ban!
How ought we deal with the current levels of social disorder in regards to alcohol?
How ought we deal with BZP and recreational drugs in general?
What we do with our own bodies is up to us by right!
Helen Clark does not own your body, you do and because the health of your body is your concern, you ought to take good care of it and understand that your choices may have either good or evil effects upon one of your most precious possessions…your own body!
Thus it is that whether we are contemplating skydiving or cigarette smoking, the same ethic of free choice and self-responsibility apply.
Libertarian philosophy is capable of correcting the social mindset of this generation, literally reforming criminals and inspiring self-esteem founded upon self responsibility.
It is this philosophy of rights that must underpin the ethics of adults who use recreational drugs, weather Alcohol…BZP….or Rota power.
People with these ethics clearly established in their heart so as to be a part of their self esteem, while they may swear and become bad mannered, they don't become violent, even when they have had too much to drink because such behaviour has become abhorrent, and appears barbarous to their inner being. (Respect thy neighbour)
It is this kind of inner being that is vital to civil society i.e. moral awareness.
Libertarianism compliments and embodies universally accepted ethical concepts and creates the liberty for individual personal beliefs to function as the real guides to life and Higher Laws rather than mere human convention backed up by brute force e.g. I am a Christian Libertarian …you may be a Hindu or Islamic one, etc.
We must also learn that all Citizen's have the very real right to self defence and to bare the means of self defence and so if a drunken hoon is shot while trying to rob a Gas station, Liquor store or Dairy, that is a lesion in justice for everyone especially any would-be bandits.
The Libertaian party is a strong advocate of personal, home, business defence and are fighting for these rights to be Constitutionally protected ending the current denial and criminalisations of the status quo.
The Libertarianz party say the state stranglehold over our health system must be abolished. Thousands on waiting lists are being dropped.
State Healthcare is a giant scam and a complete failure!
The health system overload is constantly used as vindication for suppression of our rights and liberties, re smoking, drinking, fatty foods etc.
By removing the state from health we remove this source of tyranny and lay our healthcare to the proper door…our own!
Smokers will probably have to pay higher heath insurance (yet Smoke Taxes would be abolished so they probably will be able to afford the extra costs!)
It's their life…It's their choice.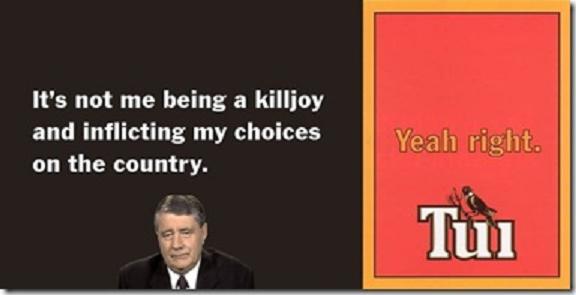 Jim BANderton.
The travesty of his 'due process and the facade of 'Justice being seen to be done'… like a Nazi's trial against 'enemies of the state'… the ban of BZP was a forgone conclusion from the moment he was appointed to lead the public inquiry.
Jim Anderton's ban is corrupt, anti freedom, anti private property, anti free trade, and must be defeated.
Just as the Farmers have successfully protested against dog tagging, so must shop keepers and party patrons alike become activists in the Libertarian attempt to chop Jim Anderton and his 'fun police' down to size!
Let's stop his meddling!
And in the long term, lets fight for Constitutional chains to bind government from attempting such violations of our right and liberties in the future!
Important Note: Any youth reading this pamphlet needs to understand that their behaviour and that of their friends has a lot to do with the outcome of this issue and others such as the drinking age.
Because we live under a government that wields unrestricted powers young people are in constant danger of being stripped of their rights under the pretext that they are not adult enough to govern themselves. Breaking bottles, Graffiti, etc is for losers and I have no problem with the Police busting such crimes!
Youth need to snap out of their self defeating childishness, and become politically aware, and self responsible. Stop mimicking Idiots of the last generation and start becoming adults of real character in your own right.
You can still have fun and be treated as Adults!
Join the Libertarianz party!
We need both moral and financial support!
The Libertarianz party has a constitution ready for public scrutiny that may be found at our website www.libertarianz.org.nz.
Help us win this fight!
Help us get this information in the press.
Buy copies of this pamphlet to distribute.
Please copy and distribute this pamphlet.
Please contact me and find out when and where the Libertarianz party public meetings will be held in your areas.
07-8498323ah
twikiriwhi.yahoo.co.nz
Tim Wikiriwhi has represented the Libertarianz party in both local body and national politics.
He is a Christian, the father of two teenage children, and an engineer by trade.
Update: Tim Wikiriwhi Today also is the father of a beautiful 2.5 year old son.
The evils of Prohibition are ongoing… Read more here: