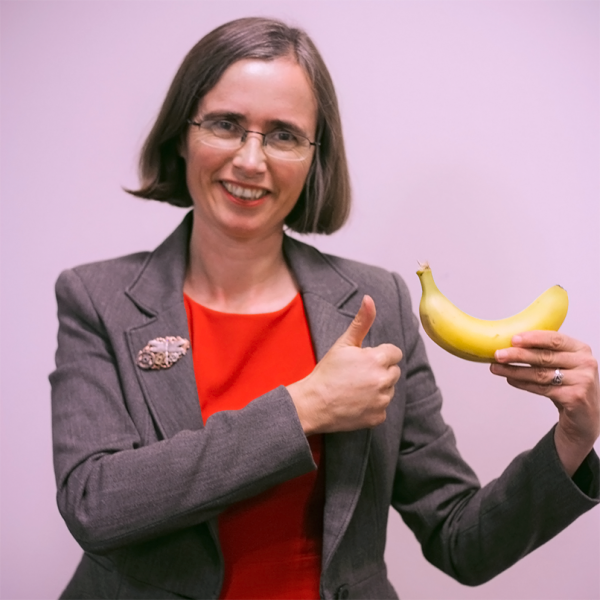 This picture reminds me of one of my father's favourite jokes.
(Mojo Mathers is New Zealand's first deaf MP.)
The Green Party has far too many list MPs, so it's good when they actually do something slightly useful. It looks like Mojo Mathers is following in Sue Kedgley's footsteps, by keeping us all informed about our foods. Today she issued a press release.
Green Party asks Commission to investigate so-called "ethical" bananas

Dole should peel off their stickers claiming their bananas are an ethical choice until the Commerce Commission investigates their claim, the Green Party said today.

Today Green Party food spokesperson Mojo Mathers wrote to the Commerce Commission requesting they investigate Dole's claim that they sell ethical bananas. Ms Mathers' request was sparked by an Oxfam report which suggested Dole's claims may be false and misleading.

"Oxfam's report into Dole bananas suggests that Dole's ethical choice claims may be entirely misleading," Ms Mathers said.
The Oxfam report, The Labour and Environmental Situation in Philippine Banana Plantations Exporting to New Zealand, documents
children 15 years old and under working eight to 12 hours a day, harassment of workers for joining a union, aerial pesticide spraying while workers are on the plantations, and environmental damage.
Dole was quick to respond.
Dole ditches Ethical Choice banana label

Banana importer Dole is to stop using Ethical Choice stickers on its fruit after criticism that the labels could mislead consumers.

This week humanitarian group Oxfam released a report claiming that child labourers exposed to toxic chemicals were used to harvest Dole bananas in the Philippines for supply to New Zealand.

Last year Dole was put on notice by the Commerce Commission that its Ethical Choice brand risked breaching the Fair Trading Act.

Among the concerns was whether consumers might think the stickers were certified by a third party and make Dole appear more ethical than its competitors.

Today the company announced that it would discontinue the use of the Ethical Choice label on all future fruit shipments.
What with dairies selling K2 to school kids and now this, it's been a bad month for business ethics.
Go grab yourselves some Dole "ethical choice" bananas and some K2 "takes you higher" smoke while you still can!