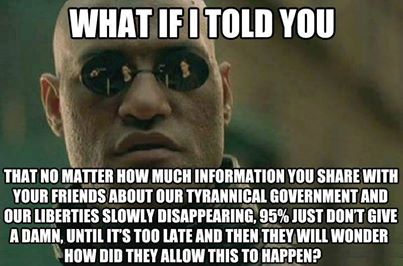 "And this is the condemnation, that light is come into the world, and men loved darkness rather than light, because their deeds were evil."
John 3:19
Ain't nobody got time for dat!
Hayride to Hell!
Some people try and deny we have any freewill, or control over what we Believe or accept, yet I reject this.
I say that we are responsible for what we believe because we incrementally condition ourselves step by step, via our desire to know, or our desire to avoid knowing, and this grows into such an edifice that it can be a highplace from which the whole world can be Surveyed accurately… seeing it as it really is, or a self imposed ignorance can settle like a heavy fog completely blinding us from the truth.
This latter condition is all too common… the millions who have placed scales upon their own eyes so that the truth seems completely alien… completely 'unreal'…. then they cry? How can I be blamed for not being able to believe?
They pretend they are the victims of circumstances… instead of being a victim of their own ignorant and foolish choices.
The same can be said of Hardness of heart.
As we go through life we all face times of horror and hurt, and one of the ways people seek to survive on this earth is to 'harden up'… to stop themselves caring so much about things which they cant control, ..etc, yet this process is very dangerous… It is Dehumanizing, and we can build such 'A Wall' about ourselves that we become completely insensitive to the plight of humanity, and incapable of perceiving the real Moral issues and dilemma's of life. And this hardness also blinds the individual to the need to seek Personal salvation, or to reform the world.
Yet again We are not victims of the world.
Our hard hearts are of our own creation, and we are morally responsible for our own lack of conscience and Narcissism.
We have freely created ourselves.
When you admit this to yourself you can then choose to awaken and walk with your eyes open and your heart restored.
This can be painful and taxing, yet it is the moral thing to do, as opposed to shirking morality and truth.
Dare You stand in the light of day?
Tim Wikiriwhi
Christian Libertarian.
Read more…
Hiding in the Dark….
Seether: Know Thyself. How can a Good God exist when there is so much evil in the world? Part 5.
Comfortably Numb : Confessions of a Nyctophilliac.