Republicans are bananas!
New Zealand Republic is the website for the Republican Movement of Aotearoa New Zealand.
Let's check out the case for a New Zealand republic.
(But first, check out the Republican Movement's logo above. What is it? A stylised letter 'R'? A misshapen black nodule? Or a badly drawn smiling frog-face? Whatever it is, our people do not want it disgracing our national flag.)
The case for a New Zealand republic sets out the main arguments for why New Zealand should become a republic. They fall into three categories:

Independence — New Zealand should have a New Zealander as the head of state;
Nationhood — the constitution and head of state of New Zealand should reflect New Zealand's national identity, culture and heritage;
Democracy — New Zealand should have a democratic and accountable head of state.
In this post, I'll take a look at the Republicans' argument that we need a New Zealander as the head of State, under the heading "Independence".
Independence

New Zealand will not be fully independent until we have a New Zealander as head of state. New Zealand likes to think of itself as an independent country. However, it cannot objectively be argued New Zealand's current head of state represents this.
Never mind the head of state. New Zealand will not be fully independent while half of its citizens are dependent on state welfare. That's a much bigger problem to address.
As the United Kingdom's one-time head of state, Margaret Thatcher, once said, "there is no such thing as society. There are individual men and women, and there are families. And no government can do anything except through people, and people must look to themselves first. It's our duty to look after ourselves and then, also to look after our neighbour." How are we to look after our neighbour when we, ourselves, are reliant on government largesse? New Zealand society will never be independent until such time as its men and women and families are no longer reliant on state welfare handouts and "tax breaks".
Add to this the fact that the New Zealand's external debt is the vicinity of $90 billion dollars. We have a long way to go before we can declare our financial independence from foreign lenders.
A republic means a New Zealander as head of state

"Is New Zealand to continue to have an appointed Governor-General… or should we move to an elected president? This will not happen because of any lack of affection or love for our Queen in London, but because the tide of history is moving in one direction." – former Prime Minster Jim Bolger.
Do we really want someone like Jim Bolger as our head of state? Or Margaret Thatcher? Or John Key?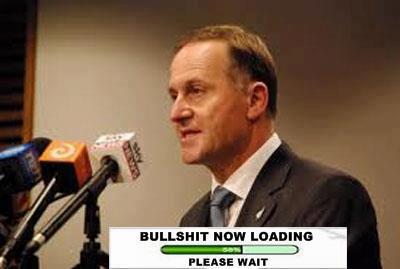 I'm not a stalwart royalist like my mum, but I'm more than happy with the Queen. Next to spending time with my family, Her Majesty's message is the highlight of my Xmas Day. (BTW, Happy Birthday Your Majesty!)
Our current head of state is not a New Zealander and does not represent New Zealand. When the Queen travels overseas, she does so in order to represent Great Britain.

The Queen works to strengthen British economic and political ties, and does whatever the British Government asks of her. In fact, whenever "our" head of state visits New Zealand, the Queen has to ask for permission from the British Government to leave Britain.
You have got to be kidding. She's the Queen! Her subjects answer to her, she doesn't answer to them!
If the Queen wanted to be a citizen of New Zealand, she would not meet the legal requirements to become a citizen. The Citizenship Act 1977 requires an applicant for New Zealand citizenship to have been resident in New Zealand for five years before citizenship is granted. The Queen has spent a total of no more than six months in New Zealand.

The Governor-General is not a proper head of state. While the Governor-General may increasingly act in ways that befit a head of state, the reality is that New Zealand is still not regarded as being fully independent of Great Britain. Appointing the Queen's representative in New Zealand is inadequate. A New Zealand head of state will make it clear that New Zealand is an independent country. It will signal New Zealand's independence and maturity to the world.
I'll be honest. I don't actually know who the current Governor-General is. And that's exactly how it should be. A head of state so off the radar that only Wikipedia knows his or her true identity.
Deciding the rules for ourselves

In recent years, the British Parliament has attempted to amend the succession law. The problem is the Statute of Westminster 1931, the law which granted independence to Canada, Australia and New Zealand.
Oops! Looks like the Republicans just shot themselves in the foot. By their own admission, New Zealand has already been granted independence!
The Statute requires "consultation" on changes to the succession before any changes to the succession law. While this provision is not binding, it is still an important constitutional convention. The most recent attempt in 2008 failed for this reason: the British Government did not want to have to consult with all the parliaments of the Commonwealth realms. New Zealand's Parliament could change the law of succession unilaterally, but that would go against the convention established by the Statute of Westminster. Change can only be enacted if the governments of all the 15 Commonwealth realms are consulted, probably by Britain. In a republic, the rules governing New Zealand's head of state will be made solely by the New Zealand Parliament. They will change as New Zealanders decide they need to, not because of events in Great Britain.
Er, well, that's it. Pretty lame, huh. (Part 1 of 3.) So far, I'm fully not convinced that New Zealand needs to become a republic. And, as I commented on Facebook yesterday
Why do we need "a New Zealand republic with an independent head of State." I can't think of a good reason. Change? Why change? Haven't you people got more pressing concerns?
If it ain't broken, don't fix it.