The Following is From The Libertarian Republic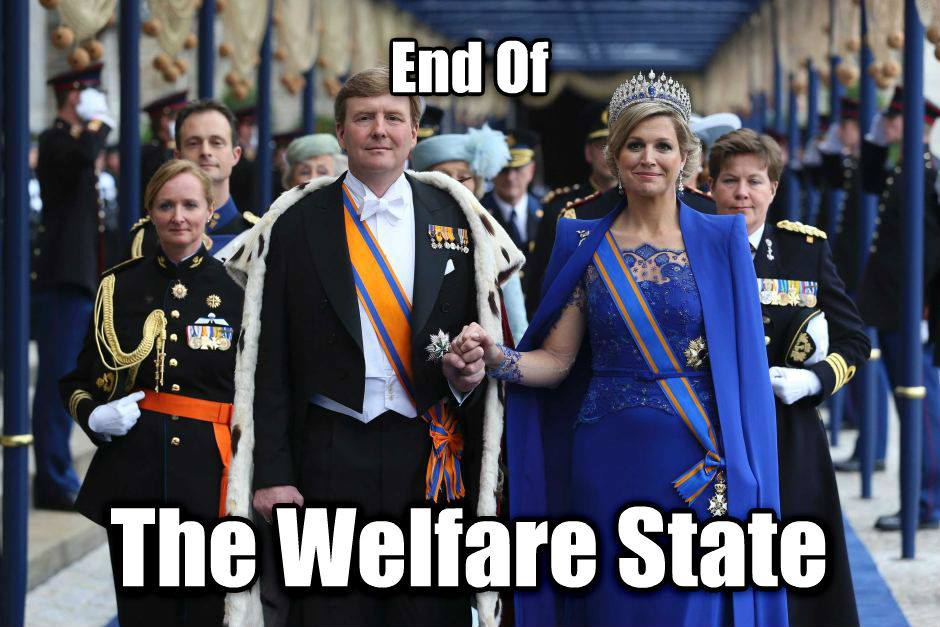 Dutch King Willem-Alexander did his best to garner support for the country's new austerity measures yesterday in a speech that proclaimed the end of the Welfare State and welcomed the beginning of a "participation society." Speaking in defense of spending cuts that have been sharply criticized, the monarch said the second half of the twentieth century had brought about arrangements in social security and long-term care that are "unsustainable in their current form." In the participation society, people would be responsible for their own futures, and would have to plan for financial and medical needs on their own with less help from government. – See more at: http://thelibertarianrepublic.com/dutch-king-kills-welfare-state-lauds-new-participation-society-video/#.UjrOotJkSqg
The budget revealed yesterday by Dutch Prime Minister Mark Rutte contains cuts to their military, axing 2,300 military employees in addition to the 12,000 the country had already committed to eliminate between 2011 and 2015. The new budget comes after several years of unpopular spending cuts, as the Dutch try to gain control of unsustainable entitlement programs and bring their deficit for the upcoming year under the EU's permitted 3% of GDP.
The European Union's Stability and Growth Pact which took effect in 1999 seeks to limit member nation's deficits and debts. It sets a 3% of GDP deficit cap which the Dutch are currently projected to go over by 0.3%. The moves towards austerity by European nations are not due to populace demands but rather an increasingly grim and sobering financial outlook. Despite resistance, King Willem-Alexander's speech marks an important shift in European politics. The progressive, post-World War II welfare state has failed and its continuation is not financially possible.
– See more at: http://thelibertarianrepublic.com/dutch-king-kills-welfare-state-lauds-new-participation-society-video/#.UjrOotJkSqg
****************************************************
….Wow!
The Truth!
Can you take it from a Fortunate son?
The lefties will call for the Kings head.
Demonstrations may follow.
Rioters may Kill, burn and loot…. yet nothing can eradicate the fact that Socialism is a Lie and a delusion.
It is not only completely Unsustainable… it is completely tyrannical.
It does not alleviate suffering!
It generates poverty and dependence!
Most socialists *Don't want to know!* …. yet deep down they do know!
They know they are guilty of Cannibalism… they secretly enjoy it …. out of pure envy and malice.
They hide their vile approbation of looting and extortion under the guise of 'Humanitarianism', 'Utility','Democracy',….
They refuse to admit that Socialist Democracy…. 'Pure' Democracy….Unchecked/ Unlimited Democracy has destroyed Western civilisation… and yet the destroyers will sucker many by saying that the blame is not due to their Tyranny… but to their lenience!
They continue to delude the sheeple by insisting instead that their Legislative Micro-management and regimentation of our lives has not been thorough enough!
Yet as the Rot sets in the harder the Lie is to maintain…
The King speaks the truth when he says that Socialist Paternalism is untenable, and that Individuals must shoulder their own responsibilities….yet the Idea that we must take care of our own Health, education, Retirement, etc is simply too frightening for many institutionalised and dependent Plebs to bear!
Many will hate him for it!
They will cry "Regicide!"
"Lets Build a scaffold… a guillotine…. and rid ourselves of the Monarchy"…. wilfully pretending that 'Democracy' is synonymous with justice…. yet this is a great lie!
All forms of Government have their strengths and their weaknesses.
All suffer from the 'Human Condition' making them susceptible to corruption… so why Give any government Absolute power?
Best to strictly limit political power and leave Individuals free to take care of themselves and to pursue their own happiness.
Socialism has failed on every level, and Western civilisation teeters an the edge of economic catastrophe… and this King…. has in fact proven what are some of the virtues of Monarchy…. of being an unelected ruler and having a birthright which makes his self interest and the interests of his nation/ Dominion synonymous… The Fact that it is both his duty to care for his Subjects, and that he can speak an unpopular truth without having to face an election… ie his Seat of power is not so immediately dependent upon appeasing the Whims of the Mob… as is the chief problem of the demagogue.
A king still requires the support of his subjects, yet it is Easier to vote out an unpopular Demagogue, than to legally dethrone a King.
Back in the late 1700s, the American Founding Fathers discussing these questions of 'What constitutes the proper role of Government?'…. John Adams said to Thomas Jefferson … "You Fear the Few, whereas I fear the Many…"
Both were right.
Whether Monarchy, Oligarchy, or Democracy… "He who governs Best… Governs Least."
Thomas Jefferson…
These are Issues facing all Western Nations…. All Nations.
New Zealand included.
We are currently going through the pretences of 'a Constitutional review' and yet it is a Charade!
So few of the Real issues are being discussed…. because the Status quo seeks to maintain and even strengthen the status quo!
There is no desire for any True reform….. no question of the surrendering of any government powers or spheres of Intervention, regulation, Taxation…etc.
It is a parade….. an act…. a formality…. for the sake of The Morons…. It's the ruse of setting up 'commissions' etc so that the the powers that be can claim "due process was followed"… the fools can be duped into believing they 'witnessed' Justice being done…. even though the conclusions were all forgone… and not one ounce of political power revoked.
Tim Wikiriwhi
Christian Libertarian.