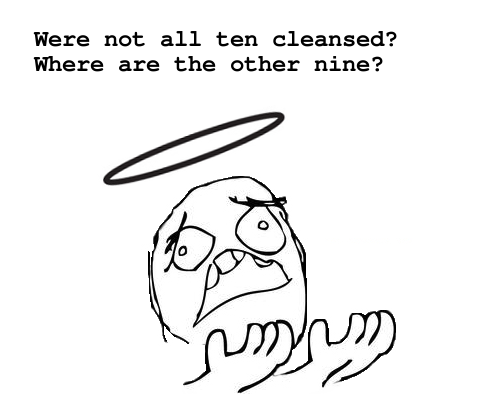 Now on his way to Jerusalem, Jesus traveled along the border between Samaria and Galilee. As he was going into a village, ten men who had leprosy met him. They stood at a distance and called out in a loud voice, "Jesus, Master, have pity on us!"

When he saw them, he said, "Go, show yourselves to the priests." And as they went, they were cleansed.

One of them, when he saw he was healed, came back, praising God in a loud voice. He threw himself at Jesus' feet and thanked him—and he was a Samaritan.

Jesus asked, "Were not all ten cleansed? Where are the other nine? Has no one returned to give praise to God except this foreigner?" Then he said to him, "Rise and go; your faith has made you well." (NIV)
A while ago on Facebook I saw this: "The day you stop asking God for help … is the day you start asking for trouble." It stuck in my head. It's catchy. But it didn't seem right at the time and it still doesn't seem right.
I don't ask God for help very often. I generally don't ask for more than is in the Lord's Prayer.
Give us this day our daily bread.
Forgive us our trespasses (as we forgive those who trespass against us)
Lead us not into temptation.
Deliver us from evil.
Haven't I asked for enough already? I've asked for more than a socialist with a serious entitlement mentality. And what does the Lord's Prayer, which is how Jesus told us we should pray, ask of me? Nothing.
It seems almost gluttonous to ask for more. I have what I need in abundance. I am blessed. My problems in life, such as they are, are first world problems. We're supposed to pray, not whine. Jesus makes clear that there is simply no need to ask God for any further assistance.
And when you pray, do not keep on babbling like pagans, for they think they will be heard because of their many words. Do not be like them, for your Father knows what you need before you ask him.
Praise God and give thanks! Show some gratitude! In 1 Thessalonians 5:16-18, Paul instructs us to
Rejoice always, pray continually, give thanks in all circumstances; for this is God's will for you in Christ Jesus.
I don't always thank God, but when I do I feel glad. 🙂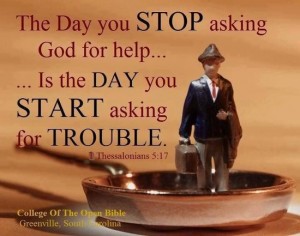 "The day you stop asking God for help … is the day you start asking for trouble."
Really? This advice is promulgated by The College of the Open Bible.
Note the reference to scripture. 1 Thessalonians 5:17. I think they spin a lot out of "pray continually," don't you? Just now I visited their Facebook page. They call themselves The College of the Open Bible. Where the Bible is the only authority. And they advise Study to show thyself approved unto God, a workman that needeth not to be ashamed. 2 Timothy 2:15.
I think they need to study a bit harder. The day you stop rightly dividing the word of truth is the day you start making things up. Not judging. Just sayin'.