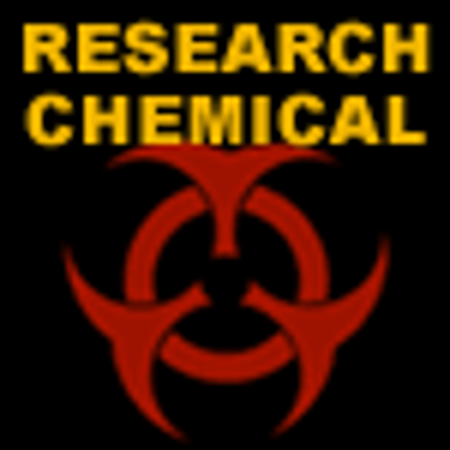 What are research chemicals? Wikipedia says
Research chemicals are chemical substances used by scientists for medical and scientific research purposes. One characteristic of a research chemical is that it is for laboratory research use only. A research chemical is not intended for human or veterinary use.
I first encountered the term on Erowid—the original go-to website for recreational drug users and "a trusted resource for drug information—both positive and negative"—and here's what Erowid has to say about research chemicals.
Chemicals marked on Erowid by our Research Chemical Symbol should be considered experimental chemicals. Although some people are willing to ingest these chemicals for their effects, it is not reasonable to assume that these chemicals are in any way 'safe' to use recreationally. Although all psychoactive use involves risk, this class of chemicals has undergone virtually no human or animal toxicity studies and there is little to no data on possible long term problems, addiction potential, allergic reactions, or acute overdoses.

Publication of information by Erowid about human use of these chemicals is not intended to endorse their non-laboratory use.

Consider carefully before choosing to use these substances.
and from their Research Chemical FAQ
What are research chemicals?

When used to describe recreationally used psychoactive drugs, the term "research chemicals" generally refers to substances that haven't yet been thoroughly studied. The term "research chemical" partially came from the fact that some substances on the recreational markets were drugs that had been discovered in labs and only examined in test-tube (in vitro) or low-level animal studies.

Some are very new, while others may have been around for years but haven't had adequate enough medical investigation to quantify health risks, have not been consumed by many people over a long period, or had much data accumulated about their use. Little is known about them, and a good deal of what is known is based only on first-hand psychonautical reports. Scant to no research has been completed on the toxicology or human pharmacology of these drugs. Few, if any, formal human or animal studies have been done. Because of this, some have suggested that they would more appropriately be called "unresearched chemicals". Another term for them is "experimental chemicals", and this may better communicate the unknown risks associated with ingesting these drugs.

Unlike better-known drugs such as ecstasy (MDMA), which has been taken by millions of people over the last 30+ years, or marijuana which has been used by billions of people over millennia, in some cases the most novel of research chemicals may only have been used by several dozen people for a few months. The risks involved with research chemicals are greater than with many other drugs, since they're unknowns. …

Are research chemicals safe to ingest?

No! While no drug use can categorically be characterized as "safe", using research chemicals may be riskier than using older, better-studied drugs. This is not to say that the chemicals themselves are necessarily more dangerous… the risk lies in the fact that very little is known about them. There haven't been enough people using them in high enough doses for long enough periods of time for us to have an idea what sort of damage the chemicals are capable of producing. When one takes a new and unstudied drug, one makes oneself a human guinea pig. The drug may be perfectly safe. It may even be beneficial. On the other hand, after three uses one might suddenly find one's body frozen-up with symptoms resembling Parkinson's disease. If you think this is an exaggeration, do some research on MPTP, a neurotoxic by-product that was produced during underground synthesis of the opioid MPPP, which contributed to the 1984 change in law that allowed the DEA to have "emergency scheduling" powers.

When taking a research chemical, one is stepping into the unknown, and could be the unfortunate person to discover a new drug's lethal dose. One could find oneself addicted. Or, if one overdoses and ends up at the hospital, the doctors may only be able to guess at the appropriate course of treatment. Some drugs, like Cannabis, LSD, and psilocybin, have a wide safety range over which there is little to no possibility of pharmacologically induced death (perhaps 1,000 times or more the active dose), while other substances become dangerous at much lower amounts such as mescaline (perhaps 24 times the active dose), MDMA (perhaps 16 times the active dose) alcohol (perhaps 10 times the active dose), GHB (perhaps 8 times the active dose) or iv heroin (perhaps 6 times the active dose). Accidental overdoses happen to most people who consume psychoactives for long enough, and overdoses of research chemicals have unknown consequences. One who is not prepared to accept these risks should avoid taking research chemicals.
Believe it or not, a variety of research chemicals, with little to no history of human use, is what the New Zealand government has just approved for sale to the general public. (See here.) I listed some of them in my previous post. Here they are again.
PB-22
AB-FUBINACA
5F-PB-22
CP-55,244
an analogue of ADB-FUBINACA
AB-005
4F-AM-2201
CL-2201
LDD-3
SGT-7
SGT-19
SGT-24
SGT-42
SGT-55
SGT-56
What do we know about PB-22 (also known as QUPIC)?
No information regarding the in vitro or in vivo activity of QUPIC has been published, and only anecdotal reports are known of its pharmacology in humans or other animals.

The physiological and toxicological properties of this compound are not known.
What do we know about AB-FUBINACA?
It was originally developed by Pfizer in 2009 as an analgesic medication, but was never pursued for human use.
(BTW, it looks like Pfizer has a 2009 international patent on AB-FUBINACA and related indazole derivatives with cannabinoid (CB)1 receptor binding activity. Pfizer and the Psychoactive Substances Regulatory Authority—working together for a healthier world.)
What do we know about 5F-PB-22?
No information regarding the in vitro or in vivo activity of 5F-PB-22 has been published, and only anecdotal reports are known of its pharmacology in humans or other animals.
What do we know about CP-55,244?
It has analgesic effects and is used in scientific research.
What do we know about ADB-FUBINACA (or its analogue (S)-N-(1-amino-3, 3dimethyl-1-oxobutan-2-yl)-1-(5-fluoropentyl-1H-indole-3-carboxamide)?
Nothing is known of the pharmacological activity of ADB-FUBINACA in humans or other animals.
What do we know about AB-005?
No information regarding the in vivo activity of AB-005 has been published, and only anecdotal reports are known of its psychoactivity in humans.
What do we know about 4F-AM-2201? We know its chemical structure. It's a fluoro analogue of AM-2201.
The toxicity of AM-2201 is still a matter of debate and there may be long term side effects.
What do we know about CL-2201, LDD-3, or any of the chemicals in the SGT series? Nothing whatsoever. In fact, the SGT series might as well be named the SFA series.
Now, please don't get me wrong.
I'm a psychoactive substances enthusiast and I've tested a few research chemicals myself in the past. But I did so fully cognizant of the risks. I exercised due caution. (Mostly.) And I'm unscathed. (Pretty much.)
I'm a libertarian and I think that ALL drugs should be legal. And that what drugs are made widely available to the general public should be decided by a responsible, self-regulating legal highs industry. But what responsible, self-regulating legal highs industry would even dream of peddling untested research chemicals to the general public?
Sadly, what we have now is the polar opposite of my envisaged libertopia. Everything government touches turns to crap. Untested research chemicals are the only psychoactive substances the legal highs industry is allowed to offer for sale. All the safe recreational drugs have been banned. So the legal highs industry is caught between a rock and a hard place. Thanks to the prohibitionist tendencies of the New Zealand government, which is demonstrably unfit to have any involvement whatsoever in regulating the sale and use of psychoactive substances.
The Psychoactive Substances Act is a sick joke. On you.