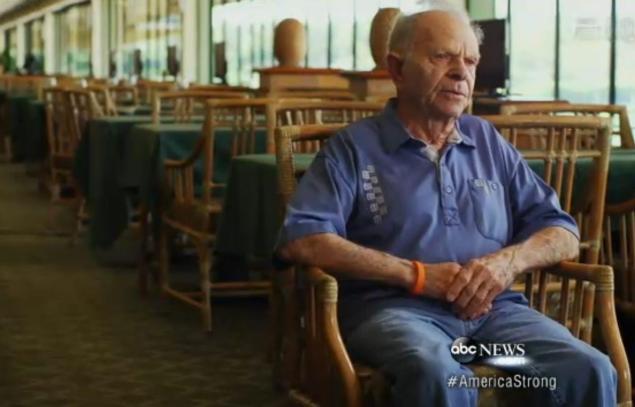 Hero John Shear 92.
Watch this video!
At 92, John Shear can still pump out 30 pushups every day at the gym. But the man is hailed as a hero not for his unlikely strength but for his brave heart.
Shear has worked as a guard at the Santa Anita Park racetrack in California for 51 years.
He was keeping his normal watch two years ago, holding a rope across one of the gaps in the paddock fence as racing fans of all ages gathered to watch the horses moments before they took to the track.
"Then I heard someone shout out there was a loose horse," Shear said.
He shouted to everyone to clear the way.
"I went to one side and when I looked down, there was a little girl standing there," he recalled.
That little girl was Michael Key's daughter, 5-year-old Roxy Key. Without thinking twice, Shear jumped in front of Roxy, shielding her from the horse that was barreling toward them.
"Before I could even think to even move, here comes Mr. Shear," said Michael Key, remembering that fateful day.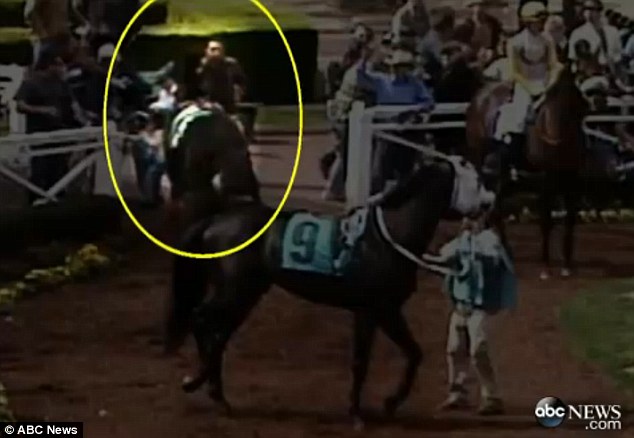 The defining moment of a man's character. John does not hesitate to put himself in between the charging horse and the little girl… The Child of complete strangers.
"I knew I was going to get hit," Shear said. "I thought there was a possibility I was going to die but you cannot stop and think should I or shouldn't I. There is a five-year-old girl. I'm 90-years-old. I have had a life. She hasn't had a life. You got to save that life."
The horse ran full speed into the pair, knocking both Shear and Roxy to the ground.
"She got up and I was shaking. I was in shock," Michael Key said. "And she's like, 'I'm fine, papa, I'm fine,' and then she looked over and saw Mr. Shear on the ground and there was blood hemorrhaging and she lost it, she just lost it."
Shear remembers that moment. "I heard her say when her dad asked her if she was fine she said, 'Yes dad, I'm all right.' I felt better that she was safe."
Read more… here

Roxy… now 8 is a Ballerina.
What an inspirational act of Humanity and selfless bravery!
John Shear… I salute you!
It is hard to believe that there is a growing Atheist philosophy that argues that reverence for such selflessness is evil… and that to just stand by in safety…and watch 'shit happen' to other people… is an act of liberated virtue… the so-called 'Virtue of selfishness'.
Talk about a twisted mentality… a Rabid loathing of Christian values
Objectivism is a direct attack on the theistic foundations of inalienable rights, and Christian ethics such as the Good Samaritan.
Objectivism also has the audacity to plagiarise many Christian Ideals like Rights while denying this theft, and then try and say that rights are an atheistic concept and that 'religion' is anti- rights!
Talk about serpent lies.
Read my scathing criticism of Anti-Altruistic Objectivism, and its attempt to deceive people into rejecting Christian morality… >>> The Failure of Objectivist Libertarianism. <<< Classic Libertarian Idealism Cares (Objectivism is as silly as Socialism)