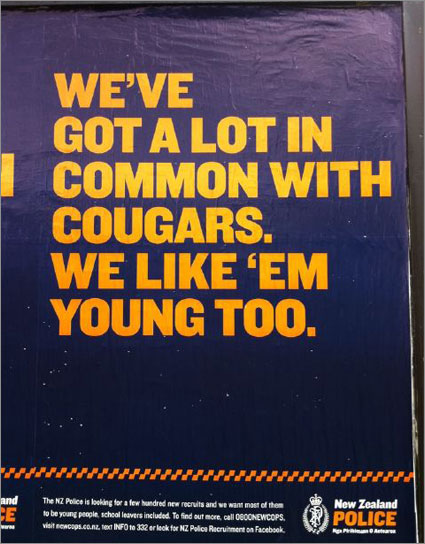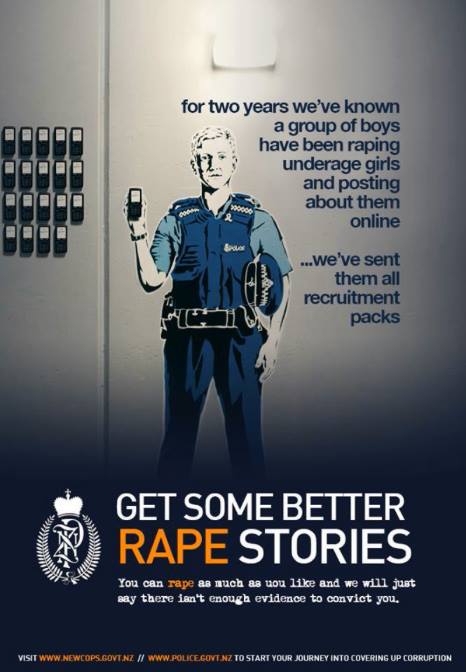 The top image is a real NZ Police recruitment ad. It ran for about two weeks in late December 2010. It was pulled just before the release of a report prepared for the State Services Commission in the wake of the commission of inquiry into police conduct. The report said the culture within the force seemed to have reached a plateau and fundamental change was needed.
That was three years ago.
The bottom image is a parody ad created by Martyn "Bomber" Bradbury, editor of the Daily Blog, in response to the NZ Police inaction against the Roast Busters. The police contacted Bradbury and threatened him with 6 months imprisonment and/or a $5000 fine unless he pulled the parody. But Bradbury won't back down.
Rape is a serious crime. So is false allegation of rape. But the concern of this post is the casual manner in which the NZ Police repeatedly attempt to rape our most important freedom, upon which our democracy depends, freedom of speech.
I've seen a similar attempt before, up close.
Two years ago the NZ Police made a clandestine ultra vires attempt to take down Billy McKee's Green Cross website. The webmaster made sure the website stayed up.
Good on Bradbury for not backing down. Freedom of speech is not negotiable.
Every time you speak to me,
Makes it plain that you don't see,
What's really happening here,
You just confuse respect with fear,
Lawman, I think you're a poor man