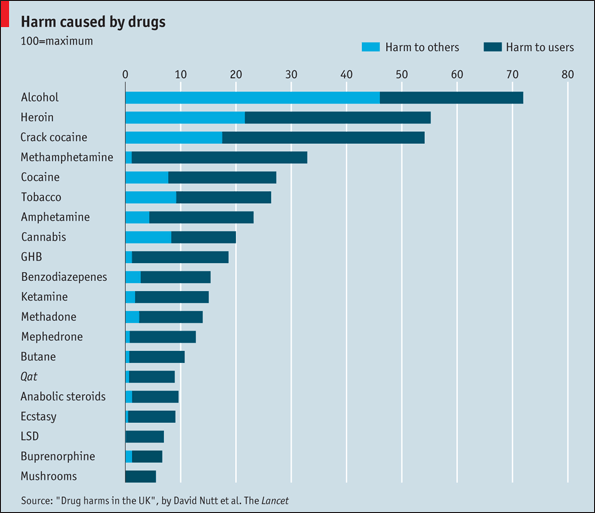 We shouldn't diss other people's drugs. 🙁
But we should compare other people's drugs with our own. 🙂
The bar chart above is from the paper Drug harms in the UK: a multicriteria decision analysis which was first published in The Lancet in 2010. The paper's lead author, Professor David Nutt was formerly the chairman of the Advisory Council on the Misuse of Drugs (ACMD), which is the British government's equivalent of New Zealand's Expert Advisory Committee on Drugs (EACD).
As ACMD chairman Nutt repeatedly clashed with government ministers over issues of drug harm and classification. In January 2009 he published in the Journal of Psychopharmacology an editorial ('Equasy – An overlooked addiction with implications for the current debate on drug harms') in which the risks associated with horse riding (1 serious adverse event every ~350 exposures) were compared to those of taking ecstasy (1 serious adverse event every ~10,000 exposures). In February 2009 he was criticised by Home Secretary Jacqui Smith for stating in the paper that the drug ecstasy was statistically no more dangerous than an addiction to horse-riding. Speaking to the Daily Telegraph, Nutt said that the point was "to get people to understand that drug harm can be equal to harms in other parts of life". Jacqui Smith claimed to be "surprised and profoundly disappointed" by the remarks, and added: "I'm sure most people would simply not accept the link that he makes up in his article between horse riding and illegal drug taking". She also insisted that he apologise for his comments, and asked him to apologise also to 'the families of the victims of ecstasy'.
Nutt's persistence in his heretical view that illicit drugs should be classified according to the actual evidence of the harm they cause eventually lead to his dismissal from his post by the Home Secretary Alan Johnson. Nutt's dismissal became a political scandal. There was a slew of resignations of high profile government scientists in its wake. The government's Science Minister Lord Drayson was quoted as being "pretty appalled" by Johnson's "big mistake" in dismissing Nutt without consultation.
Nutt went on to fame and fortune.
Fortune enough to start his own independent drug research body called the Independent Scientific Committee on Drugs (ISCD) which was launched in January 2010. In November 2010, the ISCD published the aforementioned paper Drug harms in the UK: a multicriteria decision analysis. (Read a summary of the paper here or read the full paper here.)
Fame enough for Nutt to be invited by the New Zealand Drug Foundation to give a talk in Wellington late last year. I was lucky enough to get to go along and hear what he had to say. (I'd mostly heard it before, of course. Nutt rates a mention in the Libertarianz Party's Transitional Drug Policy, which is to legalise all drugs safer than alcohol. 🙂 )
Here's a challenge to my readers. (Especially those with a conservative perspective.)
Listen to Nutt's talk and then tell me that the War on Drugs™ is not evil and stupid.
No takers? Didn't think so.