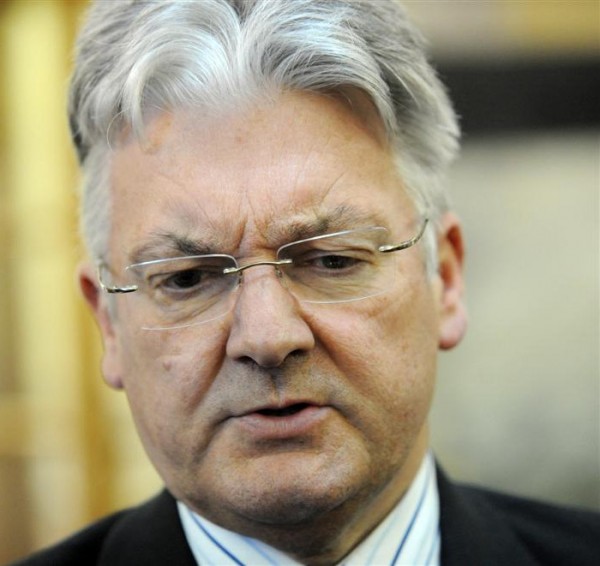 Prime Minister John Key has confirmed that United Future leader Peter Dunne will be reinstated as a minister.
There's no doubt that Dunne is a shrewd political operator. When he saw trouble coming, he resigned from his office of his own accord, then patiently waited to be reinstated. (Perhaps that's exactly what the Vice President of the ALCP is up to, too, only time will tell. 🙂 )
The National government is criminally insane.
Is this the arch-fiend returning to the scene of the crime, to make sure the ongoing chemical warfare on our nation's most vulnerable is waged with all the conscientiousness of an Adolf Eichmann?
Or is this the author of a well-intentioned, albeit flawed, piece of legislation returning to put things to rights and make sure the continuing story, which has totally lost the plot, at least has a happy ending?
Let's make sure to keep in mind the following two salient facts.
Firstly, here's what Peter Dunne said when the National government Cabinet first agreed upon key details of the Psychoactive Substances Act.
As promised, we are reversing the onus of proof. If they cannot prove that a product is safe, then it is not going anywhere near the marketplace

None of these products will come to market if they have not been proven safe.
Secondly, here's what Peter Dunne said on his personal blog not so long ago, after he'd stepped down as Associate Minister of Health.
Just over a couple of months ago, the Psychoactive Substances Act of which I was the principal architect was implemented. It provides for the first time for a regulated market for the sale and supply of psychoactive substances, based on the level of risk they pose to the user. It is attracting interest from around the globe, as an innovative solution to an international problem, and, after a few not unanticipated teething problems, seems to be settling down quite well.

Now, here is where I have been thinking. Although the Psychoactive Substances Act was intended to deal with that issue only, and not to have wider application, it does occur to me that, if after a period of time, it is shown to be working effectively, it could well become the model by which narcotic drugs, currently controlled under the Misuse of Drugs Act, are regulated for the future. The yardstick of level of risk – based on sound pharmacological and toxicological evidence – would become the determinant of availability, not public sentiment or prejudice.

I am not suggesting a revolution, but simply observing that the regulatory regime introduced for psychoactive substances could well have wider application and that we should not be averse to that possibility. After all, most experts now concede the so-called "war" on drugs has failed, and new initiatives are required.
NORML likes Peter Dunne's new thinking and so do I.
I think we should do all we can to encourage Peter Dunne's new thinking about cannabis (which, surely, is the drug he had in mind) and hold him to his earlier promise that other psychoactive products will not come to market if they have not been proven safe.
I think Peter Dunne should take the following Goode advice (and make good his promise).
Herbal cannabis should be given immediate interim product approval under the Psychoactive Substances Act says Dr. Richard Goode, Vice President of the Aotearoa Legalise Cannabis Party.

"Let's legalise cannabis now, so the Ministry of Health can have all the time it needs to get its act sorted, and cannabinoid connoisseurs can continue to get high on the real deal," Dr. Goode said.
Some politicians I've never much liked. Including Peter Dunne who stalled cannabis law reform for years, and John Banks who knifed his running mate Don Brash in the back over the cannabis law reform issue. But Banksie came good before he took his final bow. Will Peter Dunne yet surprise us all? I sincerely hope so.