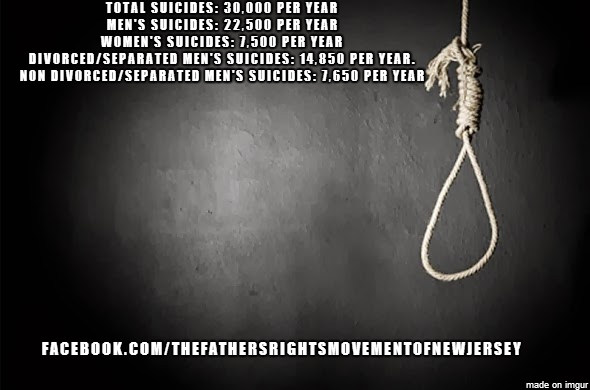 I've been to the edge.
I've stood and looked down.
I've lost a lot of friends there….
Literally.
According to Socialist Feminism Men are Dogs.
They say We carelessly get our rocks off and run away at the first sign of Responsibility.
They have geared the legal system to punish Men because they are de-facto guilty for all marriage failures…etc… who else could be responsible????
Well the statistics tell us quite a different story!
Just whom has been playin whom???
Men do Crazy shit when they have had their Families ripped away from them.
They Despair of life.
They Feel like failures…. completely worthless.
They can become a Danger to themselves and everybody else.
All their reasons for living…. for striving…. are gone.
It's a living Hell.
The Police are slow to prosecute woman for assault.
The courts Favour custody for the woman.
Woman rarely pay any child support.
Worst of all It's the Kids who suffer the most.
The Bullshit can be so deep that some men give up trying to maintain a relationship with their kids because it is so unbearable dealing with the viciousness of their Exs.
So many Kids suffer at the hands of wicked 'step Fathers' because of the utter foolishness and selfishness of their mothers who shack up with complete Scum.
Yet who will tell the Kids it's all their selfish Moms fault?
When will Woman wake up to their own shameful derelict of duty in estranging their Kids from Daddy?
When will they cease to use their kids as Pawns their petty Games of Vengeance?
When will they *Really* put their children's well being first?
If you dont end up in Jail…. dont end up on Prozac…. or Dead.
It takes two years to start to recover and see the sun shining again… yet thankfully it will shine again.
Hopefully you can establish some sort of working relationship in which you can be a part of your children's lives.
Even if you have been away for years… its never too late to attempt to make contact… hopefully Time will have worked some magic, eased tensions, and restored some Reason.
The regret of never trying would be worse than any rejection.
In the mean time it is important to focus on self improvement and setting new goals… fostering new dreams.
Ultimately…. Because The world is much bigger than Superman…. and nobody can be with their Children 24/7…even when we are in Stable relationships we must commit our children's souls…. their well-being to Gods Loving providence….
If you are alone… This is something you ought to pray for Daily.
And dont let one Bitch destroy your faith in Marriage… when you find love again… Be brave enough to give it everything!
Dad's are not Obsolete.
You are important you know!
Just a few thoughts from a Brother.
Tim Wikiriwhi