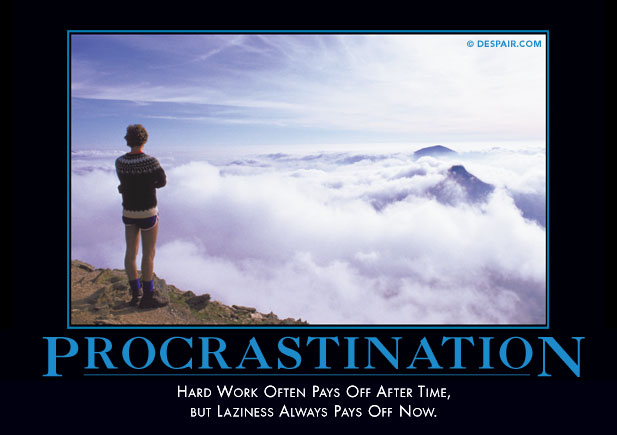 A friend gave me this excellent DEMOTIVATOR® from Despair.com several Christmases ago. And, recently, I finally got a round tuit. I put the damn thing up on the wall of my home office!
The poster represents an ever timely life lesson.
Perhaps life's greatest lesson is that life itself is a lesson. That was my ex-wife's sort of New Age spiritual viewpoint, in a nutshell, anyway. She had a firm intuition that we are each thrown into this mortal sphere of existence for a reason or reasons—to learn our spiritual life lesson(s). Of course, being a committed atheist and moral nihilist at the time, I mocked the idea. It's only now, a repentant worldview and a decade of divorce later, that I'm wondering if she was right, after all. (And kicking myself for not asking the obvious question at the time. If life is a lesson, who sets the curriculum?)
Or, perhaps, life's a Stanley Milgram experiment.
A test of your Moral character and conviction.
The decisions you make throughout your life are all being observed and recorded.
One day you will be asked to give account.
God as teacher and/or God as experimenter? I don't think that Tim's suggesting that life on Earth is, quite literally, an experiment. So I will! (A misbegotten experiment, perhaps? No, I'll leave it to a detractor to suggest that. Also, I'll leave it to the apologists for God's supposed omniscience to explain this.)
How did you do? If life's a classroom and every day's a school day, did you study hard? Or did you just fritter and waste the hours in an offhand way? If life's a Stanley Milgram experiment, did you go with the Word or go with the crowd?
One day you will be asked to give account. If life's a lab running a Stanley Milgram experiment, you will be judged on how you used your God-given faculty of free will. Did you make the right decisions, and evince moral character and conviction? (The decisions you make throughout your life are all being observed and recorded.) Whereas, if life's a classroom, you will be judged on how you used your God-given learning ability. Were you a willing, conscientious, hard-working student of life? Did you learn and practise the right things? (Everything you learn and practise goes down on your academic record.)
Classroom or lab? Are we God's students, or are we his experimental test subjects? I suggest that life's more lesson than lab, for the simple reason that we do not have a faculty of so-called free will, God-given or otherwise. The concept itself is a nonsense. What we do have is the God-given ability to learn and to change our behaviour. We also have the curriculum and the learning objectives. You'll find it all in the prescribed text.
(Is Christianity complicated? Please don't protest that God didn't make it clear what are the right things to learn and practise. He did. The Bible contains massive redundancy. You know, like how the Ten Commandments are repeated in Deuteronomy, just in case you missed them in Exodus.)
Now, back to the DEMOTIVATOR® at the top.
(Did you see what Despair.com did there with the wee ®? They threatened to send their statist cronies around to your place to sort you out good and hard should you ever decide to go into business selling your own DEMOTIVATOR posters!)
The poster represents an ever timely life lesson. And the life lesson is, learn the power of delaying gratification. Rejoice and be glad!
the children who were best able to delay gratification subsequently did better in school and had fewer behavioral problems than the children who could only resist eating the cookie for a few minutes—and, further, ended up on average with SAT scores that were 210 points higher. As adults, the high-delay children completed college at higher rates than the other children and then went on to earn higher incomes. In contrast, the children who had the most trouble delaying gratification had higher rates of incarceration as adults and were more likely to struggle with drug and alcohol addiction.
How to learn delayed gratification?
Rather than resist the urge to eat the cookie, these children distracted themselves from the urge itself. They played with toys in the room, sang songs to themselves, and looked everywhere but at the cookie. In short, they did everything they could to put the cookie out of their minds.
So, learning to delay gratification is not at all the same thing as learning to resist temptation. The results even suggest that any direct attempt to resist the urge to eat the cookie is worse than futile, it's counter-productive. And, note, we're talking about a non-starving child and a cookie. We're not talking about a methamphetamine addict and a bag of P. And we're certainly not talking about being offered all that you could ever want in the whole world and having it right now.
Again, the devil took him to a very high mountain and showed him all the kingdoms of the world and their splendor. "All this I will give you," he said, "if you will bow down and worship me."

Jesus said to him, "Away from me, Satan! For it is written: 'Worship the Lord your God, and serve him only.'" (NIV)
Nope. Staring down temptation and simply commanding it to go away is way too hardcore for mere images of God! We can but pray, "Lead us not into temptation" in the first place. Give us this day our daily distraction!
Finally, brothers and sisters, whatever is true, whatever is noble, whatever is right, whatever is pure, whatever is lovely, whatever is admirable—if anything is excellent or praiseworthy—think about such things. (NIV)
The poster represents an ever timely life lesson. Delay gratification, do some work, and get your shit sorted. (Thanks for the round tuit.)