Further thoughts that continue on from Part 1 here.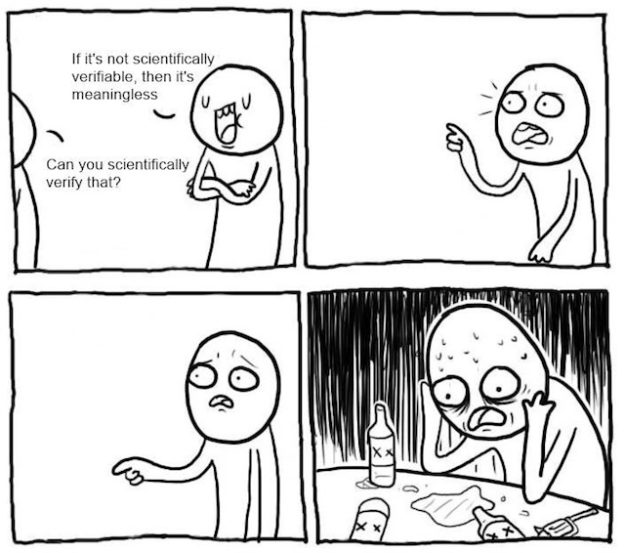 Science is no escape from the human condition… that gospel purported by many…is false.
Though we may increase in mastery over nature…certainty will always escape us… thus science is a pragmatic pursuit, not a source of absolute knowledge.
With every new answer comes new questions.
We will always rely on axioms and presuppositions… we cannot escape the need for faith… which underpins what we think we know… even the things we are most sure about….
I guess my original post could have been called… 'Beware of Scientism'.
History shows you can 'prove' almost anything by fiddling with numbers.
It must be understood that not even math escapes the human condition… I know many people will be loosing their lunch over my impertinence… yet with time I hope to explain the many ways math can be corrupted.
When reading about various types of weird 'inferred postulates' like Dark Matter, The Big Bang, etc we always find two camps of thought.
Simpletons who think the said phenomena are rock solid facts and proceed to treat them as such in all their forthcoming activities… and others who have the intellectual depth and integrity to admit these cherished theories are full of holes… and proceed with caution in any further speculations that could follow.
It depends on which article you read as to whether or not you are encouraged to accept such phenomena are real … or to remain skeptical.
It is particularly scary when the political class pick up on certain theories… because they suit their political agendas… and begin to compel whole populations into accepting them as indisputable… and then using usurpatious powers proceed to embed them in Laws and institutions… Pouring Tax billions into the pockets of scientists who just so happen to produce politically correct 'findings'… while critics are deplatformed and thrown out of Seats of learning… and making it nearly a crime to question 'the official line'.
Science has died.
The Balance has been skewed.
What we are left with is Pure Pseudo science… very much like the Social Darwinism of the Nazis which Sub-humanised the Jews.
What is funny is that so many people naively assume such shocking corruption is not going on today!
The truth is there are many factors that can corrupt science… Money and political agendas being two biggies… and anywhere the State is pouring money into 'research'… it becomes highly dubious.
Another funny yet erroneous stereotype that was born of the Materialist religion of 'Scientism' is the image of Doctors and scientists in white lab coats with thick reading glasses… and expressionless demeanor.
The psychological impact of this upon gullible minds is the impression that scientists are not only way smarter than other mortals… but esp that they embody a 'Spock-like' power of Objectivity… that all their utterances are devoid of personal prejudices… all this is designed to get the gullible to trust them.
Their white overcoats serve the very same purpose as the priestly gab of any religious cult!
The truth is the exact opposite.
You would struggle to find in any other area of life a more opinionated, conceited, biased, Vain, Greedy, unprincipled, and obstinate bunch of human beings than you find in science departments!
Pseudo-science are myths dressed up in Scientific Gab/ jargon.
Is it any wonder why there are so many pseudo-scientific ideas that hold sway among the masses???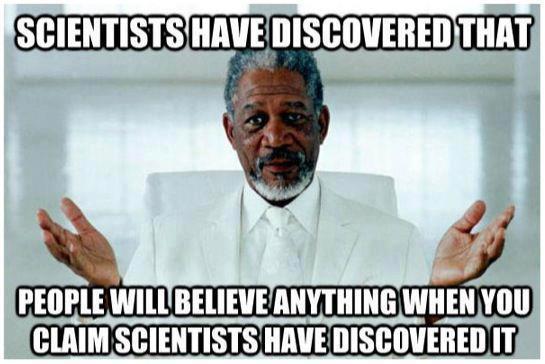 When false postulates and theories are accepted as fact whole magnificent edifices are constructed upon these corrupt foundations.
Entire lifetimes, and reputations, and industries can be wasted building 'White Elephants'… and strong vested interests assemble to carry on the lies… because the longer the sham continues… the bigger the mess when it topples… and people fear facing the ugly truth… and paying the price of correction.
The lies become so embedded that it seems like madness to question them…. Cognitive dissonance becomes the norm… an incapacity to acknowledge uncomfortable novel truths.
Progress has always had to battle with entrenched Mass-held delusions. What is funny/sad is so many Moderns only apply this precept in their warped conception that Science has always struggled against religion… a very inaccurate and simplistic apprehension of history… utterly failing to guard themselves against all the other personal bents that can prevent them from grasping new and challenging evidences.
esp their own modern post-Christian quazi-religious bents.
I ask people if they dare to entertain any controversial propositions that are at variance with the mainstream?
For it is a signal of an independent mind to walk it's own path and have the courage to diverge at certain points from the herd.
The herd has been trained to pour derision and hate upon anyone who steps out of line and does not submit to the 'orthodoxy' of their times.
It may amaze people that I am talking about *The scientific community*… not some religious sect.
Understand that the scientific community is as prone to Backwards, erroneous dogma as any other Human endeavor is.
What is essential then is to write a code of ethics of which the scientific method is just one aspect of what entails the correct mental processes that are conducive to the scientific enterprise.
. to guard ourselves from slipping into a mire of our own subjectivity… eg with the interpretation of evidence.
Ultimately all we can do is acknowledge the human factor will always be lurking about… like a madman.
Tim Wikiriwhi
Christian Libertarian.
More from Tim… and others…
ET TU BRUTE? WHAT IS SCIENTISM: WILLIAM LANE CRAIG
THE FOLLY OF SCIENTISM. AUSTIN L. HUGHES
MULTIPLYING ABSURDITIES EQUALS CERTAINTY… THE MATH MAGIC OF MODERN ATHEIST ASTROLOGERS!
DAVID BERLINSKI—ATHEISM AND ITS SCIENTIFIC PRETENSIONS
THE WALLS ARE CLOSING IN ON ATHEISM… NOT THEISM.