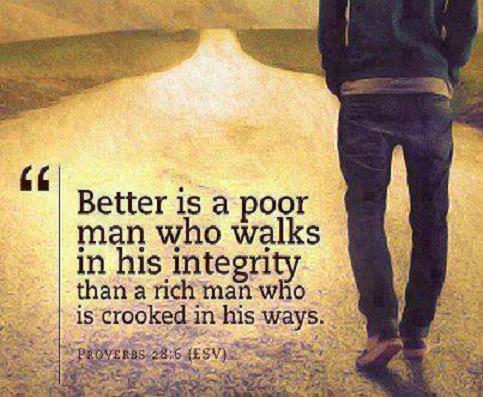 The Bible does not glorify poverty as so many infidels insist, or say that the poor are always virtuious, and the rich always crooked.
Scriptures like this mean that Money and self interest ought not to be our highest values.
"For *the Love* of money is the root of all Evil."
St Paul.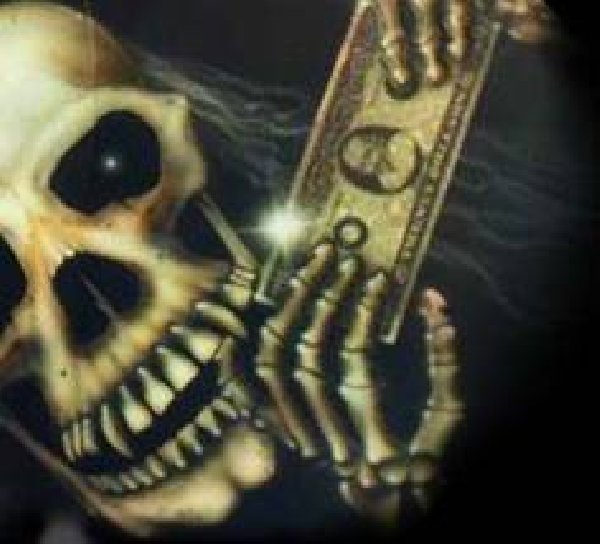 "Every Man has his Price".
Unspeakible evils have been committed for the sake of Filthy Lucre.
.. indeed even Christ was betrayed for 40 pieces of silver.
Important Caveat: while some money isn't exactly 'clean'…Some money is much much 'filthier' than others!
If we were to scrutinise each and every industry of humanity… almost none would be found to be absolutely squeeky clean!
As a Libertarian I respect an Individual's right to choose their own religion, and to make honest money, even if the means are less than virtuous eg I respect the right of a person to make money selling books on atheism, and Evolution…though I think they are making money out of the ignorance, and folly of their fellow man.
I regret that they are lost souls, and that one day… unless they see the light… they will stand before God and answer why they chose to Capitalize from the market of infidelity.
That is filthy lucre and yet because in involves no theft or extortion, it is still 'legitimate' cash and Christian Libertarians like myself can tolerate that.
Likewise with Prostitution, Porn, Alcohol, etc.
The truth is I have far more respect for prostitutes, than I do for Devious and unscrupulous woman whom prey on some drunken chump to get pregnant so that they may claim the DPB! (Domestic Purposes benefit) My rationale being that Prostitutes actually 'work' for their money, and they dont force anyone to hire/pay them, whereas the DPB 'Breeders' use illegitimate children as a means of income extorted by force from hard working Tax slaves…by Gangster socialist governments… That sort of money is the filthiest of the lot!
There is a massive difference between someone who prostitutes themselves to feed themselves and their kids, than someone who does it simple because they are too lazy… or too proud to accept menial, servile… yet righteous employment… and there is always high hidden spiritual cost involved.
Thankfully God is rich in mercy and grace.
The Lord knows I am no Holy man, and that I must confess to having dirty hands… yet still though I would be sad if my daughter was a Hooker, in truth I personally have nothing at all against 'working girls', (or publicans)… I drink plenty myself, and I have had some as very close friends who ran Brothels, and as a Libertarian activist I have defended their rights.
I am sad for them too… though they are not my daughters… I still care about their spiritual well being, and believe they are selling themselves 'cheep'.
I would much rather see them in employment which did not involve them selling their bodies… yet this is what this post is all about!
It's about having values higher than easy loot or wealth.
What price do you put on your integrity…. your soul… your friendships… your body…???
Yet here's My dilemma….I would far rather my Daughter prostitute herself than to mug an old lady for her purse!
And I am sure God see's things this way too!
One is a Vise, the other is *a Crime*.
While vise is voluntary…*A crime involves force or fraud upon another person*
Likewise Though I dont like Cigarettes, I would still rather work in Cigarette factory to earn an honnest dollar to pay my bills and feed my family…. than to be a Bank robber.
Ultimately I pray for the souls Criminals, Prostitutes, and Peddlers of vise.
I pray they see the light and not only are spiritually redeemed by Christ, but Redeem themselves from selling themselves out… for 'easy' money.
I respect the Babe who Strips Friday and Saturday nights to pay her bills and feed her kids and thereby aviods sullying herself with the 'filthy lucre of Government extortion' going on the Dole, yet I respect more the beautiful woman who instead chooses to work longer hours at a Cafe for much lower pay Rather than prostitute herself… for the sake of ideals she values more than easy money… for the sake of her own higher self value, and saving herself for her Man.