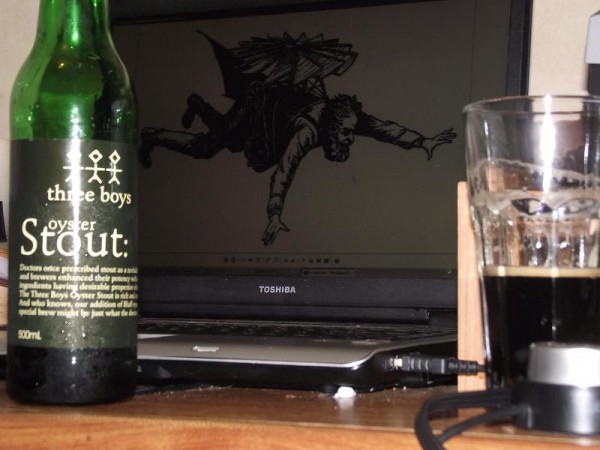 I prepared myself for the worst!
I feared I was walking into a trap laid by My Nemesis, the Dastardly 'Dr No Goode'.
With great trepidations I wielded my Mauri Brs & Thomson Ltd opener… dreading what horror awaited… yet this was a moral duty I could not shirk…. and I needed to know!
I needed to verify my suspicions that The Diabolical Dr was again up to usual shenanigans and that he had no qualms whose Goode name he ruined in the process!
I admit he had Plotted well when he had chosen to critique Three Boys 'Oyster' Stout… his sole Luddite ambition being to enslave Men to By-gone traditions and Backward pseudo-orthodoxy… to suppress any spirit of Endeavour, of Exploration, or innovation, and shackle us to the mundane.
With glee he saw his opportunity!
Read his critique here >>> Ye shall have their carcases in abomination
His verdict was pronounced in that moment…before he had even opened the bottle… and I confess that I was scared!
I had even prepared my counter argument should the Dr have found his mark.
You see the Dr would have everyone believe that I must champion every conceivable deviation from the norm… to maintain my position that such things as Coffee, Chocolate, and even Coconut can have their legitimate place in Beer., and that all that he needs to do is find one abominable brew and drag it before me….like the Pharisees did with the adulterous woman… to see if I would defend the indefensible, or surrender to his Pious legalism.
Evil prevails when Goode men do nothing, and there was no way I could allow Threeboys Brewery to be that victem of such a calculated attack against 'Yours truely'… and so
I readied myself for an honest endorsement of his cutting Critique, yet would have argued further that in the pursuit of progress (such as powered flight) there were many more failures than successes… yet the Endeavour was still noble, and science was still the winner… even in failure….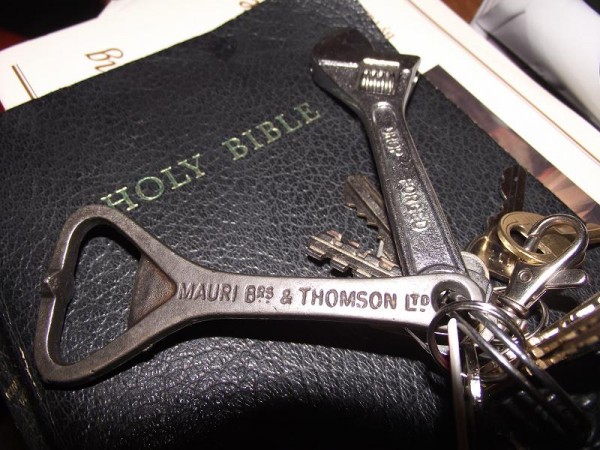 And then I tasted it. 😀
Joy of joys!
My Bravery had once again seen me through the Gauntlet!
What a wonderful Ale Three boys Oyster Stout is!
COMMERCIAL DESCRIPTION:
Doctors once prescribed stout as a revitalising tonic, while brewers enhanced their potency with additional ingredients, like oysters, which had desirable properties of their own. The Three Boys Oyster Stout contains select malt and hops to produce a beer that is rich and complex. And, who knows, our addition of genuine Bluff oysters to this very special brew might be just what the doctor ordered.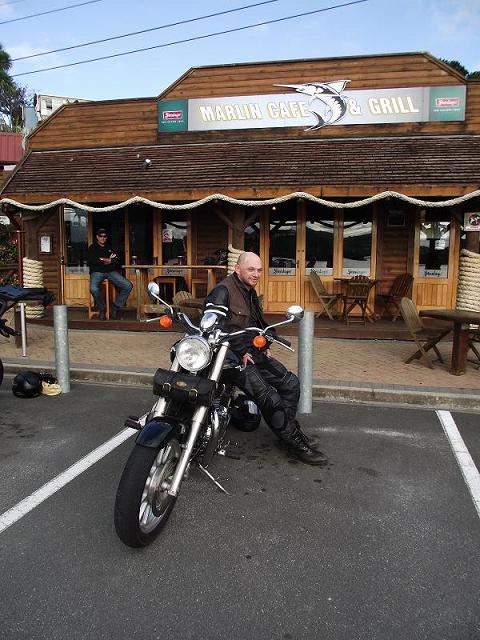 The Author: The Triumph Man Beer Critic Tim Wikiriwhi out at Raglan's Marlin Cafe and Grill.
I had called the Machiavellian Dr's bluff oyster and emerged victorious!…at least Three boys emerged victorious! And it is my pleasure to restore their Goode name which was sullied be such a Villain!
His reputation will precede him!
Soon Goode Manly Ales from far and wide will no doubt send him samples in the hope that he will serve out one of his infamous condemnations!
Because a condemnation from such a Fiend will only serve to enhance the reputation of any Brewery.
This surely was one of those times our Naysayer proves one of his Master Niccolo's own Maxums… "The fool keeps his mouth closed when he should have opened it, and opens his mouth when it should have remained closed.."
He is a poor student.
It is with pleasure that I rank Three boys Oyster stout as of the highest quality, dare I say it… even better than their fine Porter!
Now that Evil has once again been thwarted, I shall enjoy the rest of the bottle, and will not hesitate to purchase more and to recommend it to other Connoisseurs of Fine Dark ales and Stouts!
Yet such a malicious scheemer will not wallow in self pitty for long!
And I must be forever vigilant…
Three Boys Oyster Stout recieved a '95' rating here: Rate Beer