Pop theology often likes to confront Christianity with what it sees as inherent contradictions in its viewpoint.  You have, they say, a Messiah purported to be God, in the New Testament, advocating peace and love and turning the other cheek.  How do you square this with the YHWH of the Old Testament, a God who kills people with floods and plagues and encourages genocide of whole subgroups and tribes of people?
The response of modern Christians to this problem, it has to be said, has been horrible.  Responses range from attempts to minimize or play down the malevolence of YHWH, to blunt juridical defenses of the "justice" of God, to bizarre attempts to claim that the Biblical narratives are not literal or historical.  None of these are satisfactory – God really did do this stuff! – and it seems that even in the Orthodox tradition nobody can offer a robust apologia.  Which is silly, because frankly, if one is Orthodox and approaches this problem with an Orthodox world view, it's not that hard.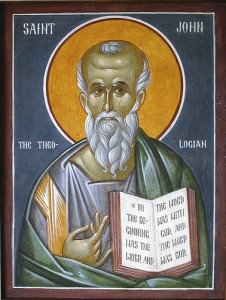 To start to answer the question, we have to first get rid of misconceptions.  We have to say that God is not a God of whim.  He is not like the Islamic god, who is a god of will and passion that initiates every material interaction from the atomic level on up.  In that sense, the touted "Divine Command Theory" of morality is nonsense.  Morality is not a creation of God.  Morality (or moral values) IS God IS morality.  Good is not good because God said so.  Good is what tells us there is a God in the first place.  Goodness reveals God.  God is Good is God.
This leads us to the Apostle John, the man who knew Christ, the incarnation of God, most intimately.  Expanding on the Apostle Paul, who discoursed on the greatness of love in his first letter to the Corinthians, John tells us that GOD IS LOVE.  Not that God created love, or God supports love, but God IS love.
What does this mean?  To paraphrase John himself, the world could not contain the books.  But in terms of the nature of God, it limits His actions substantially.  To quote Blessed Augustine in his Sermon to Catechumens on the Creed:
"God is Almighty, and yet, though Almighty, He cannot die, cannot be deceived, cannot lie; and, as the Apostle says, cannot deny Himself. How many things that He cannot do, and yet is Almighty! Yea therefore is Almighty, because He cannot do these things. For if He could die, He were not Almighty; if to lie, if to be deceived, if to do unjustly, were possible for Him, He were not Almighty: because if this were in Him, He should not be worthy to be Almighty. To our Almighty Father, it is quite impossible to sin. He does whatsoever He will: that is Omnipotence. He does whatsoever He rightly will, whatsoever He justly will: but whatsoever is evil to do, He wills not."
To be Love is to forswear forceful power over creation.  A deity cannot force compliance from His creation and remain Love at the same time – love necessitates free beings with free will.  So when we define God as a set of "Omnis" (omnipotent, omniscient, omnipresent, etc.), this is not without boundary.  There are just some things that God cannot/will not do and remain Love.  Death and sin and evil are not creations of God, but the absence of God, just as darkness is not a "thing", but the absence of light.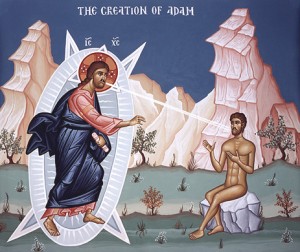 So, from seeing God as Love, we conclude that this necessitates the possibility of evil.  A created being that is not capable of choosing evil is coerced – it cannot love and therefore cannot be created by Love and with love.  So evil may result.  Is God responsible for this evil?  Only in the sense that He created creation, and knew what was going to happen.  But if God is Love, there is no alternative – evil had to be possible.  Either He created beings, in love, with separate essences that were capable of not returning His love, or He did not create at all, or He created robots for His amusement.  The latter two options are an impossibility for such a God, who exudes Total Love.
Having created mankind, in love, the possibility to simply "magic away" the results and consequences of the Fall and the bringing of death to the cosmos is no longer there.  Creating the world, declaring it good, then making man in His own image to declare him "very good", only to have this goodness corrupted and degraded by His creations, there are no good options.  God cannot be selective about evil – if He is going to get rid of any of it, He must destroy all of it.  This is why Stephen Fry's recent outburst was so pathetic – God can't just choose to destroy the eyeball-burrowing insects, yet leave a sodomite like Fry alone.  That would make Him morally inconsistent, which is the very thing that Fry accuses Him of in the first place!  No, God is Love, He has mercy on all His creation, and if He is going to redeem it, that redemption must be consistent with love – that is to say, voluntary on our part.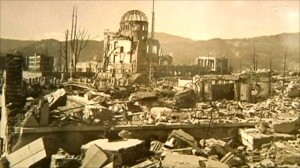 So God has no circuit-breaker in terms of eliminating evil.  There is also no divine way of circumventing basic moral/ethical dilemmas that even we humans face in things such as war or criminal justice.  Just as President Truman in World War Two faced a choice between a bad option (killing hundreds of thousands of Japanese civilians with an atomic bomb) and a worse one (an invasion that would take years and cost millions of lives on both sides), so the evil of the entire world only left God with either bad options or worse ones.
God needs to save the world from the bad choices that love enables.  How does He do that?  To tell the end of the tale, He incarnates, shows the Way of righteousness, suffers, is crucified, and rises again, trampling death by death and destroying the power of death and Hades.  He sends His Son.  And so we are now living in an age whereby His salvation can be received.  But it remains to ask why He didn't just do this straight away?  Okay, so Adam and Eve have fallen, and now they will surely die.  Why not just send JC down to fix everything up like nothing ever happened?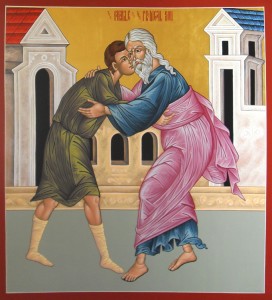 Well… it wouldn't work is probably the best answer.  Adam and Eve would not have truly repented.  They needed to work through the consequences of their actions for that.  Death and judgment and separation needed to be a reality for the human race so that it could, to use AA terminology, reach "rock bottom".  God needed to be sure, in sending His Son to redeem humanity, that it would take.  The redemption had to occur in baby steps.  And so that's what the Old Testament is really about – a lovesick God who has lost His creation desperately doing all He can to bring it back to Him.
We see the beginning of the redemption in the Flood, where Noah and his family were saved through "baptism", so that a remnant of some God-consciousness could survive and grow on the earth.  Then there is the calling and covenant with Abraham, who is served the Eucharist by Melchizidek, and the growth of a covenanted "people of God".  From this follows Moses, another salvation by passing through the waters of the Red Sea, and the giving of the Law, which is the Logos of God, and will indicate the One to come who fulfills it.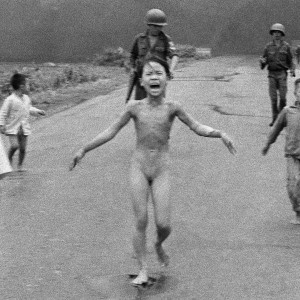 To establish His Son as a Priest for His people, it was first necessary to establish His people, and establish His nation.  This was an omelet which required the breaking of a few eggs.  There were no good options for confronting the evil of the world in establishing a Holy people.  Either this was going to be done by force, or nobody would be saved.  The Antediluvians of Noah's day, the Canaanites that Joshua fought against, the Amalekites of Saul's day whom God commanded to wipe out, all of them were a danger to the fragile plan that was the Holy nation of Israel and the salvation of the world.  Even the children?  Sure!  The corruption of the world was and is a reality.  To paraphrase that oft-quoted phrase from the Vietnam War, "we had to kill the children in order to save them".  It's either kill these children, leaving them in the hands of Christ the Redeemer who is all Love and merciful to all, or let them grow up and corrupt even the remnant that God has reserved – the remnant that makes Christ's incarnation and salvation even possible.
This may sound like callous utilitarianism on God's part.  It is not.  It's not God making arbitrary decisions so He can save the many at the expense of the few.  It's more that some people, because of their evil will and choices, simply cannot be saved in the end, or at least not without the loss of too many others.  Someone could object – what about Matthew 11:23?  If Christ could have saved Sodom with a few miracles, why didn't He?  To my mind, the answer is that God's salvation is a marathon, not a sprint.  It's tantra, not a quickie.  He is not hung up on individual battles, but the whole war.  Sometimes to have your D-Day, you need to organise a Dunkirk.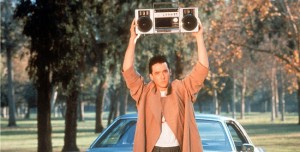 So did God command genocide in specific circumstances for specific times? Yes He did.  There was no other way to save us.  There was no other way to win the war, to attain the Nika, the Gospel, the victory that Christ has achieved.  God is desperate for us.  He is John Cusack, standing on our street, with a boombox, playing Peter Gabriel, hoping we will requite His pure and Holy Love.  He is always working for us and for our salvation.  He has saved us, He is saving us, and by His grace He will yet save us at the last.  But for now we live in the age described in Psalm 109 (LXX), the most quoted Old Testament verse contained in the New:
"The Lord said to my Lord, "Sit at My right hand,
Until I make Your enemies the footstool of your feet."
The struggle, and the battle, are real.  To criticize God for His righteous acts in saving US is to apply naivety to the reality of evil in the world, and the necessary actions required to be rid of it after all other options have failed.