ELIZABETH, Mother of the Forerunner (24th June)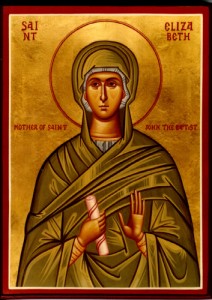 Known for her faithfulness to God in the face of childlessness, Elizabeth is the mother of John the Baptist, and her feast day is the same as John's birthday.  Tradition has it that Saint Anna, the mother of Mary, was her sister and therefore the Theotokos was her niece.  She is the originator of the first blessing of the Theotokos, when she said "Blessed are you among women, and blessed is the fruit of your womb!", thus she honours the Theotokos and reveals her role in the salvation of the world, just as her son would reveal Mary's son, the Christ and saviour.
During Herod's slaughter of the innocents, she took John up into the mountains and a cleft miraculously appeared in a rock to hide them, however, her husband Zechariah was killed, something mentioned by Christ in Matthew 23:35 and Luke 11:51.  The date and circumstance of her own repose, however, is unknown.