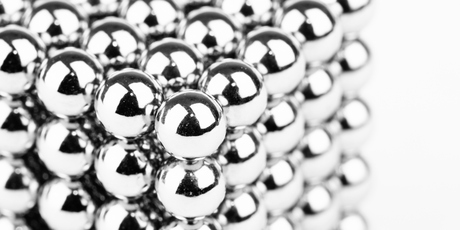 Today the government banned the sale of NIB (neodymium-iron-boron) magnets.
Ban on the sale of high powered magnet sets

Consumer Affairs Minister Simon Bridges has announced a ban on the sale of sets of small high powered magnets that have caused serious injuries in New Zealand and at least one reported death in Australia.

"These magnets are harmless to play with but if swallowed can cause serious internal damage that can require major surgery," says Mr Bridges.

If two or more of these magnets are ingested they can become joined up in the digestive system and the pressure they exert can cause serious inflammation and ulceration. Left untreated, this can quickly lead to major tissue damage, perforations and potentially infection sepsis and death.

"Because of their strength, older children have been known to use these magnets as mock jewellery, such as mouth or tongue studs. Young children swallow them out of natural curiosity.

"As a result children have been seriously harmed overseas, including many hospitalisations in the United States and Australia and the death of an 18-month-old in Queensland. In December a New Zealand toddler was admitted to Auckland's Starship Hospital after ingesting some of the magnets. Officials are aware of at least two other serious cases here involving hospitalisation and surgery.

"Though these magnets tend to be marketed at adults as office toys and many brands carry strict safety warnings, it is clear from the cases here and overseas that they pose too great a risk to children."

The Unsafe Goods Notice for these small powerful magnets will mean that from tomorrow no one will be allowed to import or sell these magnets in New Zealand. The notice is issued under section 31 of the Fair Trading Act 1986 and will be enforced by the New Zealand Customs Service at the border and the Commerce Commission in the marketplace.
Bridges reassures us.
The action I have taken will only apply to the sales of these magnets for personal or domestic use. This ban will not affect the use of this type of magnet in schools and universities for teaching purposes nor would it affect any industrial or commercial use of these magnets.
Sure.
Imagine the sinking feeling in your stomach, caused not by ingestion of NIB magnets, but by receipt of a letter from the New Zealand Customs Service telling you that they have seized your magnets, and will destroy them, if you do not provide evidence that you imported them for non-personal use.