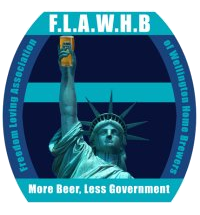 The most vile homebrew I ever drank was decades ago when I was a student in Dunedin. My flatmates brewed up a batch which they aptly named "Ralph". I'm pretty sure I did just that, but not before (so it is alleged) I danced … to Marillion!
Dirty deeds, Dundas Street. Ah, those were the days. 🙂
Some homebrew I've drunk in more recent years rivals all but the best commercial craft beers.
All hail FLAWHB! 🙂
This was in local rag the Northern Courier recently.
Homebrewed danger causes questions

Residents' Associations say the dangers of homebrew, highlighted by a recent death, are that you don't know the alcohol content of the drinks and say the drinking culture of pre-loading before events is a big issue that needs to be addressed.
This is the first time I remember that the purported dangers of homebrew have been sensationalised in the media, but I'm sure it won't be the last.
This is also a vivid illustration of the Law of Unintended Consequences. The only reason that homebrew beer is gaining popularity is because beer in supermarkets is being priced out of affordability by the wowsers in government. What on earth did they think would happen when beer drinkers are being asked to fork out $20 for a six-pack of Macs or Monteiths?
Pre-loading is an established custom. Who can afford to get drunk on $7 handles of Tui? Who would even want to?
The Pauatahanui Residents Association Chairperson says the danger in homebrew is that you don't what you are drinking.

"You don't know if they have mixed methanol into it," says Alan Gray.
What you mean 'they', white man?
Oh, you're not talking about my flatmates. You're talking about the bootleggers in the gang house down the road. Do they collect excise tax? No. Do they ask for ID from anyone who looks under the age of 35? No.
The toxic substance, which is sometimes added to drinks to make them more alcoholic, has killed many people overseas he says.
We're a bit behind India and the rest of the world, but the incentives to produce bootleg liquor locally grow ever greater by the day.
It is not known if methanol is a factor in the death of a teenage student who died after drinking homebrewed spirits in Auckland recently.
No, but let's mention it anyway, to scare the crap out of the usual hand-wringers who are now primed to cry out, "The government should do something!"
Mr Gray says it is lifestyle choice for those who choose to consume homebrew and he does not know how Police could enforce any laws or regulations around it.

Paremata Residents' Association Chairperson Terry Knight says there is no way to protect people from themselves, as "there are plenty of idiots out there".
At least the President of my Residents' Association is sane. You can't legislate away stupidity.
Normandale Residents' Association President Peter Matcham agrees there is a drinking culture which is the root of the problem.

"They want to get smashed out of their heads, whether it is by drinking home brew or RTDs," he says.

"They think it is cool."
Getting totally hammered is cool at weddings. 🙂
He says there is no easy answers as how to curb the issues around young people and their drinking habits, but suggests that being drunk in a public space should become an offence.
What a fascist. It's already an offence to be drunk and disorderly.
An Auckland teenager, Tyson Devon, 18, was drinking homebrewed spirits with friends in Rosehill, South Auckland, on Saturday afternoon when he died.

Tyson had passed out after 'pre-loading' on homebrew in anticipation for the birthday party he was suppose to be attending later that day.
RIP Tyson Devon.