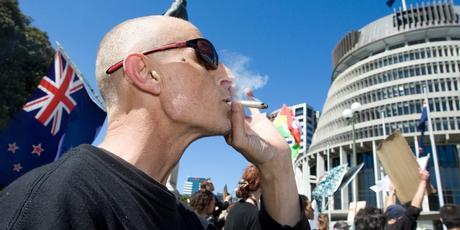 Veteran cannabis law reform campaigner Dakta Green's Armistice Tour culminated in a hikoi on Parliament on Armistice Day, 11 November 2010.
Mr Green said it was called the Armistice Tour because he wanted to stop fighting with the Government over cannabis legislation.

"When two warring parties choose to stop fighting without either side conceeding defeat that's what an armistice is," he said.

"We are waving a white flag … we want peace."
The white flag is the "flag of temporary truce in order to parley." Inspired by the Armistice Tour, the Wellington branch of NORML started a tradition of White Flag meetings on the first Tuesday of the month when Parliament sits. We convene at the Cenotaph at 12:45 pm, then at 1:00 pm fly the white flag of negotiation to the Richard Sedden statue outside Parliament Buildings. Once there, we pause for a One Minute Silence for the victims of the global War on Drugs. Following that, a few words spoken regarding our actions, and our intentions for these meetings, with a reading of a letter to an MP, and then a photo or two …
At the first white flag meeting on Armistice Day 2010, many of those protesting the War on Drugs™ also celebrated New Zealand's cannabis culture by smoking cannabis on Parliament grounds. Cannabis campaigners light up at Parliament, reported TV3. But no one was arrested.
Protesters marched to Parliament to demand a law change decriminalising cannabis; it's a law they have no respect for and one they were quick to break, and all under the watchful eye of police.

"Our role is to make sure this protest is peaceful and everyone gets away on time and in good humour," said senior sergeant Scott Miller.

Bucket bongs, joints and a pipe lit with a magnifying glass were used to smoke up; there was even a hash cake although the decorator may have eaten some first.

But no matter how much was puffed there was still no movement from police – does this signal a change in stance by police?

"Well that's not a comment I can make in relation to an overall stance by the police," Mr Miller said.

Police say it was the Speaker Lockwood Smith's office who issued the directive to only arrest protesters if they climbed over the barrier or became violent. Those two problems never threatened to fire up.
At today's White Flag meeting, cannabis campaigners again lit up at Parliament. And no one was arrested. Presumably, the Speaker's directive is still in force. Anyway, that's the premise behind regular 4:20 meetings at 4:20 pm every Friday on Parliament lawns. See you there. 🙂