Here are a couple of Randroid memes seen recently on Facebook. (Here and here.)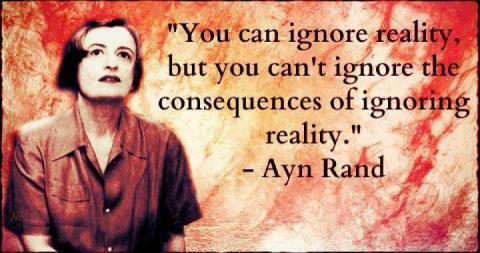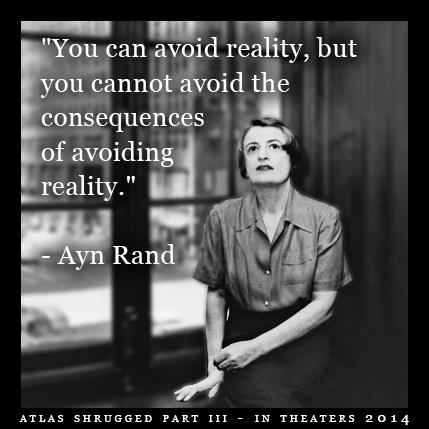 Can you spot the obvious absurdity of these statements? Well, as one Facebook commenter explains
Quoting Ayn Rand is pretty absurd for starters, but "reality" and the consequences of ignoring reality are all part of the same set (reality) so it is making a distinction that doesn't exist… so it really is saying nothing…
In other words, the consequences (of avoiding reality) are themselves part of reality. Therefore, Ayn Rand is saying that you can avoid reality and that you cannot avoid reality. She has arrived at a contradiction!
Ayn Rand's work is littered with contradictions. They blend in with their context, so that her followers find them hard to spot. Which is why I bother to point them out. It's a labour of love.
Ayn Rand was not much of a philosopher, but there's no denying she had a wicked turn of phrase. This one's my all-time favourite Rand sound-bite.
To arrive at a contradiction is to confess an error in one's thinking. To maintain a contradiction is to abdicate one's mind and to evict oneself from the realm of reality.
Rand has arrived at a contradiction. But we all make errors in our thinking from time to time. So how do I back my claim that Objectivism causes brain damage? Well, to maintain a contradiction is to abdicate one's mind … i.e., brain damage. And that's what Objectivists do. They maintain Rand's contradiction! You see, Rand never said
You can ignore reality, but you can't ignore the consequences of ignoring reality.
And she never said
You can avoid reality, but you cannot avoid the consequences of avoiding reality.
These memes are contradiction maintenance by paraphrase! Here's what Rand actually said.
[Man] is free to evade reality, he is free to unfocus his mind and stumble blindly down any road he pleases, but not free to avoid the abyss [that] he refuses to see.