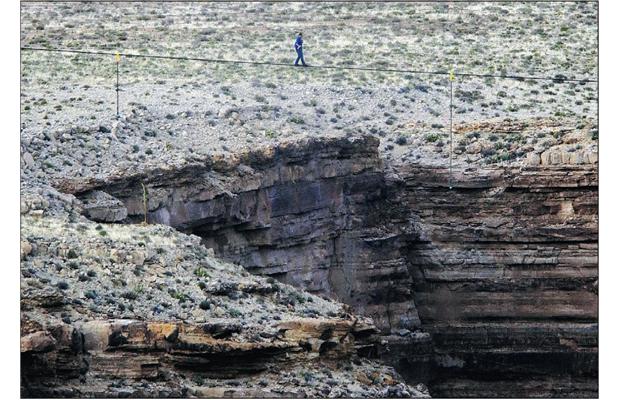 Wallenda is the first human to walk across the Grand Canyon.
At one point during the feat, Wallenda began praying.
"That's a view there buddy. Praise God, this is awesome," he said, as he stepped out into the void. "Thank you Jesus for this beautiful view," he added.
"Praise you Jesus, how I love you," he said repeatedly, adding that there was "a lot of wind"….
"Winds are way worse than I expected," he said about six minutes into the wal
He later told reporters: "I was fatigued until I was three quarters of the way across, and then it was all just adrenaline," Walenda said afterwards.
"There was dust. My mouth is extremely dry, it feels like I was walking in the desert for three weeks, not 20 minutes."
Earlier, Wallenda said he was confident in his ability.
"But the mental part is where I have to be very, very cautious. It's very challenging leading up to an event like this, it's a worldwide event … that really plays a role on me mentally," he said.
Wallenda, a seventh generation member of the Flying Wallendas circus family, said that as he steps out he would be thinking of his great grandfather Karl Wallenda, who died in 1978 after falling from a tightrope.
Video of the fatal fall in Puerto Rico is easily viewable online, and Wallenda said it is a constant reminder of the risks – and that he must stop performing at a much younger age than his forefather, who died aged 73.
"He had said publicly that that's the way he wanted to go," the younger Wallenda said, but added: "I don't want to go that way … I wanna die in a bed next to my wife, at an old age over 100 years old. That's my dream.
"I don't want to die performing," he added.
Read more here:
Watch 3 minutes here:
With almost every step Nik was calling upon his God for Providential care…
He walked over the Abyss… above, not though the Valley of death.
This was truly a testament to what a man of faith can accomplish…in defiance of Death.
Nik it truly an inspirational Man of faith and courage, and has given us all a valuable lesson!
Life is for the brave.
Life is either a bold walk faith, or a slow death… of slavery to your fears.
Live a victorious life Brothers and Sisters! Choose to put your faith in God's word, and Christ!
"…and ye shall know the truth, and the Truth shall make you free"
Jesus Christ.