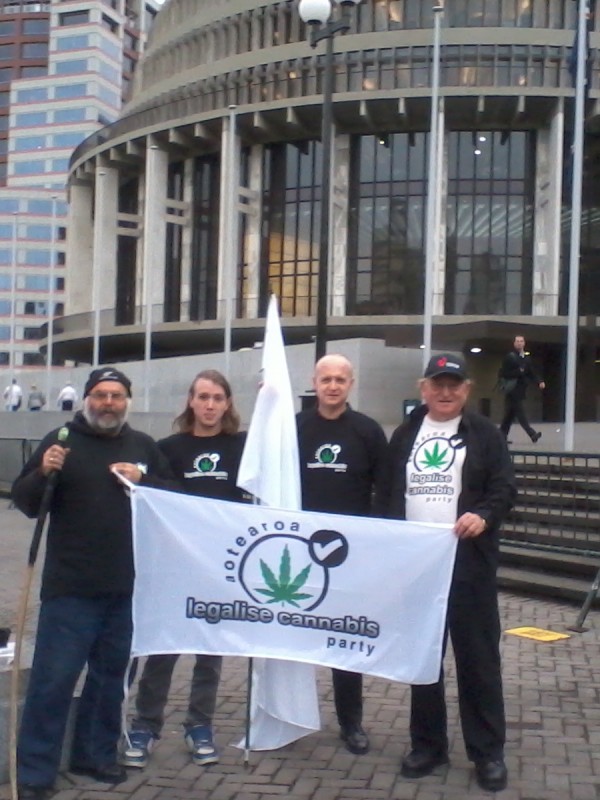 Aotearoa Legalise Cannabis Party candidates for next year's General Election pictured (from left to right) Fred Macdonald (Otaki), Alistair Gregory (Rongotai), Richard Goode (Mana) and Michael Appleby (Wellington Central).
ALCP Leader Michael Appleby is also our candidate in the forthcoming Ikaroa-Rawhiti by-election to be held on 29 June. Today Michael announced his candidacy and launched the ALCP campaign.
Labour slammed for terror campaign comment

David Shearer's comment that the Labour Party will "terrorise our political opponents" during its Ikaroa-Rawhiti by-election campaign is "reprehensible", a candidate for the seat says.

In a press release announcing Labour's candidate Meka Whaitiri's official campaign launch, the Labour leader said: "Labour will campaign relentlessly to once again earn the trust of the people of Ikaroa-Rawhiti.

"We will organise, mobilise and terrorise our political opponents."

The leader of the Aotearoa Legalise Cannabis Party, Michael Appleby, who was at Parliament today to launch his by-election campaign, said Labour should apologise over the comment.

"Threatening terrorism against opponents is offensive and unacceptable in a democratic by-election and the comments are extremely insensitive to the Tuhoe settlement which occurred today at Parliament," he said.

He said Shearer's comments were "outrageous, offensive and unacceptable".

"I do not want to be terrorised just for standing up for my political beliefs," Appleby said.
Thanks, Michael, for standing up for Truth, Freedom and Justice! 🙂