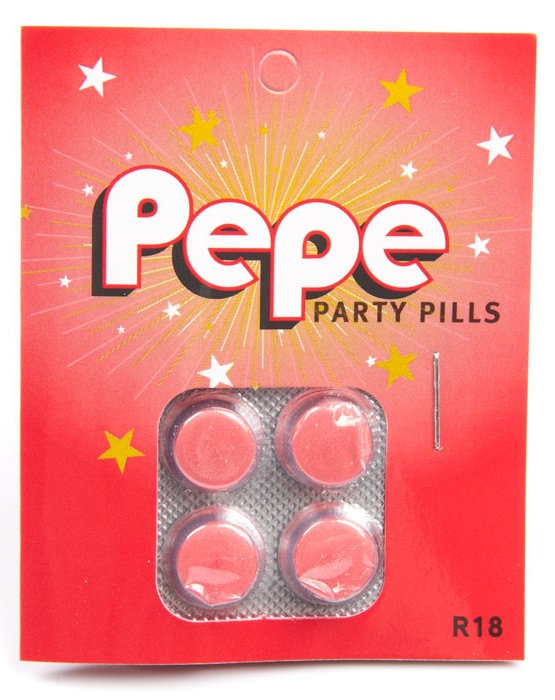 Party pills are now on sale at supermarkets. You know, the ones that
assist you in remaining ALERT and WIDE AWAKE!
and that
relieve mental fatigue, drowsiness and general inertia, keeping you BRIGHT and ALERT!
NO-DOZ® AWAKENERS. $7.45 for a box of 24 tablets. Way better value than Cosmic Corner's Pepe party pills which go for a cool $25 per 4-pack.
Focus, energy and a clear head. These guys are great for sports, study, shift work, or partying and are OK with alcohol.
I got my NO-DOZ® AWAKENERS at the local New World. But you can shop smarter and get them online at Countdown for only $6.79.
SHARPEN UP WITH NO-DOZ!
exhorts Countdown.
EACH TABLET HAS THE SAME AMOUNT OF CAFFEINE AS A CUP OF COFFEE, GIVING YOU THAT EXTRA KICK NEEDED TO KEEP YOU GOING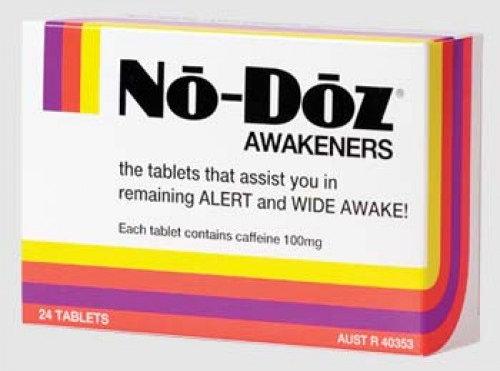 The active ingredient in both products is caffeine. NO-DOZ® AWAKENERS contain 100 mg caffeine per tablet. (And glucose.) Pepe contains caffeine in an unstated amount. (And black pepper extracts, vitamin B6 and a proprietry blend of amino acids.)
So what does this have to do with the Psychoactive Substances Act?
Section 9 of the Act gives the meaning of psychoactive substance.
9 Meaning of psychoactive substance
(1) In this Act, unless the context otherwise requires, psychoactive substance means a substance, mixture, preparation, article, device, or thing that is capable of inducing a psychoactive effect (by any means) in an individual who uses the psychoactive substance.
On the face of it, that includes both NO-DOZ® AWAKENERS and Pepe and their active ingredient caffeine.
Section 5 of the Act gives its application.
5 Application of Act
(1) This Act applies to the importation, manufacture, sale, supply, or possession of a psychoactive substance or approved product for the primary purpose of inducing a psychoactive effect in an individual who uses the substance or product.
On the face of it, the Act applies to both products and their active ingredient caffeine.
But Section (9)(3) of the Act tells us that the Act does not apply to any dietary supplement or to any food.
Cosmic Corner hopes that the Act does not apply.
our understanding is that it will not affect products which are classed as herbs or dietary supplements. For example, caffeine has a psychoactive effect, but it is classed as a food product/dietary supplement. This means the COSMIC range of party pills should continue to be available because their ingredients are classed as dietary supplements and herbs.
So does the Act apply? I don't know. But I do know that Cosmic Corner has submitted an application for an interim product approval and presumably paid the $10,000 application fee. If their application is either approved or declined (rather than returned and the fee refunded) then I expect the Ministry of Health to come down on New World, Countdown and any other supermarket chain selling the unapproved product NO-DOZ with the full force of the law, i.e., a $500,000 fine per supermarket. (Troughers gotta fill the coffers.)
Silly supermarkets. You don't go selling caffeine "for the primary purpose of inducing a psychoactive effect." You've got to be way more subtle than that. Here's how it's done.