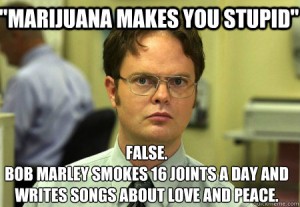 I was at my kids school today and while I was waiting a couple of students were discussing their drug use. They indicated that they'd used legal highs but preferred cannabis. So I thought I'd ask a couple of questions…
Me: What do you think of "legal highs" being made illegal?
Student: [Shrugs shoulders] Don't care. I'm smoking the real stuff now.
Me: Does that affect your schooling?
Student: Yeah. [chuckling] It makes me slower.
The other student didn't speak to me but gestured that he agreed with his fellow student. He also chuckled when his friend admitted that cannabis made him slower.