I got an email from Metiria Turei, co-leader of the Greens.
Education is the best route out of poverty. But hungry kids can't learn and are left trapped in the poverty cycle. Let's break that cycle lunchbox by lunchbox. We can feed the country's hungry kids, if we work together.

I have taken over the Feed the Kids Bill which Hone Harawira introduced to Parliament. The Bill is at a crucial stage of its progress – part way through its First Reading – and may be voted on as early as next Wednesday 5 November.

The way the numbers stack up in the new Parliament the Bill will be voted down unless we can persuade the National Party to change its position and support it to go to Select Committee.

If the Bill goes to Select Committee, MPs will be able hear from  parents, kids, teachers and others about what they think are the best solutions for feeding hungry kids at school. There are lots of ideas about how school food could be delivered and who should get it. The key thing is to have the public debate about addressing child poverty, and come up with the best solution for helping hungry kids.

Please help this happen, by emailing John Key, asking that National support my Bill at least to Select Committee.

Because of the potentially short timeframe, you'll need to send your emails as soon as possible and before Monday 3 November at the latest.
I'm probably not going to email John Key but if I did I wouldn't be urging him not to support the bill. At least, not on its First Reading. If National Party MPs vote for the bill on its First Reading, it can go to the Select Committee stage. I agree with Turei that
The key thing is to have the public debate about addressing child poverty, and come up with the best solution for helping hungry kids.
Won't somebody else please feed the children? No doubt the best long-term solution for helping hungry kids is not state food. But as quick-fix statist solutions go this one is surely unexceptionable. Paying state(-funded) schools to feed hungry kids is an advance on paying state(-funded) parents to feed them, isn't it? The Bill targets the funding for school food at Decile 1 and 2 schools, too. The Feed the Kids program could probably be nearly fully funded by concomitant deductions in the benefits or WFF tax breaks of the parents of those children attending the schools in question. Isn't this an advance for "a hand up, not a handout" safety net state welfare system? Or am I missing some serious unintended consequences?
I went to primary school in the U.K. in the early '70s. We had school milk at morning break and school dinners at lunchtime. Morning milk was a third pint of silver top, and lunch was typically a dollop of mince meat, a dollop of mashed potatoes and a spoonful of (mushy?) peas. Followed by a serving of stodgy pudding and watery custard. All lovingly served by the matronly school dinner ladies. It all seemed perfectly normal, because it was. (But then came Thatcher the Milk Snatcher …)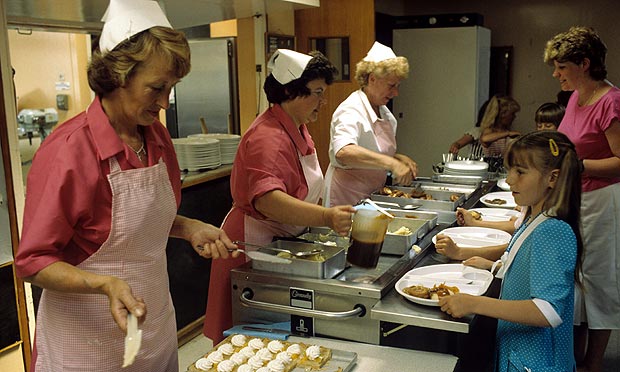 While our MPs debate the merits or otherwise of the bill, and alternative statist approaches such as the existing "income management" regime, my thoughts are with the children who continue to go to school without breakfast or lunch. Children like the early John Banks who grew up in poverty in the 1950s. "Of course, I support sandwiches and food in schools," says Banks. "I would have loved some sandwiches and some food in schools, but that is not the answer."
So what is the answer?
According to Banks, the way out of child poverty is children living in homes "with unconditional love, and I never knew anything about that," and having access to a world-class education. But the state cannot provide unconditional love.
According to the Bible, it comes down to us. James tells us simply
Religion that God our Father accepts as pure and faultless is this: to look after orphans and widows in their distress and to keep oneself from being polluted by the world. (NIV)
Children whose parents send them to school sans breakfast and lunch are, in effect, orphans. Won't somebody please feed the children?