…actually, because it is nine months before Christmas, today is the day we celebrate God's incarnation as a man in the body of the Holy Theotokos and Ever Virgin Mary!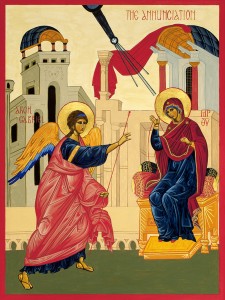 In Greek this is called, appropriately enough, the Evangelismos.  The Archangel Gabriel was the first evangelist, the first to give us hope and announce the sending of our salvation.
While it is rare that it falls on the date of Western Good Friday, it is somehow appropriate that it does, as we celebrate the very beginning of our salvation in conjunction with the ultimate path to it – the cross.
Meanwhile… Pascha is still five weeks away…